Hello, and thanks for inviting me to hang out with you here at Long and Short Reviews! Who brought the wine?
Today we're talking about bad dates. We've all had them, right? In my new romantic comedy, Frisky Business, my heroine endures more than her share. After vowing not to date any more wealthy men, Marley embarks on a quest to date only blue collar guys. While the plan makes it easier for her keep her distance from Will—the quirky, unlikely millionaire she desperately doesn't want to fall for—it sends Marley down a path of truly terrible dates.
On that note, I've been asked to share several of my own bad date stories throughout the blog tour for Frisky Business. Here's one from my younger years when I was still just a young lass in high school.
While I'm proud to be a skilled cook and food fanatic at 39, that was not the case when I was 17. My culinary skill-set at that point was limited to strawberry crepes and ramen noodles. Neither of those dishes seemed like the right thing to serve when a gal pal and I had the bright idea to invite our new boyfriends over for a home-cooked meal.
"Wait, I thought you could cook," I said with dismay when she confessed the entirety of her cooking repertoire was toast and scrambled eggs.
"I thought YOU could cook!" she cried. "Now what?"
It might have been helpful to have this conversation before our dates arrived and took their seats at my parents' dining room table. Thus is the foresight of a 17-year-old.
Determined to make the best of it, we soldiered onward. "Look, my parents have some old TV dinners in the freezer," I announced, pulling them out. "The frostbite doesn't look too bad."
She bit her lip and glanced toward the dining room where our dates sat sipping the sodas we'd thoughtfully provided. "We can't let them hear the microwave beeping."
She had a point. I considered it while I stripped the cellophane of the microwave meals. "We'll sing," I announced.
"What?"
"To hide the sound of the microwave. We'll sing really loudly. Isn't that what people do when they cook?"
Neither of us felt entirely certain, but singing seemed like a reasonable thing for a chef to do. We studied the directions on the TV dinners and determined we needed about seven minutes worth of musical entertainment.
"How about Don McClean's 'American Pie?'" I suggested. "That's the longest song I know."
So we burst into song, an endeavor hampered somewhat by the fact that we were both completely tone deaf and she knew only half the words. Nevertheless, we pressed on. The melodious sound—a cross between a fork stuck in a garbage disposal and a cat being mauled by a badger—successfully masked the sounds of the microwave. We reached the final notes of the song just as the final ding echoed through the kitchen.
"We can't cook, and we can't sing," I muttered, plating the rubbery TV dinners on my mother's best china. "We'd better make sure we gain some marketable skills in college next year."
That was more than twenty years ago. The meal was terrible, my date turned out to have a girlfriend he forgot to mention, and the oh-so-marketable degree I earned was in English Literature.
Some things work out just the way they're supposed to, wouldn't you say?
What was your worse date? Tell us and you'll be entered into a drawing for a print copy of Frisky Business. (US/Canada only).
No more rich men for Marley Cartman. Absolutely not. Thanks to her dad, her ex-fiancé, and the overbearing donors she schmoozes for a living, she's had more than her fill. From now on, she wants blue-collar men with dirt under their fingernails. But when Marley makes a break to handle donor relations for a wildlife sanctuary, she finds herself drawn to the annoyingly charming—and disturbingly wealthy—chairman of the board. Judging by his hipster T-shirts, motley assortment of canine companions, and penchant for shaking up stuffy board meetings, you'd never guess that William Barclay the Fifth is a brilliantly successful businessman. Will has good reason to be leery of scheming women, and as he and Marley butt heads over the wisdom of bringing grumpy badgers to charity events, he can't help but wonder if his new donor relations coordinator is hiding something other than a perfect figure beneath that designer suit…
About the Author: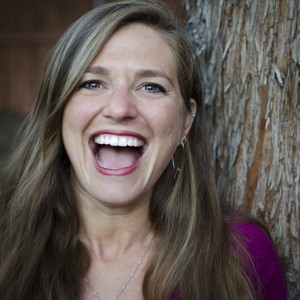 Tawna Fenske traveled a career path that took her from newspaper reporter to English teacher in Venezuela to marketing geek to PR manager for her city's tourism bureau. An avid globetrotter and social media fiend, Tawna is the author of the popular blog, Don't Pet Me, I'm Writing, and a member of Romance Writers of America. She lives with her fiancé in Bend, Oregon, where she'll invent any excuse to hike, bike, snowshoe, float the river, or sip wine on her back deck. Tawna has published several romantic comedies with Sourcebooks, including Making Waves and Believe it or Not, as well as the interactive fiction caper, Getting Dumped, with Coliloquy and Marine for Hire with Entangled Brazen. Her latest Sourcebooks release, Frisky Business, was praised by Kirkus Reviews as "an appealing blend of lighthearted fun and emotional tenderness." Tawna's quirky brand of comedy and romance has earned kudos from RT Book Reviews, which nominated her debut novel for Contemporary Romance of the Year, and from the Chicago Tribune, which noted, "Fenske's wildly inventive plot & wonderfully quirky characters provide the perfect literary antidote to any romance reader's summer reading doldrums."
TawnaFenske.com