Stripper With Spice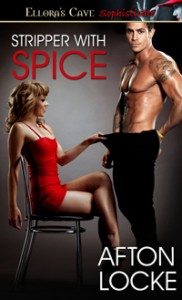 Thank you for hosting me today. I'm excited to talk about the spice BASIL, and my latest release, Stripper With Spice, a contemporary erotic romance.
Bad Boy Basil
 Basil is one of my favorite spices. I love Italian food. Milder than oregano, basil is great in spaghetti sauce and sprinkled on garlic bread. For years, I've heard about people growing spices and always thought I'd try it someday. This summer, I finally did. It was surprisingly easy. I just had to look up on the Internet how to harvest and dry it. The aroma of the natural plants is amazing. After growing it live, it's impossible to back to the commercial, dried stuff. Soon, my garden was filled with pots of green, leafy things. My kitchen was filled with curled leaves lounging on drying racks and glass bottles of dried crumbles. In other words, it looked as if I was doing what some of the locals do–grow pot.
Because of that, basil reminds me of bad boys. Why are they so appealing? They interpret rules loosely and you never know what they're going to do next. Isn't that more fun than day after day of the same dull, safe, boring routine? They grab you and plop you onto their motorcycle, carrying you off to adventure and thrills. I had a boyfriend like that once. I think he even had a black leather jacket. He was Italian and could make my clothes melt away by just looking at me. My parents didn't approve of him and said he was no good. That probably made him even more desirable. Of course, they were right because one day he ran off for another woman. A few months later, it was truly over. Oh, well. It was fun while it lasted. He wasn't a bad boy anymore. He was just awful.
In a lot of ways, Carlos is a bad boy in my story. He loves rule breaking and exhibitionistic sex, and he rocks his pelvis on stage while women stuff money into his g-string. Not exactly the kind of guy you'd rush home to meet the parents. Until now, Janice has lived a very conservative life and has never even considered dating someone like him. Luckily, he's not all bad. There's a lot of good mixed in along with the best flavors of exciting bad boy. Will Janice dare to taste them all?
Stripper With Spice
Publisher:  Ellora's Cave Publishing
Release Date:  10 January 2014
eBook ISBN #:  978-14199-49050
Buy eBook:  http://www.ellorascave.com/stripper-with-spice.html
Stay tuned for reviews and more: http://www.aftonlocke.com/spice.html
Blurb
Getting back on her feet after unemployment, Janice treats herself to an erotic-romance convention. After winning a two-hour fantasy date with Carlos Aguilar, a young stripper, she decides to have a one-time fantasy fling.
When Carlos entices her back to the bedroom—and a few public places—for more sizzling sex, he unleashes her passions, including a secret desire to be a chef. Janice learns there's more to this heartthrob than a hot body, but job security comes first.
To convince her he's more than a fantasy, Carlos teaches her trust with his body. But when that trust is finally tested to the limit, she'll be torn between clinging to safety and taking a chance on a whole new life.
Excerpt (explicit)
Stripper With Spice – Copyright © AFTON LOCKE, 2014 – All Rights Reserved, Ellora's Cave Publishing, Inc.
I chose you.
He looks and sounds so serious and honest, how can I not be completely convinced? His words echo inside my head as he grips both sides of my face and lowers his mouth to mine in slow motion. The thrill bubbles return to my bloodstream as if the elevator cable has just snapped, dropping us to the basement.
Unlike last night's, this kiss is slow and full of promise. He samples my mouth as if we have all the time in the world. A flash of mint-flavored tongue pierces my soul, tearing a moan from my throat. With one hand still on the button, I raise my other to his shoulder. Feeling the bare, hot skin there fuels my desire, pushing me dangerously close to the edge of self-control.
"Do you want this as much as I do, Janice?"
God, yes. I need more…all of you.
I reply by sliding my hand across the tiger-striped fabric over his back. The warm satin, with muscles moving under it, is just as sexy as bare skin. His hips dance against mine—rubbing, thrusting and teasing. My fingers move to the worn waistband of his jeans at his side, wanting to pull them off. My body throbs, needing him as I've never needed anything before.
When he pulls my finger off the close-door button, the door opens to reveal an annoyed looking family of five waiting to get on. The parents, obviously noticing Carlos' wild vest and our heavy breathing, exchange a disgusted look.
Carlos takes my hand and leads me off the elevator. My heart races as we walk down the corridor. Luckily, the carpet absorbs the trembling in my legs so it doesn't make a sound.
He stops at one of the doors. I fixate on the way he slides his keycard from his back pocket and inserts it into the door reader. It's something I've done myself a million times without thinking, but this is different. This is foreplay.
The door responds with a little click and a flashing green light. I guess we just got the green light for wild, hot sex. My heart accelerates even more. If it goes any faster, he'll have to call a paramedic. I can read the headline now.
Boring financial analyst dies from anticipating sex with a hot cover model.
I check my watch. Fifteen minutes have passed.
"We still have plenty of time." He ushers me inside and closes the door behind me.
The room is completely dark because the drapes are drawn. It's as if we've entered a private cave, hidden from the world. This is it, I think as Carlos flips on a dim lamp. We're really going to do this. We're going to have sex.
"Come in and make yourself comfortable," he says.
I stay where I am but gaze around the room, noticing with approval how neat he is. His clothes hang in the closet and his toiletries are laid out on one corner of the sink. The smoky-brown bottle probably contains the mysterious mesquite scent. I wish he were a slob so I could tell myself it would never work between us.
It doesn't take long for my attention to stumble across the centerpiece of the room, the large bed. Is it another stage? Is the perfectly pressed red cover the curtain? Unlike the platforms we shared for the photo shoot and lap dance, this one is completely private.
What if he doesn't like my performance?
Coming Soon
Rock My Boat
Workaholic CEO Rhonda Simms embarks on a Caribbean cruise to create an ad campaign for a big maritime freight client. She finds it impossible to concentrate, however, when Simon Mann, a blue marlin shifter, sets his sights on her. From a private, hands-on safety briefing to a wild ride in the ocean, he rocks her ordered world.
Simon drowned years ago in a shipwreck caused by Rhonda's client, and he'll do anything to be a normal man again. As his mate, Rhonda is the only person who can help him.
Tired of being so responsible, Rhonda is ready to let loose with a shipboard fling. Mating with Simon could cost a lot more than her virginity, however. Will she stick to her present course or will she let this sexy alpha rock her boat?
This story will be part of the Tall, Dark & Alpha boxed set, which will release 10 March 2014.
https://www.facebook.com/TallDarkandAlpha

Where readers can find me
 Web site: http://www.aftonlocke.com
Facebook:
https://www.facebook.com/AftonLockeAuthor
https://www.facebook.com/afton.locke
Twitter: http://twitter.com/aftonlocke
Newsletter – The Love Chronicle: http://groups.yahoo.com/group/thelovechronicle/
Goodreads: http://www.goodreads.com/Afton_Locke
 Contest
 This post is part of the Stripper With Spice Blog Tour.
The grand prize for the tour is the winner's choice of a wall-mountable black scroll spice rack or The Spice Lover's Guide to Herbs and Spices book (U.S. shipping address only).
To be eligible, COMMENT on this post. The comment MUST relate to the spice I'm posting about in at least ONE of these ways:
1) How you cook with it or use it in food OR
2) How you use it as a natural remedy OR
3) How it reminds you of a particular man or intimate encounter
The tour winner will be announced at http://www.aftonlocke.com/SpiceTour.html on January 18th.