Long and Short Reviews welcomes Martha Woodroof as she promotes her debut novel Small Blessings which is being released August 12. Leave a comment or ask the author a question for a chance to win a print copy of the book (US only).
Like many authors, Martha can't remember not writing. She started her first novel when she was in her early teens.
"It was called Benjamin J. Beenbracker, Bigamist, and the first line when something like 'May Ellen was thirty, but looked forty trying to look twenty,' which I still think is a pretty good first line," she told me.
She started with bad poetry (although she did get a personal rejection letter from the Atlantic Monthly poetry editor when she was twelve that she wishes she'd hung onto), wrote some short stories and progressed to writing a lot of personal essays and a short book about her personal experiences with the Twelve Steps (she's a long-term recovering alcoholic and pill-popper).
"I started writing novels maybe twenty-five years ago, and learned to write a good (hopefully) novel mostly through working with Arts Desk editors at NPR," she explained. "Boy, howdy, do those people get story. I could do character, setting, dialogue pretty well on my own, but the art of driving a story eluded me until I worked with Jeffrey Freymann-Weyr, Laura Bertran, and my great friend Loretta Williams — who actively helped me whip the plot of Small Blessings into shape, mostly by asking me such hard questions as: What, exactly, is going on in this scene?"
"What inspired you to write?"
"I think it was the sound of my mother's voice when she read aloud to my sister and me. She was an English professor, and loved words almost as much as she loved me. I would lie on the floor, listening to her, and turn the words she read aloud into vivid, other worlds. Dickens, Shakespeare, the myths of many countries, The Tales of Robin Hood — those and many other imaginary 'word worlds' still dance in my head. I suppose I started writing to turn my own imaginary worlds into words, hoping others will take as much delight in them as I do."
She grew up in Greensboro, North Carolina, in the fifties and early sixties, at which point she left for boarding school.
"My hometown was part of the Civil Rights struggle, and, as a young teen, I was a proud (albeit brief) participant in the Woolworth sit-in. My great fiend Allen Troxler's mother, Eunice Troxler, ran a tutoring program for African American children struggling to keep up in integrated schools after generations of 'separate but equal' education. I was a volunteer with this program, and I'm proud to say a planning session held in the country, merited a KKK cross-burning. Wow, did those guys look silly in their sheets! Growing up in Greensboro taught me not to be afraid of having beliefs and standing up for them!"
Martha's novels always start with a first line.
"As for the characters and plot, the characters come first. I am most definitely a people person. The characters and plot just show up in my head and start doing things together," she said. "That's usually it for the first draft. At that point I show my work to someone whom I trust as a savvy plot doctor (my friend, Loretta Williams; and my agent for the last couple of years, Kate Garrick) and then I go to work installing some pace and discipline into the doings of my new imaginary friends."
"Tell us about your writing space," I said.
"The aforementioned mother was also a rigid neatnik, so I am a rebellious mess-nik. I write in a room with a view of Little North Mountain in Virginia's Shenandoah Valley, that is piled high with books and stuff that's connects me to the people I love, places I've been, and the adventures I've had."
Martha writes for three hours every morning, before her brain gets wired with the day's busy-ness, and her husband keeps her coffee cup full. After that, she usually goes into her office at WMRA public radio.
"How do you do research for your books?" I wondered.
"I've lived a long, adventurous, rule-busting life that has sometimes worked beautifully and sometimes been a train wreck. It's brought me into contact with many different kinds of folks, which has pretty much taught me that people are people and we're all trying to do the best we can with what we've got to work with. I write kind of the same way Miss Marple sleuths; take bits and pieces of people I've crossed paths with and stir them up into fictional characters."
Finally, I asked, "If you were to write a series of novels, what would it be about?"
"This is a risky thing to say as a first-time published novelist, but I am writing a series — a la Maeve Binchy or Alexander McCall Smith. The novel I'm working on now has some of the same characters as Small Blessings, and I'm planning a third novel with some overlap as well. The main characters and setting will be mostly new, however."
Tom Putnam, an English professor at a Virginia women's college, has resigned himself to a quiet and half-fulfilled life. For more than ten years, his wife Marjory has been a shut-in, a fragile and frigid woman whose neuroses have left her fully dependent on Tom and his formidable mother-in-law, Agnes Tattle. Tom considers his unhappy state self-inflicted, since Marjory's condition was exacerbated by her discovery of Tom's brief and misguided affair with a visiting poetess. But when Tom and Marjory meet Rose Callahan, the campus bookstore's charming new hire, and Marjory invites Rose to dinner, her first social interaction in a decade, Tom wonders if it's a sign that change is on the horizon. And when Tom returns home that evening to a letter from the poetess telling him that he'd fathered her son, Henry, and that Henry, now ten, will arrive by train in a few days, it's clear change is coming whether Tom's ready or not.
About the Author: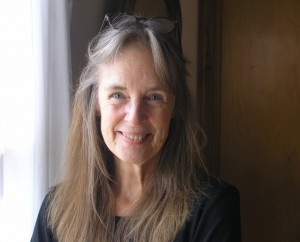 MARTHA WOODROOF was a regular contributor to NPR news programs, and now writes for npr.org. She has also written for Martketplace and Weekend America, and for the Virginia Foundation for the Humanities Radio Feature Bureau. Her print essays have appeared in such newspapers as The New York Times, The Washington Post, and The San Francisco Chronicle. She lives with her husband in Virginia's Shenandoah Valley. Their closest neighbors are cows.