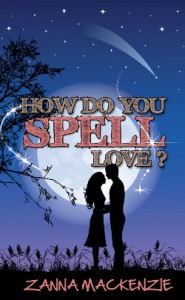 Welcome Zanna MacKenzie to Long and Short Reviews. Leave a comment or ask the author a question for a chance to win a digital copy of her previous novel How Do You Spell Love?
Her latest book is called If You Only Knew and it is about what happens when you let your fears get in the way of living your life. The three main characters all have emotional issues and fears which are stopping them from doing the things they want to.
Zanna lives in the UK, right in the middle of the country on the Derbyshire and Leicestershire borders. They are officially as far from the coast as you can live in England which is a bit of shame because she loves the coast!
"I like that we live in a village with only one road through it; it's semi-rural but we are only a few minutes' drive from a small market town which is convenient. The area has everything – shops, countryside, good road network, – and we are surrounded by all that lovely countryside, great footpaths for walking the dogs, lovely scenery – we're very lucky," she told me.
Their main living area is open plan – kitchen to dining to lounge, with a sunroom tacked on the side overlooking the garden. She works at a desk with a window and garden views.
"The view is great. The only slight issues sometimes is that the desk is in the middle of the house and getting some peace and quiet to concentrate can be tricky sometimes!"
When Zanna first published she was offered a contract on The Love Programme by an American publisher and, with the month, was offered a contract on How Do You Spell Love? by a UK publisher.
"I was super hyper and excited about it all. I also felt immense pressure to get writing another book, I was so terrified I might lose my writing ability now that I had pressure to 'perform' and to try to get more books published," she told me. "I wrote like crazy on my third book and eventually mentally burnt myself out. I panicked – I'd always been able to tap into the creative part of me before and now I couldn't! I sought advice from authors in the various author groups I'm in and got lots of words of advice. I tried some of their suggestions and thankfully they worked – I was hugely relieved ! I try to pace myself a bit better these days to avoid it happening again. What suggestions worked for me? I took a step back from the computer and headed off on a day out somewhere I'd never been before with my husband and our dogs. We visited a castle and country park in Derbyshire and the house and scenery were so inspiring I took lots of photos and began to feel ideas creeping into my head about characters and plots and scenes in that particular setting. I started to scribble anything down, however random and slowly began to get my creative 'vibe' back – thank goodness!"
Zanna believes there are several things that come together to make a book something special: the setting of the book, an intriguing plot which has something you can relate to, and memorable characters.
"When I think which books I've read which particularly stick in my mind I would say it is probably the characters which are key to me – they have to be people who really get into your mind, people who you wonder what they're thinking, what they're going to do next, how they're going to react to things, how their lives will end up," she explained. "Preferable settings for me tend to books located near the sea or in the countryside. I love books set in some of my favourite places too – British Columbia in Canada, New England In America, Scotland or Ireland closer to home. I think the writing should be just enough to bring the places to life in your mind, help you create a mental picture of them but not too much so that you feel bogged down in detail which slows down the action of the book. The plot needs to ask a question which you find yourself desperate to discover the answer to –what secrets are the characters keeping, who murdered someone, whether the love interests will make their relationship work or not and how. There has to be a hook which pulls you into the book. Then the book needs to keep moving, no saggy middles where nothing much seems to be happening. It's a fine balance I think in terms of achieving all these bits and pieces and incorporating them into your writing."
Once Zanna has the basic premise of a book, she gets a notepad and pen and starts to flesh out the details of the plot. She looks at the start, at the end, and then goes step by step through what needs to happen to get to one place to the next.
"As I write the book though things do swap and change around a little and extra bits of story detail and plot points usually come in once I've connected with the book, its story, setting and characters. Once the characters are developed, their quirks, motivations, personal issues etc. all naturally influence the plot too – how would that character behave in each situation on the plot points I ask myself? I use this line of thought as I'm writing to try to personalise character behaviour and tie everything together," she described. "When I'm developing characters I start with an idea on how they look, their goal/issue/motivation and then set to on putting together a detailed biography for them. Everything from what car they drive, clothes they wear, family and relationship history, mannerisms, habits, education and jobs and lots more. I find astrology is a great tool to help bring depth to a character as well. When I have my general character outline I can usually see which astrological sign they would suit and then I use some books for writers about the personality of star signs to learn even more about the characters in my book."
Zanna has just finished the first of what she hopes will be a series of humorous romantic mystery novellas. I asked her to tell us about them.
"They're more on the 'cosy' side than the 'blood and guts' side of the genre. I've dabbled with elements of a mystery to solve in some of my books before and fancied developing this so that the mystery solving element was as much a part of the plot as the romance aspect so I gave it a go and loved writing in this genre for the new novella. I already have plot outlines for the next books, keeping the same characters but sending them off on a new mystery in a new place each time. I also thoroughly enjoyed writing a hero who is an undercover agent, carries a gun and leaps off cliff edges!"
"What is your most embarrassing moment?" I asked Zanna.
"When I was at college my sister was the manageress of a shoe shop and she asked if I wanted to do a bit of Saturday work to earn some pocket money. I nervously agreed and went along one Saturday to give it a go and learn the ropes. My sister had drilled in to me how things worked – ask if a customer needs help, if they want some shoes fetching in a certain size, head back to the stockroom and fetch them, offer them to the customer to try on. OK, all good so far. Until a man said he was looking for a present for his wife and asked if we had some ladies slippers in a size six. I went to have a look, we had, I brought the box of slippers out to the shop, opened them and said to the man – 'would you like to try them on?" Spot the problem? The customer was a man and I was holding in my hands a pair of pink ladies slippers. Mmm…. I was hugely embarrassed and so, I seem to recall, was he. I decided I wasn't cut out to sell shoes after that!"
Finally, I asked, "What advice would you give a new writer just starting out?"
"Write what you want to, write the stuff you know well and love to read, write from the heart. Take on board advice and feedback on your work but ultimately it's your writing and your book so go with what you believe to be right. Writing and reading are so subjective. When I was starting out I put my manuscripts through professional appraisal services and was bombarded with conflicting advice. I ended up confused and unsure what to change or not change. A well-established author who was in the same online author group as myself messaged me privately to say – do what you think is best for your book and believe in yourself and your writing. Those words have always stuck with me.
In regards to publishing – there are lots of fantastic small independent publishers out there now who only publish to ebooks, don't dismiss them. They offer an excellent chance to get your work published and can also provide plenty of support and advice.
Concerning marketing and promotion – get to grips with the social media, blog and website side of things, make contact with potential readers, learn as much as you can about marketing well before your book is published."
About the Author:  
Zanna Mackenzie lives in the UK on the Derbyshire/Leicestershire border with her husband, 4 dogs, a vegetable patch that's home to far too many weeds and an ever expanding library of books waiting to be read.
Being a freelance writer and editor of business publications is her 'day job' but, at every opportunity, she can be found scribbling down notes on scenes for whatever novel she's working on. She loves it when the characters in her novels take on minds of their own and start deviating from the original plot!
If You Only Knew is Zanna's third novel; her previous books The Love Programme and How Do You Spell Love? were both published in 2013.
Find out more about Zanna on her blog, on Twitter via @ZannaMacKenzie, on Facebook, Goodreads, Pinterest, or the author's Amazon Author Page.
Faith has a fear of falling in love again but Zane persuades her to risk a relationship with him.

Maybe this time things will be OK.

Then she discovers who Zane's business partner is and her world is turned upside down…