Long and Short Reviews welcomes Kristy McCaffrey who is giving away an e-copy of INTO THE LAND OF SHADOWS to one lucky commenter. One scene in the book is based on an incident her father experienced when Kristy was a child. Her family lived on the Navajo Indian Reservation–her father was the accountant of an arts and crafts store, and a hex was placed on the building as well as on the employees within it. Because of this, he was allowed to attend several ceremonies held by a medicine man, even though he was a white man.
"This has always been an interesting story in our family lore, and I knew one day I'd use it in a book," she said.
Kristy has been drawn to writing since she was young–she told me she thinks that it's always just been a natural way for her to express herself. She wrote copiously during her childhood, but it wasn't until she was in her 30s, with four young children at home, that she decided to write a book and try to get published.
"Did you always want to be a writer?" I asked.
"I was a quiet and studious child, and always thought I should be the son my dad never had, so I wanted to do important work such as theoretical physics or meteorology. But, for a while, all I really wanted to be was a Dallas Cowboy Cheerleader."
Many of Kristy's recent books are set in Arizona, where she lives. That makes it easier for her to visit the actual location of her story.
"For my book The Sparrow, in which the h/h ride a wooden dory on the Colorado River through the Grand Canyon in 1877, I painstakingly mapped the length of the river and every rapid," she told me. "Not that this is relevant to the reader, but it was important in understanding the challenges the characters would face along the way. Plus, I'm just a little anal and obsessive about details. It gives me something to do every day."
She also reads a lot as research for her books–history books, fiction, dictionaries of Native American dialects. She also does internet searches.
"I know I can never represent a completely accurate portrayal of the time, but I do my very best," she said.
She was born and raised in Arizona, but lived for twenty years in Pittsburgh before her husband took pity on her and moved her home to Arizona.
"I dislike being cold," she admitted. "I get quite chilled even here in Arizona, about which my husband and children tease me endlessly. We took a family vacation to Scotland last summer and I reminded my children repeatedly to pack warm clothing since we were headed as far north as the Orkney Islands. They, being teenagers, just rolled their eyes. But we did hit a bitterly cold day and I stood my ground; I wouldn't share my coat, scarf or gloves. Definitely not a Great Mother Moment, but sometimes you have to teach your kids with an 'I told you so.'"
"What, in your opinion, are the most important elements of good writing?" I wondered.
"My thoughts on this have changed over the years. At the beginning of my career (10 years ago) I would've said a perfect adherence to writing rules (each genre has a certain expectation and rhythm to it), but today I would say it has more to do with heart. While I do think a writer needs to educate himself/herself with grammar, pacing and an eye for details, it's more important to ride the crest of your own story. Pour your heart into it. This goes back to an authentic voice. If your work is a reflection of your best self, then there can be no regrets, despite rejections or bad reviews. Some of the best books out there aren't the most well-written; rather, they've captured the soul of the story. In the end, I think that's more important."
Both Kristy and her husband work at home, with their desks occupying a den and nearby sitting area.
"I've got the better view; my desk faces a large window. We live north of Phoenix, in the desert of Arizona, and I've got bird feeders just outside so I get to enjoy quail, wrens, finches, sparrows and woodpeckers all day, along with many saguaro cactus," she said. "I love it! As for my desk, it's a fairly controlled mess of piles. I keep bins with file folders to organize not only my writing thoughts, but my husband's business as well since I take care of his bookkeeping. I have several bookshelves, all filled to the brim with books. I have a Kindle, but I still have a terrible addiction to printed reading material."
Kristy admitted that she is a notoriously slow writer. She's currently finishing up a contemporary adventure romance about a woman climbing K2, the second highest mountain in the world. And she's got two historical western romances in the future – one she's started, but the other still in the planning stages. She would love to finish at least two manuscripts this year.
"What was the scariest moment of your life?" I asked her.
"My younger son was born with an irregular rapid heartbeat, which was discovered a few weeks after he was born. He had to be immediately hospitalized and I remember being overwhelmed by how quickly it all happened. That first night, I was alone with him because my husband had to stay home with our 1-year-old. The doctors couldn't stabilize my son and during those long hours I was forced to face that he might not make it. It was one of the worst moments of my life. But I'm happy to say that he's now a happy and healthy 18-year-old. He still has the condition but we've learned to manage it."
Finally, I asked her, "What advice would you give a new writer just starting out?"
"To simply begin. There will be much to learn along the way, and you won't "get it" unless you're in the trenches, working with words and plot and story structure. I would also add—be discerning with who and how you share your work. Feedback is vitally important, but bad feedback is worse than none at all. By this I mean, not everyone will have your best interests in mind. I echo the sentiment that you should read, read, read in many different genres, but I also think there's a time when you should write, write, write. You must find your authentic voice, and that is done by working with the pile of clay that is your creativity. You won't find the exquisite sculpture inside unless you work at it. Imagining it isn't enough. This is the difference between published authors and those who can never seem to finish a story. And finally, cultivate a professional attitude from the beginning, because whether you make money or not, you ARE a writer."
About the Author: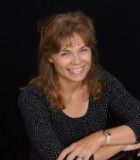 Kristy McCaffrey has been writing since she was very young, but it wasn't until she was a stay-at-home mom that she considered becoming published. A fascination with science led her to earn two engineering degrees—she did her undergraduate work at Arizona State University and her graduate studies at the University of Pittsburgh—but storytelling was always her favorite hobby. Born and raised in Arizona, and recently returned after a 20-year absence in Pittsburgh, she writes Old West romances to capture the landscapes that were such a big part of her childhood. Her first novel, The Wren, was a CAPA winner for Best New Author Traditional, a Texas Gold finalist, and a HOLT Medallion finalist for Best First Book. The Sparrow was the 2012 Winter Rose Winner in the Published Historical Division. She lives in the Arizona desert with her husband, where they frequently remove (rescue) rattlesnakes from their property. Her four teenaged children are in varying stages of flying the nest, so her two chocolate labs—Ranger and Lily—are the recipients of her maternal instincts these days.
Website: http://www.kristymccaffrey.com
Blog: http://www.kristymccaffrey.blogspot.com/
Facebook: https://www.facebook.com/AuthorKristyMcCaffrey
Twitter: https://www.twitter.com/McCaffreyKristy
Rancher Ethan Barstow is weary of the years-long estrangement from his brother, Charley. Deciding to track him down is easy; not so easy is riding in the company of Kate Kinsella, Charley's fiancée. In the land of the Navajo, spirits and desire draw them close, leading them deeper into the shadows and to each other.