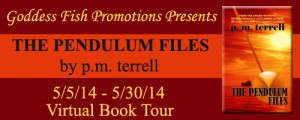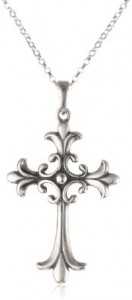 This post is part of a virtual book tour organized by
Goddess Fish Promotions
. The author is giving away a beautiful Celtic cross necklace to one random commenter. Click on the tour banner to see the other stops on the tour.
AS AN AUTHOR, WHAT SCARES ME THE MOST…
I'd have to say that what scares me the most is how many people no longer read—truly read.
I believe the future of our world depends on the ability of human beings to learn from the past, which means knowing and understanding the past, as well as recognizing the importance of differing cultures and how many religions and cultures have common denominators. And I believe that reading both fiction and non-fiction opens up new worlds for the reader, worlds they could never have visited because of the time or era, the geography, or factors beyond their control. Yet they can hold that culture in the palm of their hands.
Books also provide us with a catalyst for the future. I'm reminded of Jules Verne, who wrote about space ships launching from Florida and landing in the ocean—in 1865. So many novelists inspired whole generations of scientists and engineers, who have provided us with everything from microwave technology to artificial limbs to satellites. The stuff of yesterday's science fiction has become reality for us today.
Yet I find so many people who no longer read. They skim everything from emails to books, which is obvious when they miss a deadline, misunderstand a situation, or mischaracterize a book. Not reading impacts not only the reader but everyone they come in contact with.
We live in an age of popcorn brain, where our minds pop from one subject to another, often not even stopping for a millisecond before moving on to the next item. It doesn't allow us time to fully comprehend any situation, to digest scenes or implications, or to think, the root of all progress.
I would love to see balance return; to find people using technology as one tool but not immerse themselves in it, hour after hour, minute after minute. I'd love to see people connect again with nature, with their neighbors, with their friends and their coworkers. I'd love to see them take the time to escape into the world of a book for whatever time it takes for them to fully experience every scene.
The alternative is truly frightening.
CIA operative Dylan Maguire joins forces with psychic spy Vicki Boyd to find out who is bombing merchant vessels bound for the United States from China. Their mission will lead them to Black Sites, the high seas and into covert operations. And when an assassin escapes from prison determined to finish the job he started, they find their personal lives and their missions are about to collide in ways they never could have imagined.
About the Author: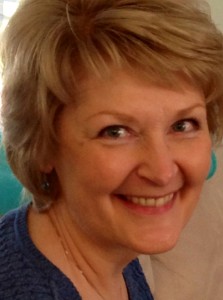 p.m.terrell is the pen name for Patricia McClelland Terrell, the award-winning, internationally acclaimed author of more than 20 books in five genres. A full-time author since 2002, Black Swamp Mysteries is her first series, inspired by the success of Exit 22 in 2008. The books include Exit 22, Vicki's Key, Secrets of a Dangerous Woman, Dylan's Song and The Pendulum Files. Vicki's Key placed as one of four finalists in the 2012 International Book Awards. Her historical book, River Passage, won the 2010 Best Drama Award, and her romantic suspense, The Tempest Murders, placed as one of four finalists in the 2013 USA Best Book Awards.
Prior to becoming a full-time writer, she founded and operated two computer companies in the Washington, DC area. Her specialties were computer crime and computer intelligence and her clients included the CIA, Secret Service and Department of Defense. Computer technology often weaves its way through her contemporary suspense/thrillers.
She is also the co-founder of The Book 'Em Foundation and the founder of The Book 'Em North Carolina Writers Conference and Book Fair, an annual event to raise money for literacy campaigns. She also serves on the boards of the Friends of the Robeson County Public Library and the Robeson County Arts Council, and served as the first female president for the Chesterfield County/ Colonial Heights Crime Solvers.
Website ~ Blog ~ @pmterrell ~ Facebook
Buy the book at Amazon – paperback, Amazon – Kindle, or Smashwords – all ebook formats.