Leave a comment for a chance to win a copy of the book (US/Canada only)
As an Author, Only One Thing Terrifies Me …
by Elene Sallinger
Silence. Not even bad reviews scare me the way silence surrounding a book does. You see, there's a misconception about writing. It's portrayed as a very isolationist and selfish profession. We writers shut ourselves away from the world and write the stories we want to tell with no consideration for the greater world. This is only technically true. Yes, books are written in solitude. And, yes, we are writing the stories we are driven to tell doing our best to ignore the audience in order to be true to the story. However, that's only the creation process. We could stop there. The story is now written. However, we don't stop there. We share our creations with the world and make them part of the collective consciousness.
Imagine writing a letter. But, not just any letter; instead you've poured your heart and soul into it. You've spent hours shaping and smoothing the language until, finally, you share it with its intended recipient. You wait patiently – or not – for a reply and receive … nothing. Not one word. Not an "I hate this" or a "Wow, that was great." Nothing. You track the delivery and see that the letter was, indeed, received, but you've got no reply. How do you process that information? Was there something wrong? Was it just okay? Did I fail to get my message across? You have no way to assimilate the nothingness of no response.
For an author, silence about a book is akin to being placed in a dark, empty room, spun around, and then told to find your way out. You have no point of reference, no way of triangulating so that you can continue to move forward.
In any story, the author places some part of themselves that is fully intended to spark conversation and debate. It is this conversation about a book that is the author's lifeblood. The truth is that we write to move people. Personally, I don't judge that movement. While it's lovely when people enjoy a book, I'm equally okay if you hate the book because the reader wasn't able to remain neutral. That's what's important. Bad reviews are preferable to silence any day for two reasons: 1) I know the book is actually being read; and 2) I know I accomplished my goal of touching the audience emotionally.
In the end, positive reviews are welcomed. Bad reviews are interesting and often thought-provoking. But, silence … silence is just terrifying.
Bridget Ross is a woman with a shameful secret. Despite a life full of success and close friends she denies herself her true desires in penance for the crimes she can't take back. Connor Reynolds is a man without a purpose. His own tragic past prevents him from putting down roots and pursuing his dreams. Their paths collide forcing them to face the ultimate question … is their love worth fighting for?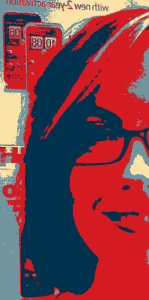 Hailing from Washington, DC, Elene Sallinger first caught the writing bug in 2004 after writing and illustrating several stories for her then four-year-old daughter. Her writing career has encompassed two award-winning children's stories, a stint as a consumer-education advocate, as well as writing her debut novel, Awakening – a novel of erotic fiction that won the New Writing Competition at the Festival of Romance 2011.
She is a lover of all things lingual, a warrior of words, and a vixen of vocabulary. Her goal is to titillate, provoke, empower and move you with her work which ranges from the erotic to the dramatic and everything in between.
When not writing, Elene is a mom to a feisty 13-year old daughter and two adorable Pitbulls.
http://elenesallinger.wordpress.com/
https://twitter.com/ESallinger
Available at Xcite Books, Amazon, Barnes & Noble, and all other major retailers.