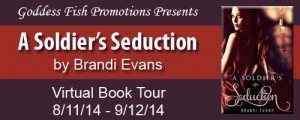 This post is part of a virtual book tour organized by
Goddess Fish Promotions
. Brandi will award a $10 Amazon GC to two winners via rafflecopter and a personalized charm bracelet to a third winner via Rafflecopter.
PLEASE NOTE: A Soldier's Seduction is available FREE from the publisher.
Hola, Lovelies!
I'm so honored you stopped by to learn a little about me and my first CYOA (Choose Your Own Romance) A Soldier's Seduction. With the different possible choices—for both the reader and for myself—this was such a fun story to write. I hope you enjoy it as much as I do. 😉
I'd also like to thank my wonderful host for having me here today. You so totally rock!

1. Please describe your hero, from A Soldier's Seduction, in three words.
Soldier.
Sexy.
Alpha.
2. Which of your characters would you most like to invite to dinner and why?
Brock Michaels from His Forbidden Submissive. He's a Dom with a heart of gold.
As if that alone wasn't enough, he's also a bad boy. Tattoos everywhere. Shaved head. Muscles big enough he could probably bench press a small mountain. *fans self*
3. Who I'd least like to invite to dinner?
Probably Kaia from my first book Tempted. She's a fallen angel with a particularly nasty side. She likes to "inspire" humans to do terrible things. In Tempted, she tries to get the heroine to commit suicide.
Yeah, Kaia's one nasty b*tch.
4. What scene, in particular, from A Soldier's Seduction are you dying for readers to read?
Hmmm, that one's hard, especially with four possible endings!
But I'd have to choose, I'll pick the end of the "bedroom" scene, where the hero *spoilers* (and if you read that in River Song's voice, we're now best friends, LOL!) confesses his love, and the heroine just can't quite believe it. She stares up at him in disbelief…
Love it. 🙂
5. Which usually comes first for you, the character(s) story or the idea for the novel?
The sex.
I don't mean that in a crass way, LOL. I'm referring to the heat between the characters. That's what draws me to them and makes me want to write their story. I've built entire stories around an initial sex scenes.
6. How many books have you published? Which is your favorite and why?
Currently published at the time I write this: 7 (with 2 more contracted).
And now you want me to choose my favorite? I'm not sure I can.
Tempted was my first story, so it will always have a special spot in my heart. His Forbidden Submissive has my favorite character, Brock. A Soldier's Seduction was my first foray into CYOA. Tyler, one of the hero's from In the Middle of Nowhere, has been so emotional and physically scarred, he makes me feel terrible for crafting such a painful backstory for him.
So yeah, please don't make me choose!
7. If someone were to write a biography about you, what do you think the title should be?
The Voices Made Her Do It.
8. Do you prefer ebooks, paperbacks or hardcover? Any specific reason why?

Ebooks almost exclusively.
With my lap occupied by Kidlet2 so much of the time, one-handed reading is just easier. Plus, now that Amazon has merged their Audible app with their Kindle app, I can now listen to the stories or read them without losing my place in either. I can't begin to tell you how much I love that.
9. Do you have a question for our readers?

What is your favorite genre of romance? What is your least favorite? Please leave your answers in the comments!

10. Do you have any other projects in the works? If so, can you share a little of your current work with us?

Yes!
I've signed with Silk Words for another CYOA story, tentatively titled Uniform Seduction. It's set in the same world as A Soldier's Seduction and features Gen's best gal pal, Lily Collins, as she has to decide between two equally yummy soldier's.
I'm also working on first-round edits for a military-themed m/m erotic romance for Loose Id. The story's called In the Middle of Nowhere, and is tentatively set for an October release.
When Gen learns her best guy friend is going back to Afghanistan, she arranges an erotic sendoff he'll never forget.

GENEVIEVE FOSTER can no longer deny the truth. She's fallen in love with her business partner and best friend, LIAM ENGLAND. She's hesitant to tell him the truth, at least until she learns his National Guard unit is going back to the Middle East. Now, all bets are off. She heads to the mall for the perfect erotic outfit. And by outfit, she, of course, means lingerie. A dark blue baby-doll for an intimate evening in or a leather bustier for a night of sinful pleasures at The Erogenous Zone…

*~*~*~*~*

Pick Your Path to Romance.

Blurring the line between fiction and gaming, SilkWords.com offers high-quality romance and erotica that allows individual readers to choose how stories proceed. SilkWords is the place for smart, busy, adventurous women to unwind and have fun.
Enjoy an excerpt:
"Are you ever going to un-blindfold me?"
"Maybe," I teased, praying my nervousness didn't leak through.
Taking Liam by the hands, I tugged him from the passenger's seat of my Ford Escape. I'd given my handsome companion only one clue about tonight's adventure — to wear something sexy — and damn if Liam hadn't delivered.
A pair of black sheen slacks covered his legs, and the light blue button-down I'd given him on his last birthday had beautifully brought out the azure of his eyes. I'd hated to cover them with the blindfold, but it couldn't be helped.
He'd shaved and cut his hair, his blond locks sporting an Army crew cut, making him look strong, virile, a vision of alpha-tastic yumminess. He'd no doubt fit right in inside The Erogenous Zone. Lord knew he was doing a number on my erogenous zones.
My heart had been doing the samba since I'd knocked on Liam's door. I'd had to employ every self-restraint trick I'd known — as well as several I'd invented on the fly — just to keep from jumping him right then and there. I'd put a lot of planning into our erotic outing, and I didn't want to derail everything because I couldn't control myself.
Liam had talked about coming to The Erogenous Zone since the club had opened, but reservations were few and far between. He'd asked me to come with him. I'd been thrilled until I'd learned his request probably had more to do with the fact couples had less of a waiting list than single males. Still, I liked to believe Liam had wanted to go with me because he wanted me at his side.
"There's a step here," I said as we left the shadows of the parking lot behind and moved into the soft glow of the club's outside lighting. Liam held tight to me as we stepped over the curb and onto the path leading to the entrance. The club loomed large and imposing in front of us, an enormous brick building with graffiti spray-painted on the sides. According to the website, the place had been an abandoned warehouse before the owner had repurposed it, and from where we stood, an abandoned warehouse was exactly what it still looked like.
As we reached the entrance, a man the size of a small mountain approached us. He wore all black, save for a tiny splash of color on the right pocket. Written in multi-hued lettering, the club's logo stood out against the dark background. Two full sleeves of tattoos covered his arms. Metal studs pierced his eyebrows, his nose, his lips — all in multiple places.
"Do you have a reservation?" The bouncer's voice reverberated, a deep, gravelly resonance I swore I could feel inside my bones.
I swallowed hard, hoping to displace the unease suddenly bottlenecking in my throat. "Yes. For Genevieve Foster. Plus one."
Muscles glanced at his clipboard and then opened the door. "This way, Ms. Foster. If you'll see Rachel at the front desk, she'll get you checked in."
I nodded. The reality of the moment bitch-slapped me. I was about to take my best guy friend into a sex club so I could seduce him. Our entire relationship hinged on what would happen in the next few moments. I could finally have the man I loved in my arms, or I could lose a dear friend forever.
Things hadn't seemed this real in the planning phase.
About the Author:

Brandi Evans was raised by a caravan of traveling Gypsies. She spent her days learning the ways of her people and her nights lost in legends as old as time. Okay, not really, but that's way more interesting than the truth!
In reality, Brandi grew up the oldest child of an ordinary family. Grade school, middle school, high school. Nothing extraordinary happened until she left the nest. She joined the military, went to college, got married, and became a mom. And somewhere along the way, she discovered she liked to read—and write!—stories hot enough to melt eReaders.
These days, she calls The Natural State home where she lives with her hubby, two beautiful daughters, two dogs and a cat who has yet to realize she doesn't own the place. Soldier. Wife. Mom. Multi-published smut writer. Brandi's life might not be "traveling Gypsy" interesting, but she's had fun. And in the end, isn't that all that really matters?
Website: http://www.BrandiEvansAuthor.com
Blog: http://brandievansauthor.blogspot.com/
Twitter: https://twitter.com/brandi_evans
Pinterest: http://www.pinterest.com/brandievans1
Goodreads: https://www.goodreads.com/author/show/4373174.Brandi_Evans