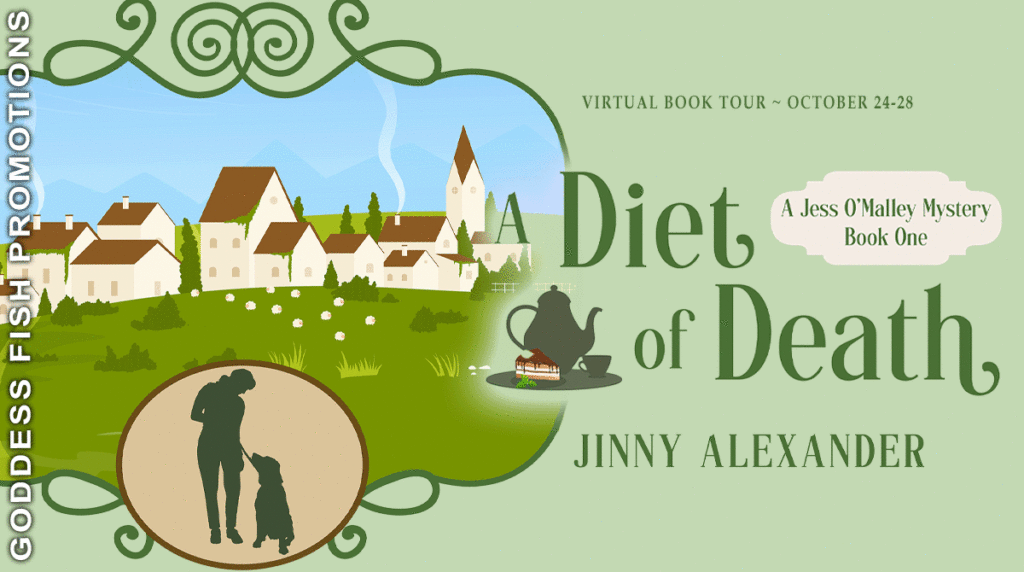 This post is part of a virtual book tour organized by Goddess Fish Promotions. Jinny Alexander will be awarding a $10 Amazon/BN GC to a randomly drawn winner via rafflecopter during the tour. Click on the tour banner to see the other stops on the tour.
A room of one's own, with extras
In my daydreams I write in a tidy, warm, quiet room, on a cliff-top, overlooking the sea. On bad-weather days, the windows are shut tight and the raging volume of lashing water – rain or sea – can't get in. On calm days, or gentle-breeze days, the windows are flung wide open, and I sit industriously at an intricately-carved, cast-iron table, tapping away at an old-fashioned typewriter…
If I spent less time daydreaming and more time writing, maybe this would become my reality. Reality is a small, converted bedroom, painted a warm egg-yolk yellow, filled with my day-job paraphernalia – cuddly toys, flashcards, puppets, files and papers, pens and diaries. I'm an online ESL teacher when I'm not a writer. Much of this ESL clutter spills over into 'things I use for writing'. You can never have enough pens and notebooks, right? The view from my window is not over the sea, although I can't complain. I live in the country and am surrounded by mature trees and rolling fields.
From my window, I get to watch the ever-changing seasons, although, to be honest, I would see them better if I got up and cleaned the glass – another thing for the Procrastination from Writing List. Today is sunny, and windy and the view from the window is all about the orange glow of autumn and dancing shadows as the trees rustle in the wind. Unfortunately, my windows are old, and draughty, so inside the room, things also rustle in the wind. Mainly the screwed-up papers of novel ideas and plans I wrote and then changed as soon as I began to transfer them to the laptop, or the heap of discarded tissues in the bin; proof that at this time of year (autumn through to spring) the coldness of this old house will seep into my bones and leak out again in sniffs and sneezes.
Also in this room is a laundry airer, usually full of wet washing, and artfully placed to be out of webcam view. I prefer not to air my clean washing in public – my dirty washing, of course, is the stuff my books are made from! My webcam focuses on the bookshelves behind me, with its carefully selected writerly books, books I've written, and educational books for teaching. Not like the teetering stack of mixed novels beside by bed, which includes anything from chicklit to psychological thriller to the latest 2022 debut to research to mystery and back again. When one of my online students told me he thinks I live in a library, my heart swelled and the backache I get from sitting slightly askew to ensure 'best background view with no dripping socks or knickers' was instantly worth it.
Add to this yellow-walled room at least one dog; maybe two. Sometimes a cat, sometimes two. Sometimes all four animals at the same time, fighting over the chair, scratching at the door to come in, or to go out. Add also, a large and hairy spider who has lived in the sash of the window for so long I miss him when he doesn't come out, and you'd be forgiven for thinking that my room is most certainly not my own.
You'd be mistaken. This, for now, is a room of my own, in which I will write the next novel, and the next, and the next. The cats and dogs remind me I must get up and leave it from time to time, but, for the time being, it is the room where I will work and write and stare out the window daydreaming for as long as it takes to get that other room; the one on the clifftop with the sea raging below.
Ballyfortnum Get Slim group–putting the die in diet.

In the close-knit Irish Village of Ballyfortnum, getting slim might just get you dead. Mystery-lover Jess O'Malley is distraught when her elderly friend dies, but that's not all–he's the third of the local slimming group to die this year and it's only February. Is something amiss in the Get Slim group?

Jess, aided by her sidekick Fletcher, her boisterous Labrador, must convince local policeman Marcus that there may be a murderer at large in the village. If she doesn't solve the mystery, will another of the dieters end up dead? Or worse–if she doesn't stop asking awkward questions, will Jess become the next victim?
Enjoy an Excerpt
Jess shuddered, remembering how, on the Wednesday of that week, she had bumped into Breda in the refrigerator aisle of one of the supermarkets in Lambskillen. They chatted for a while in front of the fish section, each clasping a warming bag of prawns while discussing the merits of various shellfish. Breda had never had mussels before, she'd said, peering dubiously into the fridge.
"Nor any shellfish, sure I haven't," she'd told Jess, brimming over with the enthusiasm of one discovering new tastes. She gestured back towards the fridge. "Nor octopus … sounds suckery—however would you cook it?"
There was a whole section of seafood recipes in the newest Get Slim magazine that she was going to try out, Breda said, managing to sound both wary and excited. Adding a jar of tartare sauce to her basket, Breda moved on.
Jess returned her own lukewarm bag of prawns to the fridge, and selected instead a bag of battered onion rings from the freezer below, tossed them into her trolley, and wheeled off into the wine aisle. She waved at Breda across the car park as they loaded their shopping into their respective car boots.
Three days later, as she'd considered the news Mrs Dunne had shared, wondered if Angela had been trying out the same recipe. Food poisoning, Mrs Dunne had reckoned. Dodgy prawns? Jess shudder as she relived the moment she'd decided to choose unhealthy—but delicious—battered onion rings instead of the nakedness of wrinkled prawns, put off by the thought of accidentally purchasing something healthy that Kate might construe as a sign to try to persuade Jess to join Get Slim.
About the Author:Jinny was first published in Horse and Pony magazine at the age of ten. She's striving to achieve equal accolade now she's (allegedly) a grown up. Jinny has had some publishing success with short story and flash competitions and secured a publishing deal in December 2020 for her first three novels. The first of these, Dear Isobel, was released in March 2022. A Diet of Death is Jinny's second novel and the first in her Cosy Mystery series. Jinny is currently studying an MA in Creative Writing at the University of Hull, UK.
Jinny also teaches English as a foreign language to people all over the world. Her home for now is in rural Ireland, which she shares with her husband and far too many animals. Her two children have grown and flown, but return across the Irish Sea when they can. She quite likes to shut the door on them all and write.
Website | Twitter | Facebook | Instagram | TikTok
Buy the book at Amazon.