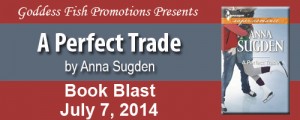 This post is part of a virtual book tour organized by
Goddess Fish Promotions
. Anna will award a $15 Amazon GC to one randomly drawn winner via Rafflecopter, as well as 3 signed copies of A Perfect Trade, 3 exclusive A Perfect Trade notebooks and 4 exclusive A Perfect Trade key rings to other randomly drawn winners (international giveaway). Click on the tour banner to see the other stops on the tour.
A win-win negotiation?

Truman "Tru" Jelinek's life is pretty much off the rails. With his professional hockey career on thin ice, and his personal life falling apart, he's ready to implement some serious changes. Helping Jenny Martin—the only girl he's ever loved—make her dreams a reality is a good place to start.

There's just one problem: Jenny doesn't want his help. She barely wants to speak to him. But Tru is prepared to negotiate a deal that even Jenny can't refuse. As trading favors turns into sharing passion, he has to face the truth that when it comes to Jenny, the game is far from over.
To read the entire first chapter, please visit http://goddessfishpromotions.blogspot.com/2014/06/book-blast-perfect-trade-by-anna-sugden.html and visit each blog in order.
Tru swallowed a sigh at the familiar complaint. He couldn't explain why he didn't want Melanie at the postgame meals. It just didn't feel right. Perhaps because taking a girlfriend felt like too much of a statement about their relationship. He and Mel weren't at that stage yet. Would they ever be?
Would any woman ever be?
He pushed the questions aside. He didn't want to think about something that deep tonight. Bad enough that the past had raised its ugly head with that newscast about Douglas Boult's death.
And the torturous encounter with Jenny afterward.
He'd thought he'd dealt with the fact that Jenny would never forgive him. After trying over and over to make up for his mistake, he'd realized a few years back that he was hitting his head against a brick wall and decided to cut his losses. Since then, he'd done his best to stay out of Jenny's way.
When, like tonight, they did meet, his body reacted for the first few moments as if nothing bad had happened between them. As if she was imprinted onto his DNA.
Melanie continued her complaint. "Jenny always goes. Why can't I?"
"You know why Jenny goes."
"It's not fair. I should have more rights than a puck bunny," she huffed. "Jake takes Maggie to the team dinners."
"They're married."
Tru swore silently, wishing he hadn't mentioned the M-word. Melanie had been pressing hard lately to move their relationship to the next stage, but he wasn't ready. He didn't need another emotional fight about commitment tonight. With weariness clouding his brain, whatever he said wouldn't be right.
Time to steer their discussion along an easier path.
About the Author: Harlequin SuperRomance author, Anna Sugden, loves reading and writing happy endings as much as hockey! When not reading or watching hockey, she loves football, good food & wine, making simple cross-stitch projects, and collecting memorabilia, penguins and fab shoes!

A former marketing executive and primary teacher, Anna lives in Cambridge, England, with her husband and two bossy black cats. Learn more about Anna, her heart-warming romances and her shoes at www.AnnaSugden.com. You can also follow her on Facebook, Twitter, Pinterest, and on the Romance Bandits blog.

Buy the book at Amazon, Barnes and Noble, iBooks, or The Book Depository.

a Rafflecopter giveaway