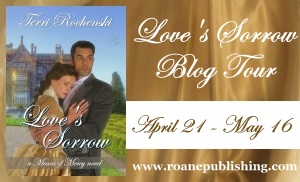 This post is part of a virtual book tour organized by
the publisher
. One randomly drawn winner will receive an autographed copy of
Love's Sorrow
, a $10 Amazon gift card, and a Love's Sorrow swag pack. The Rafflecopter is at the end of this post.
A personal letter to Anne, my main character
Dear Anne,
First off, I want to thank you for choosing me to tell your story. Women from the 19th century have kept too silent—either due to being a wallflower or from their position as female in a society who didn't think they had the right or mind to think of things beyond their homes and calling on friends. I'm glad you spoke up about how life really occurred for a poor, orphaned girl who found herself thrust into and floundering among the rich—kind and snobbish alike.
It's been over ten years since we've met, and I'm surprised to learn something more about you every time I read what you've dictated. I have enjoyed watching you grow in your journey through a life of love, anguish, bitterness, and acceptance. Few people can claim to persevere and overcome as you have.
You have helped see me through a difficult time in my own life, and it is my hope that your story will encourage others as you have me.
I look forward to sharing the next installment in your story. While my notes show it will be a bit more dark and adventurous than the first book, I can't wait to see how you'll handle yourself and the secret burden you must bear. Please continue speaking to me so that I might get it right.
Terri
Hired as a nanny for her cousin's children, Anne Tearle finds security and a loving family. The children are a dream, but London society is a world of its own, one where a displaced farm girl has no business being. But, wealthy rake, Gavin MacKay, helps her to see associating with the upper class might not be as horrid as she first assumed.

Like all things worthwhile, love comes at a price, and the cost soon bestows more anguish than joy. Lost, but not undone, Anne must find the courage to begin life anew, or succumb to sorrow's unrelenting waves of grief.
About the Author:
Terri started writing stories in the 8th grade, when a little gnome whispered in her brain. Gundi's Great Adventure never hit the best seller list, but it started a long love affair with storytelling.
Today she enjoys an escape to Middle Earth during the rare 'me' moments her three young children allow. When not playing toys, picking them back up, or kissing boo-boos, she can be found sprawled on the couch with a book or pencil in hand, and toothpicks propping her eyelids open.
 Website / Blog / Facebook / Twitter / Goodreads
Buy the book at
Print
Createspace (Best Option)
Amazon
eBook
Amazon
Barnes and Noble
Kobo
Bookstrand
Smashwords
Apple (iTunes/iBooks)