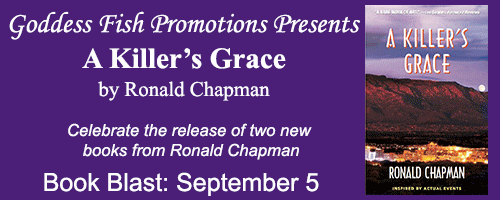 This post is part of a virtual book tour to announce the release of two new books from Ronald Chapman being released simultaneously by Terra Nova Publishing:
A Killer's Grace
and
My Name is Wonder
. The publisher commented, ""It is remarkable that these two books can be so very different but somehow speak to the same messages." Ronald will be awarding a $10 Amazon or B/N GC to a randomly drawn winner via rafflecopter during the tour. Click on the tour banner to see the other stops on the tour.
From the high desert of New Mexico comes a tale of mystery, murder and redemption. When journalist Kevin Pitcairn receives a disturbing letter from a serial killer, he is drawn into a compelling journey with profound psychological and spiritual implications, not just for the murderer, but for himself and society as a whole. As he tries to investigate and then tell the story, he finds himself battling his own inner demons and sordid history. Events conspire to propel an isolated matter to a national stage and audiences that are increasingly hostile. Forced to explore the roots of human psychology and sanity, Pitcairn must navigate moral and philosophical realms. What is the nature of evil? What powers of choice do humans actually possess? How may we be redeemed? And in the end, how do we reconcile with ourselves?

My Name is Wonder chronicles the transcendent adventures of a little goat with big dreams. Join Wonder and his wisecracking guide, the mysterious crow Mac Craack, on a journey through the scenic landscapes of the American Southwest and into the heart of a mindful presence. Along the way, you'll meet an unforgettable cast of creatures, each with an important lesson to teach.
Enjoy an excerpt from My Name is Wonder:
Oren turned back to Wonder and spoke gently. "First, little one, I must tell you that you are not Wonder."
Wonder knew enough about Oren to know he spoke with the weight of the wisdom of generations. He had also heard that Oren was a philosopher. The gravity of the moment was not lost on the little goat as he considered this statement carefully. Somehow he knew that nothing but the truth would suffice.
"I don't get it," he said with a scrunched up face.
"Your name may be Wonder, but Wonder you are not." He studied the kid, watching for any signs of dawning comprehension. Wonder cocked his head to one side, still puzzled, and the old buck continued. "The form you find yourself in is that of a goat, but you are not a goat. There is that which is, and then there is that which is truth. If you are to learn, you must learn to be absolutely clear about such matters."
Oren fell silent, waiting.
Wonder blinked—once, twice—and then said, "Got it!"
The wise goat responded in an amused tone, "Do you now?"
"Yes, sir. My name is Wonder." He grinned and then continued, "And I am not that."
"Ha!" responded Oren. "I believe you do have it, young one, but let us see." He almost, but not quite, grinned back at Wonder. It was hard to tell with the long, white beard. "What are you if not Wonder?"
The kid leapt at the answer. "Well sir, I don't guess I know."
"Indeed," replied Oren, his yellow eyes dancing. "True wisdom is knowing that you know nothing."
"Then I must be very wise indeed, sir."
About the Author: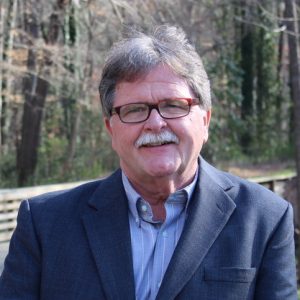 Ronald Chapman is owner of an international speaking and consulting company, Magnetic North LLC. In addition to international accreditation as a speaker and national awards for radio commentary, he is the author of two novels, My Name is Wonder (Terra Nova Publishing, 2016) and A Killer's Grace (Terra Nova Publishing, 2016 and 2012), two works of non-fiction, Seeing True: Ninety Contemplations in Ninety Days (Ozark Mountain Publishing, 2008) and What a Wonderful World: Seeing Through New Eyes (Page Free Publishing, 2004) and the producer of three audio sets, Seeing True: The Way of Spirit (Ozark Mountain Publishing, 2016, 2005), Breathing, Releasing and Breaking Through: Practices for Seeing True (Ozark Mountain Publishing, 2015), and Seeing True – The Way of Success in Leadership (Magnetic North Audio, 2005).
Website for other information from the author | Site for ongoing social media content including blogs, v-logs, graphical materials, etc. | Site for materials relevant to those in recovery from substance abuse | Facebook
Buy the books at Amazon.
PRAISE
"…a book for the ages, with profound truths simply stated. First there was Jonathan Livingston Seagull and then Yoda—Now there is Wonder…"
-Beverly Molander, Minister and Radio Host of Activating the Power of Yes
"…an exploration of human nature and into the allegorical realm that shows us how to be wise teachers and guides…"
-Paula Renaye, Author of Living the Life You Love
"Clarity is an aspect of love, it is seeing clearly. Ron Chapman sees with those eyes. He pays attention as few do to the miracles around us."
-Stephen Levine, Author and Teacher