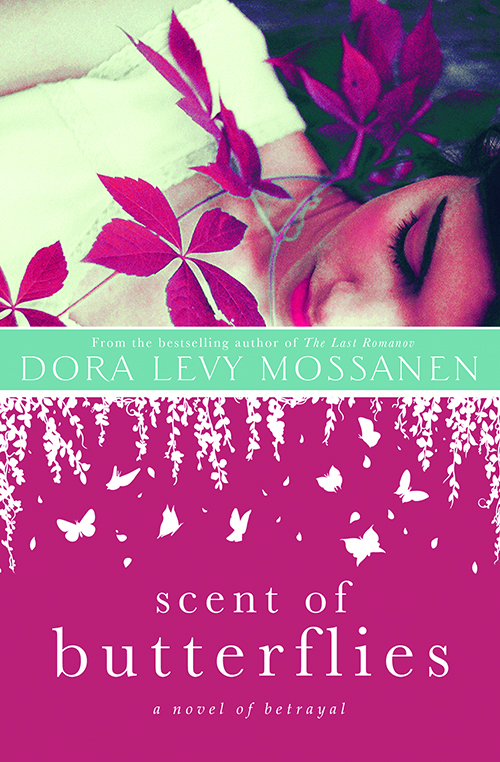 Leave a comment and you're entered to win a print copy of "Scent of Butterflies" by Dora Levy Mossanen (US and Canada only please).
A Few Things Most People Don't Know About Dora Levy Mossanen
1. When I'm not writing or socializing I'm reading. I read everywhere: in the restroom, in the gym, before I fall asleep, whenever I can't fall asleep, in the elevator, while walking to the elevator, in a doctor's office, in… Well, you get the picture.
2. I have a daily ritual that prepares me for my writing. I brew a cup of loose green, jasmine or rooibos tea. I drop two squares of 99 percent dark chocolate in an egg holder. I nibble on the chocolate while I work. The tea, invariably forgotten, gets cold and undrinkable. The chocolate I never forget.
3. For years and years my preferred working space was a fat, comfy chair in a cozy nook in my living room. I like to be in the center of things, know who is going and coming. That beloved chair, alas, wreaked havoc on my back, and I was forced to invest in a proper chair and desk.
4. I'm a movie junkie, especially independent movies. My guilty enjoyment, when my brain is on leave, is to watch Dancing with the Stars, the Voice, and American Idol.
5. I don't believe in writers block, but I rarely voice it because I'm afraid I'd jinx myself. Please God! Don't let it happen.
6. Yes, I can be superstitious. What do you expect? I grew up in Iran.
7. I eavesdrop on conversations of strangers in restaurants, while waiting in a line, in the gym, in the street…. Everywhere. What do you expect? I'm a writer.
8. I have a tendency to fall in love with my protagonists, especially my brave women, who refuse to conform to restrictions their cultures force upon them. Soraya, I should confess, really got under my skin. I'm having a hard time letting her go.
But then, despite his betrayal, I've fallen in love with Aziz, too. He is elegant and charming, if I may say so myself, and despite Soraya's quirks, he loves her in a deep and noble way.
About the book: Such audacity she has, Soraya, a woman who dares to break free of the diamond-studded leash of her culture. A woman who refuses to accept the devastating betrayal her husband has perpetrated. A woman who refuses to forgive her best friend.

Soraya turns her back on Iran, fleeing to America to plot her intricate revenge. The Shah has fallen, her country is in turmoil, her marriage has crumbled, and she is unraveling. The cruel and intimate blow her husband has dealt her awakens an obsessive strak that explodes in the heated world of Los Angeles.

Yet the secret Soraya discovers proves far more devastating than anything she had imagined, unleashing a whirlwind of unexpected events that will leave the reader breathless.
About the author: Dora Levy Mossanen was born in Israel and moved to Iran when she was nine. At the onset of the Islamic revolution she and her family were forced to leave Iran and settle in Los Angeles. She has a Bachelors Degree in English Literature from the University of California Los Angeles and a Masters of Professional Writing from the University of Southern California.
Dora is the bestselling author of the widely acclaimed novels Harem, Courtesan, and The Last Romanov, translated into numerous languages, and is the recipient of the prestigious San Diego Editors' Choice Award. She has been featured in various publications. She blogs for the Huffington Post and reviews fiction for the Jewish Journal. Dora's widely anticipated novel, Scent of Butterflies, will be released January 2014.
http://doralevymossanen.com/posts/
Buy the Book