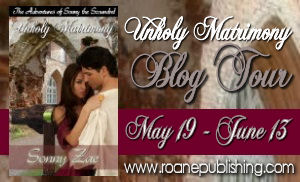 This post is part of a virtual book tour organized by Roane Publishing. Enter the Rafflecopter at the end of the post to win an eCOPY of UNHOLY MATRIMONY, as well as a $10 Amazon Gift Card.
A day in the life of Sonny Zae…
I get up early and pull out pots and pans to make a meal. But all are dirty and foul, including one with a wren's nest in it that must be several years old. It might be easier to find some scraps of leftovers than find a serviceable pan. Dishes clatter and clank as I push them from side to side on the counter, hoping to find something underneath the pile—or at least something that has not already been gnawed at by mice. But I tire quickly, not having been bred for physical exertion. Mayhap it would be easier to steal some food. I hope I am not too late to find a bowl of porridge set in a window to cool, as the sun is already overhead.
Chance favors me today and a jaybird steals a fresh loaf of bread from the baker's tray after he pulls it out of his oven to cool. But the loaf is too heavy for the jaybird, and I run to snatch it up from where it lands and take a bite before the baker can reclaim it. After the first bite I slow down, taking the time to brush off the loaf.
After that, I wander through the village, my eyes on the ground and my quick mind already filled with new schemes I could try out—and considering how I would spend any coins I might find on the ground. That is not entirely true. I would hasten to Cappersham's tavern.
I wander by the blacksmith's barn to taunt anyone I find working. Big Ulf's forge is roaring and Big Ulf is pounding out a new horseshoe. His face is splotched with soot carved into wild patterns by trickles of sweat. The trickles leave little dark trails down his neck. I call his name and tell him that his shed is catching fire from the heat of his forge, but Big Ulf ignores me and swings his hammer faster, drowning out my voice.
I wander by Cappersham's tavern, but he is not open yet. Either that, or he spied me coming. I should not have worked up my hopes, but I cannot help myself at times.
Old Haney is already there, sitting against the side of the tavern, sagging sideways and snoring loudly in the midday sun, his mouth hanging open. I could chuck pebbles, to see how many I could toss into his gaping mouth. Eniess the empty girl appears beside me as I bend over to pick up a pebble, causing me to squawk in surprise. She stands there as she does, not looking at anything and not making any sound or acting alive, being more like the stump of a dead tree that magically appears in the middle of a pathway. I do not try to talk to her, and head for the pond behind the flour mill. She follows, and I do not look behind me to know she is there. We have done this often. Her mama says I am the only other person Eniess takes an interest in.
At the pond, I break off the heads of cattails and lay them in the mud, building a small pen. She helps, wordlessly and without ever meeting my gaze, positioning them as we have done many times. Then we collect the smallest frogs and fill our pen. Eniess grabs them as skillfully as I do, yet without any change in expression and without scanning with her eyes. It is uncanny. How can she can grab them without seeming to ever be aware of their existence? But she must feel some joy in the catching and always seems to read my mind.
Suddenly, she is gone. I do not see any of the reeds move, nor do I get a last glimpse of her moving away. It unnerves me how she can disappear.
Sundown is approaching, so I head back to the house Grandpap and I share. I say share, but Grandpap is tighter than a rusted outhouse door hinge. Grandpap has already eaten when I come in. "Ham from Boot's young hog," he says, gesturing toward a plate bearing what remains of a nice, plump ham hock. "Tis very good," he remarks, using a sleeve of his robe to dab up hog grease from his beard. "What did you do today?"
"Nothing, really."
"A normal day, eh?" He grimaces. "I do hope you make something of yourself one day."
Sonny is so handsome, he doesn't need magic to get what he wants, except when he gets into trouble. And, he'll do anything for love or money, except work. So, the thought of marriage represents the worst of all possible worlds, a danger he avoids at all costs.

His plans for getting rich the easy way—by stealing—go awry when he meets Ariella. She is not only lovely to look at, but just may be as slippery and greedy as he. Better still, she becomes highly stimulated at the prospect of helping him hijack a treasure.

But, in addition to helping him steal "goald", the cunning Ariella might just steal his scoundrel heart.
About the Author: Sonny Zae lives in a small town on the edge of reality. His only remarkable characteristic is imagination. He ignored his grade school teacher's repeated admonitions to stop daydreaming and get to work.
Sonny's book WIZARD SEEKING TROPHY BRIDE, is also available on Kindle. It is a story about the exceptional difficulties involved in finding love and happiness for an elderly and strange wizard, not to mention the difficulties of dealing with an elderly relative—an elderly relative who is also a wizard.