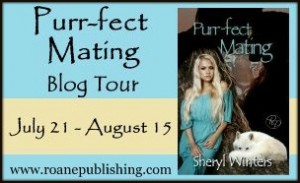 This post is part of a virtual book tour organized by the publisher,
Roane Publishing
. The author is giving away an ecopy of Purr-fect Mating and a $10 Amazon GC. Enter via the Rafflecopter at the end of the post. You can see the other stops on the tour by clicking the tour banner.
A day in the life of Sheryl Winters
I live in a small town in Alaska.
I don't have a typical summer day. Weekends might find my hubby and me at a Barbeque's, or fishing at the Little Su. We might take off for Hatchers Pass, a beautiful scenic riverside with our four wheelers in tow. We bum around trying to find old trails and I take a few hundred pictures. Weekdays I might stay up well past midnight, enjoying the midnight sun, reading a book or chatting with the hubby while the sunlight streams through our windows.
Winter is different. Oh sure there are a few of Alaskans who spend their time outdoors, but that's not me. I'm not afraid of saying that I don't worship the cold. I've had my time snow machining, and taking walks in the snow. But years of shoveling the driveway has a way of taking the fun out of it. Now my schedule is more sedate. I work, come home, feed the dogs. And then I'm writing and if my husband is lucky I'm cooking dinner.
Most evenings I can be found editing. I rarely take nights off, not even in the summer. Actual writing can be sporadic as I'm the type of writer who needs complete quiet when I'm working. I hoard my quiet time, budgeting it out for certain stories like a miser hoards gold. Well aware that the words I write need to count. I've even been known to write at work, forgetting to eat because I'm so "into," my story.
When I do have something I'm determined to write, I usually come up with it by doing the dishes or folding the laundry. I might forgo making dinner because that's when "obsession," mode hits. In this frenzy, I am useless. The house will be trashed, and I don't care. I'll write every night for months. And don't try to get my attention, I have no attention span during this time. I have only "the story" flittering around in my head overtaking my thoughts.
So there you have it. I'm basically a quiet person, I live in the middle of Alaska, in a small town about an hour from Anchorage. I work at a lumber store and I like to write stories.
On their wedding night, at the stroke of midnight, Wulfar changes into his shifted wolf form and cannot shift back. Not even to communicate with the woman he loves.

Fhina, upon waking the day after their mating, no longer recognizes her mate. Pregnant and confused, she's convinced herself her mate has run away and left her to live alone. With his dog.

Can the cursed pair find a counter charm before Fhina gives birth? Will Wulfar be able to curb his inclination to run?

Or will their mutual curses break up their love affair before it's really even started.
About the Author:
I never set out to be an author. Only a story teller. Some days I succeed better than others.
Website / Blog   / Facebook/ Twitter