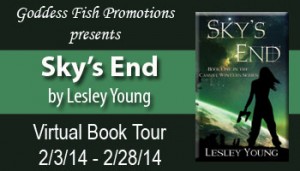 This post is part of a virtual book tour organized by
Goddess Fish Promotions
. Lesley will be awarding print copies of "Sky's End" to ten randomly drawn winners, and a grand prize of one $50 Amazon gift card to a randomly drawn winner during the tour. Click on the tour banner to see the other stops on the tour.
A day behind the scenes with Lesley Young, author of Sky's End: Book One in the Cassiel Winters Series

 (some time around) 7 am. . .eyes open, fantasy world breathes life. Mind shifts to current scene, replays dialogue or action, and next scenes unfurl, spinning and gathering like a tornado until adrenaline is pumping, and restlessness—need to write—propels body out of bed.

7:31 am . . .grind coffee beans, turn on kettle.

7:33 am . . .open up laptop, check the beautiful forest outside my office window, open up latest Word file and read over previous 1,000 words or so.

7:35 am. . . make coffee.

7:36 am . . .get lost in another world far, far in the future

10 am. . . emerge from intense fiction writing experience up to 2,000 words, to discover; still in PJs and husband has left for work.

10:01 am . . .jump in the shower, replay scene just written over and over, relishing the anticipation and excitement of said same scene, maybe struck by a new bit of dialogue that improves on it.

10:30 am. . .breakfast in front of computer, reworking what I just wrote.

10:30 am -4 pm . . . turn off fiction world, begin research and writing a magazine article or a corporate business assignment, interview a few experts.

(Frequently throughout day) . . . research science ideas, brood over plot, answer emails from readers, chat with friends, write a Facebook post for Cassiel Winters Series, paint nails, do a load of laundry, empty dishwasher, check Amazon ranking, write blog posts such as this one, stretch back on floor to stave off premature cripple-dom.

4 pm. . .after great internal motivation battle, drive to gym, letting mind wander to characters and scenes inspired by blasting radio.

4:30 to 5:30 pm. . . trainer takes no mercy.

5:30 pm . . .fall onto sofa or on chaise outside, have glass of wine, wait for husband to come home, debating writing some more, agonize over lack of energy, wish I was younger so I could write longer and more.

6 pm to 10 pm . . .husband time.

10 pm. . .watch television; favorite TV program, or search for action movie, any action movie, for entertainment but also to examine and study plot creation and bank helpful ploys for my own writing (when desperate may watch Discovery network science show) or international rugby.

10:30 pm . . . read in bed, strictly for pleasure, or listen to music thinking through plot and scenes.

11:30 pm fall asleep — oddly, disappointed knowing I never dream about the characters in Sky's End. I think I'm too obsessed in the day!
About the Author: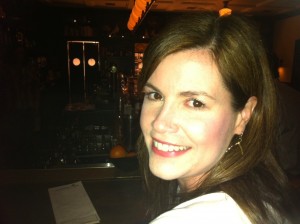 Journalist Lesley Young never thought she would delve into the world of writing fiction, but when she sat down for the first time to put pen to paper, ideas for what would become her first novel just poured out naturally. Young's first book, "Sky's End," is a multi-genre tale that showcases her unique style of weaving romance, action and wit into one page-burning story.
Young was born in Edmonton, Alberta in Canada. She holds an arts degree from the University of Alberta and a journalism degree from the University of Victoria.
Young now lives in Loretto, Ontario where she works as a journalist, freelance writer and editor for health, décor and business magazines. Since 2008, Young has written more than 300 articles for print and online media including Profit, Toronto Life, MSN Green, and Elle Canada among others. She is a regular contributor to Reader's Digest, Best Health, Canadian Living and House and Home Magazine.
Young has won three gold honors for feature stories from the National Business Magazine Awards and another top media award from the Canadian Dermatology Association.
Soul Mate Publishing released "Sky's End" on July 15 in paperback and e-book and since its launch, it has remained an Amazon Best Seller. The novel is Young's first installment in a series about Cassiel Winters, a futuristic heroine, and her outer space escapades.
LesleyYoungBooks.com ~ Facebook ~ @LesleyYoungBks
A secret she must never share. A secret that two warring species are determined to control. A universe's future at stake.

Twenty-year-old Cassiel Winters joins Earth's new space academy in hopes of finding her brother, one of Command's top pilots and her only family, who's been reported MIA. But she quickly realizes she may not be cut out for life in space, where female cadets are outnumbered, competition's fierce, and she's already failed her hand-to-hand combat test once.

When Cassiel's manipulated into a perilous mission, she encounters a warrior species bred to protect the universe from an even greater threat. And she learns that her secret visions are at the heart of it all. Now Cassiel must fight to control her own destiny and race to save her brother—even if it means pretending to be the pawn of Prime Or'ic, the cold-as-steel Thell'eon leader. Even if it means risking her life, facing hard truths, and making the ultimate sacrifice.
Buy the book at Amazon.