Welcome to G. X. Chen who is visiting with us today. Her novel, The Mystery of Moutai, was released in April. Leave a comment for a chance to win a Kindle version of the book.
A Day in the Life of G.X. Chen
This is my typical workday, when I'm not traveling or on vacation, which is quite hectic.
I get up every morning around 5:00am and spend 30 minutes reading my e-mails. From 5:45 am to 6:45 am I do 30 minutes cardio exercises and 30 minutes core exercises. I spend more than 30 minutes eating breakfast while reading Wall Street Journal. I like the newspaper because it has the most balanced reporting. I always read the highlights of the day first (What's News), then move on to the odds and ends at the bottom of the front page, which is always an interesting read. I leave my house around 7:30am, walking 1.2 miles to my office. I only take the subway when it's raining or snowing. From 8am to 4pm, I am hard at work.
I'm normally home before 5pm. From 5pm to 7:30 pm is the time I concentrate on writing. I like to think about the story on the way to work and back so if I run into anyone on the street, I don't notice because I'm always thinking or daydreaming. I never spend more than 20 minutes preparing dinner; always cook something I can roast in the oven. I spend an hour or more after dinner reading the newspaper before going to bed at 9 pm.
The only differences during the weekend: I go shopping in the morning, write in the afternoon and read a book or watch TV at night. I just finished reading Oscar Wilde's The Portrait of Dorian Gray and love it.
A teenager returns home from school to find a gruesome scene: the apartment he shares with his mother, Shao Mei, in Boston's Chinatown has been ransacked and she is dead. There is a bottle of Moutai—the most exotic and expensive Chinese liquor—left at the scene and traces of rat poison in one of the two shot glasses on the kitchen counter. This was evidently a homicide, but who could possibly be the killer?

Ann Lee and Fang Chen, close friends of the victim, team up with the Boston police to solve this mystifying crime: why would anyone want to murder a harmless middle-aged woman, one who worked as an unassuming mailroom clerk, with no money, no connections, and presumably, no enemies?

Realizing that important clues behind the motive may be buried deep in the victim's past, they travel to Beijing, where Shao Mei spent more than fifty years of her life. While there, surrounded by the antiquities of China's rich and complex history, they stumble unwittingly into a cobweb of mystery and danger. Fearing for their lives but determined to press on, they end up unearthing a scandal more deceptive and far-reaching than either could have imagined.
About the Author: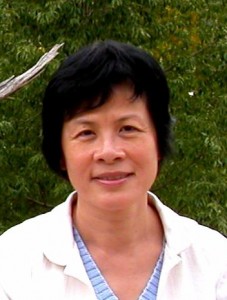 G.X. Chen is a freelancer who lives in Boston with her husband ( both of her mystery novels are based in Boston). She permanently moved from China to the US after Tiananmen Massacre in 1989. Previously published books include The Mystery of Revenge (a mystery novel) and Forget Me Not: A Love Story of the East (a historic fiction/romance) and several other novels in Chinese. 

Twitter: https://twitter.com/gxchen1

Website: http://gxchen.tateauthor.com/

Goodreads: https://www.goodreads.com/author/show/6978127.G_X_Chen

Amazon ebook: http://www.amazon.com/dp/B00JOWF4Y2

Amazon paperback: http://www.amazon.com/The-Mystery-Moutai-G-X-Chen/dp/1496055497