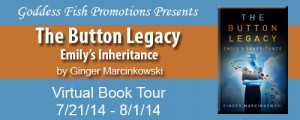 This post is part of a virtual book tour organized by
Goddess Fish Promotions
. Ginger will be awarding a $10 Starbucks Card + eBook copy of The Button Legacy: Emily's Inheritance to a randomly drawn winner via rafflecopter during the tour. Click on the tour banner to see the other stops on the tour.
Too Christian or Not Christian Enough?
A couple of years ago I found myself in quite the dilemma. I had completed my first novel and was beginning the search for a publisher. Not yet understanding the ins and outs of the publishing world, I began making pitches to publishers suggested to me by others. I thought I had done a decent job on my query letters and on the pitches I made to a few agents and publishers at the pitch sessions held during my M.F.A. program.
Those who read my work were complimentary about the quality of my writing, but suggested I take out the references to God I had made. That seemed a bit odd to me, as my main character, Emily Evans, had lived with the pain of her father's abuse her whole life. In the story, Run, River Currents, I spoke of that abuse somewhat graphically in two particular scenes. In the rest of the book, I alluded to the godly influence her grandfather had on her, but mentioned little about the impact of her grandfather until the final two chapters. Close to the ending, I showed a scene where Emily finally gave in to the calling of God's voice. It was a shadowed reference that had to do with her almost drowning in the Tobique River. No hallelujahs, no lightening strikes, just a realization that she could no longer fight the pain of her abuse and anger alone. In the final scene, she gathers with her family and shows a softer side of herself. Her family immediately understands her transformation.
One publisher said it seemed a little "too preachy" for her liking. One particular agent went so far as to say that "her" readers disliked when authors tried to "push" their beliefs on them. Her words stung, as I didn't feel as though my novel had done that. The bottom line was that I didn't care. I wrote a lot of truth into that novel and as a Christian, wasn't about to apologize for doing so, so long as the work was well written.
Shortly thereafter I discovered the American Christian Fiction Writer's (ACFW) Genesis Award Contest. The contest was for author's that had not yet been published. Convinced I had written a decent book, I excitedly submitted the work for consideration. I joined ACFW and sent in my registration for the fall Conference. Even if nothing came of the contest, at least I knew I might have found a group of agents and publishers that would surely understand my novel.
In the meantime, I continued to submit my manuscript to various publishers hoping it would land in the place God meant it to be. It did thanks to a dear friend who loved my work and recommended it to her publisher, Booktrope.
Just before I was to leave for the ACFW Conference, I received the news that Booktrope had an editor who was excited about the manuscript. Shortly after, I was signed as an author and my publishing journey began.
Even though Run, River Currents had been picked up, I was curious to see if another publisher might be interested in another work I had, as I had not pitched to a Christian group before. I remember being a bit nervous as I approached the first of four agents or publishers I'd be pitching to at the conference. She was lovely, young, with a bright smile. I had ten minutes for my pitch and had learned long before to give a great hook and then let the agent ask questions. She did, grilling me like a bloody steak. She asked to read the first couple of pages and did so while I looked on.
I watched a coy smile cross her face.
"You know, in Christian fiction, the writer cannot say 'vodka.' It should be alluded to," she said. "And you can't mention any character having sex of any kind. Christian readers don't like that." I was stunned. I had sex. I like sex and I'm a Christian. I even enjoy a glass of wine now and then. Besides, I didn't talk about the sex; I just made an innuendo about a married couple enjoying each other. She took that as sex.
Table after table, appointment after appointment, the cutting words continued. Each of these people were lovely and very kind to me, but I was actually amazed that none of them believed that Christians do not read about issues that plague the world or their past lives.
I stumbled through the rest of the conference disenchanted with what I had learned; yet there, among all of the Amish romances, and cozy mysteries was my dark novel, now listed as a semi-finalist in the Genesis Awards! How could that be? Learning that it would not move up to finalist or winner because my new publisher, Booktrope, was not an "approved" Christian publisher, I became disillusioned with the Christian market.
Not long after the conference was over and Run, River Currents was published, reviews began pouring in. I was featured in blog after blog, both secular and Christian alike. Most reviews were very complimentary, but one was quite hurtful. It was from a young Christian woman who failed to review the work itself, but instead called my Christianity into question. She felt that "if" I were a Christian, I would not write such things, claiming that what I did write was not edifying to the body of Christ. I let it go and thanked her for taking the time to write a review. I was not too foolish to think everyone would like this dark story, but I also could not apologize for the truth I had written.
In the end, God worked His way. Run, River Currents went on to become a finalist in the 2013 Kindle Book Awards. It opened the door to renewed relationships in my family and with the people of the town where I grew up. I received many emails from women who, for the first time in their lives, were able to share their own dark stories. I was able to encourage them, give them hope, and I sold books.
I guess the lesson here is to write truth, no matter what the truth is. I fictionalized my story adding details only I knew were real or not. Booktrope liked my work so well they created a Christian imprint named, Vox Dei, under which my works are published. It is now an "approved" publisher for ACFW. That imprint is now giving other Christian authors an outlet for works that are not labeled by the prejudices of others. God had a plan. I'm just glad I was a part of it!
Based on the true story of one family's spiritual saga revealed through buttons that have been secreted away in an antique box, and that ultimately hold the key to each generation's salvation.

Ginger Marcinkowski's first novel, Run, River Currents featured Emily Evans, who as a girl shared a special understanding with her grandfather, John Polk. Despite the scars of her father's abuse John taught her to look to the future in faith, promising Emily God's grace can be seen even in the simplest thing—a button.

Years after her grandfather John's death, the unexpected delivery of a decorated tin, still brimming with odd-colored buttons is delivered to Emily. The reappearance of the family buttons unlocks joyous memories and guides Emily to realize a secret her grandfather promised lay within the stories of that worn button box; the healing power of prayer. In The Button Legacy: Emily's Inheritance each button connects one generation to the next as their interrelated stories unfold across the timeless landscape of their spiritual journey.

Enjoy an excerpt:

"Grampy!" The girl's thin figure stood in the living room doorway, her hands placed firmly on her hips. Her face was stern, crinkled, as though she were about to give the old man a scolding. "Look!" she said, uncapping her hand to reveal a white button that looked like it came from the blouse she was wearing. "Someone nailed my windows shut! I tore the button off my blouse trying to open them. Look!"

She walked toward John, hand open. He plucked the small, pink, pearl-like button from her palm, rose from the chair, and moved toward the oak hutch. Retrieving the button box, he opened the tin container and dropped the button inside.

"Then I guess we won't have to worry about you going to the Legion anymore, will we?" John watched his granddaughter's face as it soured. But in seconds, her eyes began to smile and her head tilted back. A laugh unlike any he had heard come from her in years warmed the air around him. The wrinkles in his face turned upward, and he, too, began to laugh.

"That will be a good story someday, Grampy!" Emily said between her giggles. He opened his arms and enveloped her, closing his eyes tightly. He praised God in a whisper for moments like these. He had held his own daughter this way many years before she'd left home and married. He often prayed that Maureen would finally humble herself and give the remainder of her days to the Lord. He knew he might never see that day arrive, but holding his granddaughter, he prayed that she might someday remember this moment and realize that God had been there with her all along.

About the Author:Ginger Marcinkowski was born as one of eight siblings in northern Maine along the Canadian border, a setting that plays a prominent role in her novels, Run, River Currents and The Button Legacy-Emily's Inheritance.

Her debut novel, Run, River Currents, was published in August 2012, was a 2012 semi-finalist in the ACFW Genesis Awards and a 2013 Kindle Book Award Finalist. The Button Legacy-Emily's Inheritance, will be released in July 2014. An interesting fact about Ginger is that she is a million-mile flier with United Airlines and had been a multi-million dollar travel agent in the past. Her travel experience will be the catalyst for a new series of mysteries whose main characters are travel agents.

Website ~ Facebook ~ Amazon Author Page ~ Twitter ~ Goodreads

a Rafflecopter giveaway