Long and Short Reviews welcomes Bill Blodgett, whose newest book is Unrequited. One of you will win an autographed copy of it along with some gourmet coffee! Check out the Rafflecopter at the end of the post to enter.
Bill has actually been writing for years, but not until his youngest daughter entered college did he have time to take the writing seriously.
"Before that I'd only find bits and pieces of time to actually write. Sometimes it'd be weeks or months between pages but this was by choice," he explained. "I guess I enjoyed watching dance recitals, high school theater productions, baseball games and all of those other important moments that go along with being a dad. As a matter of fact it took me so long that I didn't even tell my family for the longest time that I was writing because I never thought I'd finish that book."
Once he typed "The End" for the first time, however, he thought of himself as a writer.
"It was an extraordinary feeling and one I don't think will ever be topped. Even when I got the call from a publisher who wanted to publish my first book didn't top the feeling of accomplishment and pride I got when I wrote those two simple words," he told me. "It was years before I finally got a book published but I always considered myself a writer."
The hardest part of writing for Bill is actually sitting down to do it, especially when he's working his day job.
"Maybe it's because when I'm done for the day I'm mentally fatigued or maybe the grass needs to be mowed or my grandsons have a baseball game or my granddaughter wants to play with play dough or maybe I just want to chill with my wife and watch a favorite show," he said. "Priorities. We all have priorities and those priorities don't mesh well. Nevertheless I get the job done and am happy that I did actually did sit down and take my characters along on their fantastic journey."
He's a construction inspector for an engineering company, so a lot of his work is seasonal–during the cold and frozen-solid months of the Northeast winter months, he doesn't work the day job–that's when he sits down to write daily like it's his job.
To date, he has three published books, but his newest release is actually the first book he wrote and is his favorite.
"Unrequited is a story I couldn't let go. I've always believed that it carries a deeper meaning on many levels to the readers. Thankfully my family also believed in me and this story so they continued to encourage me to bring the characters to life. Even while I was writing my other books my mind kept going back to Unrequited. As with most authors I began a couple of other books early on but never completed them. I was either too young or inexperienced or uncommitted to the stories to finish them. I think most authors have a few unfinished manuscripts to their credit but I don't plan on going back to them as I really want to follow this path of writing that Unrequited has brought me to."
One interesting thing about all his books is he always works the word diamond into them as a shout out to his critique group "The Diamonds." The group is named after the Herkimer Diamonds that are found near where they meet.
"When I write 'diamond' in the book, it's like saying hi to Alee and Janine just like when Carol Burnett tugged at her ear in order to say hi to her grandmother. I guess I said hi to them both a few times here!" he said.
When Bill's not working or writing, he enjoys kayaking with his wife, Janice. They prefer to paddle on backwoods streams where they don't normally encounter other kayakers.
"It's almost like exploring and sometimes we happen upon wildlife in their natural habitats," he explained. "We've seen deer drinking from the edge of the stream or munching on some delicate fresh greenery and once we paddled up to a doe resting under an evergreen next to the stream. She looked at us and we at her, my wife took a photo or two and then we paddled on without disturbing her. We've seen water foul up close and personal, and have been treated to some of the most majestic panoramic views of mother nature at her very best. My wife loves to take nature shots and on my website I've put up some pictures she took of some very special visitors to our own backyard."
"What was the scariest moment of your life?" I asked him.
"The scariest time of my life is when I thought I was trapped inside a steel tool shed with an escaped murderer. I was at a friend's house doing a little fix-it-up project when she got a call from her sister, Margie, who was babysitting at a nearby house with a friend. Margie said she thought she heard noises outside so I went over to investigate. At the time there was a manhunt going on for an escaped multiple murderer. It was on the news for days with possible sightings reported all over the area. When I got to the house where Margie was babysitting I found a grizzly man crouched between the house and a one of those steel storage sheds. When he started to move I charged him and he charged me. After wrestling around for a moment we ended up crashing through the flimsy steel doors of the shed. When I realized we ended up inside the tool shed with axes and hammers and stuff all around I thought that maybe this wasn't the best place to be with the escaped murder, Robert Garrow! When I started to pull away to get into the open with him he began to pull me back into the shed. I was sure to kill me. We wrestled around a little more until we ended up rolling around on the blacktopped driveway. I looked up to see Margie and her friend watching so I yelled out, 'Margie, call the police!' What I didn't expect was Robert Garrow's response, 'That's right, Margie. Call the police. And then even more unexpected was Margie's friend yelling out, 'Why are you beating up my father?' It seems both girls called home about the noises. We were both battered, bruised and scraped up but we kind of laughed about it, shook hands and thanked each other for watching out for the babysitters."
One talent Bill admitted he doesn't have but wished he did is dancing. Janice loves to dance, and Bill tries when they go out but said he gets all hot and sweaty when they do.
"I've got like two steps when dancing fast and a single tight circle when dancing slow, but I do try. We've taken Ballroom dancing lessons and I'm more than a little stiff in that department. I did enjoy Square Dancing and did that kind of good," he said. Why, you might ask can I square dance and not be comfortable with other types of dance? Simple. Square dancing is a series of prescribed steps called out by someone and consequently I know every move I had to make several seconds before I had to do it! We've long since stopped square dancing but we did have fun while we were doing it."
Finally, I asked, "What advice would you give a new writer just starting out?"
"Join a writers group and/or form a critique group. It's so difficult writing in a vacuum. Being with other writers can free you up to express your thoughts and fears about the process. Not to put down the good intentions of family and friends who love to encourage you toward your goal but writers truly understand your position and all the issues that come with being a writer. For instance, if you're suffering from writer's block your family will surely sympathize with you but other writers will fully understand and jump right in with how they overcame it and suddenly you're not alone."
Unrequited is a story of everlasting love, heartbreak, addiction, and courage of the human spirit to fight back against all odds.

Travel back in time to this peaceful New England community during the simpler days of the post WWII era of 1955, and join Joe on a reminiscent walk down Main Street America to the Five and Dime where he'll ask Kathy out for the first time. Visit the Connelly's home as Kathy and her family gather around their potbellied stove and trade stories of family values and of Chester, the fabled family protector.

It's the picture-perfect family Joe's always wanted and when he calls on Kathy, he's welcomed with open arms. When he proposes and she says yes, their future promises them an idyllic lifetime together, but fate breaks that promise and Joe's plans are turned upside down. Suddenly the peaceful 1950's become his prison and the keys to his prison are hidden away in the true meaning of life and love as told to him by Riggs, an elderly black man with roots in slavery. Riggs shares his three truths with Joe as they've been handed down for generations, but there's more to Riggs and his three truths than meets the eye.
About the Author: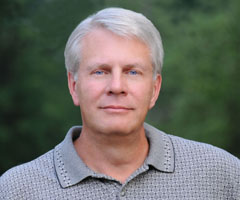 Bill still lives in the community where he met and married his lovely wife, Janice. Actually, she lived around the corner from him and they both ignored each other until their teen years when the hormone thing kicked in and they suddenly realized that the cute little girl skipping rope and that goofy boy riding a bike had both grown up.
They are the proud parents of April and Lindsay; both of whom are now married. April married Darren and they have two beautiful boys, Brian and Owen. Lindsay married Tim and they have a beautiful little girl, Kailyn.
Bill enjoys hiking, kayaking, camping with his family, golfing, making candles, and restoring his antique European sports car, a 1972 MGB.
They say to write from what you know, so he does. He writes of love, life and relationships.
Website ~ Facebook
a Rafflecopter giveaway