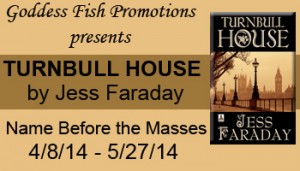 This post is part of a virtual book tour organized by
Goddess Fish Promotions
. Jess will be awarding a two-book set (paperback) of Turnbull House and its predecessor, The Affair of the Porcelain Dog to a randomly drawn commenter. Click on the tour banner to see the other stops on the tour.
10 Things Every Mystery Should Have
Jess Faraday
1. A central crime – This is, of course, what makes a story a mystery. There's a crime. The main character—usually the sleuth—must find out whodunit and, more interestingly, why. It doesn't have to be the Crime of the Century. Some of my favorite mysteries center on small crimes that unravel complex relationships and interesting motivations that turn something seemingly petty into something life-changing. But in the end, a mystery story is about a crime.
2. A sleuth – This is usually, though not always, the main character of a mystery story. The sleuth solves the crime. Sometimes this is part of the main character's job—she's a cop, an insurance investigator, a security guard, or a PI. Other times, he finds himself in the thick of it quite by accident. If the central event of a mystery is a crime, the central character (usually) is the one who must figure it out.
3. A worthy adversary – Every crime has a perp. And nobody likes a boring perp! My favorite mysteries are not only about figuring out who did the crime, but why they did it. Bonus points for a battle of wits between two heavily armed opponents!
4. Unforgettable characters – A clever, well-constructed plot may be interesting to read, but characters that readers relate to, sympathize with, and like will keep those readers coming back.
5. A unique setting – A setting doesn't have to be exotic in order to be unforgettable. As a reader, I love to get an in-depth look at places (and places in time) I've never traveled. But very familiar places—a small town, a retirement community, an elementary school, the local dog park—can become unfamiliar—even threatening—in the hands of a skilled writer.
6. A well-constructed plot – A mystery is one of the hardest plots to write, because it has to be written backward. The timeline of the crime and all the events leading up to it must be firmly established in chronological order, for the sleuth to piece together, bit by bit, after the fact. It's a lot easier read than done!
7. A personal subplot – A dash of romance, some familial conflict, a personal struggle—these are the elements that hook us on a character. A good personal story arc reaching across a series of novels can bind a series together, and keep readers coming back to see what happens next for their favorite characters. I can't count the number of series I've read to the end, just to find out how the characters' personal lives shake out—even if I don't remember the mystery plots, I will remember if X found love, if Y got into college, or if Z got that dream job in the end.
8. A little humor – Crime is serious business. A few well-placed laughs can keep the situation from becoming unbearably dark—or make it darker through juxtaposition. Humor can make a cold, super-sleuth a bit more human, or show a character in a different light.
9. A dog – Ok, this isn't a must-have, but a dog, cat, bird, or other mascot can be a great vehicle for humor, accidental discovery of evidence, or a chance meeting.
10. A message – A mystery story is a morality play. It's a place to explore actions and motivations, to question right and wrong. It's not enough for the story to conclude simply that "crime doesn't pay" – a really good mystery can use a crime to interrogate the very nature of right and wrong, to question the ultimate morality of laws and social conventions, or to foster understanding of why a person might choose an action that, from the outside, looks reprehensible. A great mystery doesn't stop with apprehending the villain, but also explores what makes them a villain in the context of the story, and to confront the villainous tendencies within us all.
London 1891. Former criminal Ira Adler has built a respectable, if dull, life for himself as a confidential secretary. He even sits on the board of a youth shelter. When the shelter's landlord threatens to sell the building out from under them, Ira turns to his ex-lover, crime lord Cain Goddard, for a loan. But the loan comes with strings, and before he knows it, Ira is tangled up in them and tumbling back into the life of crime he worked so hard to escape. Two old flames come back into Ira's life, along with a new young man who reminds Ira of his former self. Will Ira hold fast to his principles, or will he succumb to the temptations of easy riches and lost pleasures?

About the Author:Jess Faraday is the author of the Ira Adler mysteries and the standalone steampunk thriller The Left Hand of Justice. She also moonlights as the mystery editor for Elm Books.

Twitter: @jessfaraday

Facebook: https://www.facebook.com/jess.faraday

Buy link: http://www.boldstrokesbooks.com/9781602829879.html

Jess Faraday's Ira Adler mysteries are available from Bold Strokes Books (http://www.boldstrokesbooks.com) She has also edited several mystery anthologies for Elm Books (http://www.elm-books.com). Visit her at http://www.jessfaraday.com.