Jacquie Rogers
 here again!  I thought I'd talk a little about location, location, location.
Many of my western historical romances are set in the Silver City area of Idaho Territory, in Owyhee County (a large county in southwest Idaho with area about the same as New Jersey, but with one person per square mile).  This was a wild and wooly area of the West. 
The gold and silver strike sent prospectors, gamblers, painted ladies, merchants, Chinese miners and merchants, bankers, and newspapermen to Ruby City.  Problem is, the creek liked to flood there so the residents packed up the town, buildings and all and moved them to the Silver City site, where it still stands.
So let's take a tour.  On the right is the sign that tells you how to get there.  I'd advise not to miss the sign.  Oh, wait, there's only one road.  I'd advise you to stay on that road.  If you get lost, you have to pay Owhyee County to hunt for you.  They had to implement this because so many city people got themselves into fixes they couldn't get themselves out of.  It got costly, and the budget just didn't have room for people's errors in judgment.
Oh, and I forgot to mention that all these pictures were taken by my daughter, Mercedes Christesen.  Special thanks to her husband, Rodney, for using his day off to chase after pictures for his mother-in-law.  Yes, you get points for that.  Okay, back to the tour.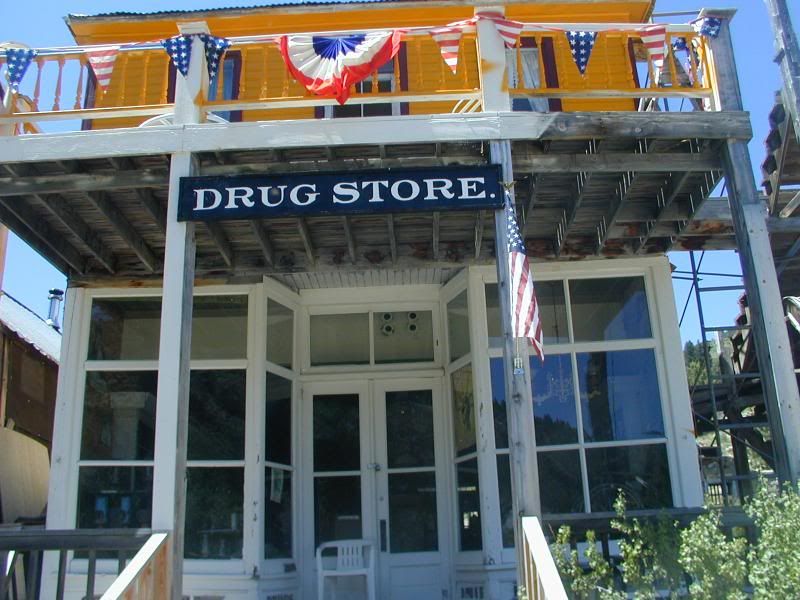 Drug Store
Here's the Drug Store.  Mercedes wasn't able to get any history on it, but it was either called the Knapp Drug Store or the Model Pharmacy.  Or maybe it was one and then the other.  I think it's just called the Drug Store now.  It's not open for business anymore.  It's a residence now, as so many formerly commercial buildings are. 
There's an open house the weekend after Labor Day every year.  I've been there–great fun!
Silver Slipper Saloon
Silver City Trivia:
Houses at its peak, 400: now, 67.  Businesses at its peak, 125: now, 2.  Working mines at its peak, 250: now, 1.  This informaton comes from a sign on the menu at the Idaho Hotel.  The building was constructed in Ruby City and moved to Idaho City in 1866.
Even though Silver City had telephone service by 1880, the telegraph business was thriving for longer distances.
Silver City, Idaho Territory, never did have rail service, but the train service was within a stage ride.  Here's a Union Pacific train ticket:
May 10th. 1869
GREAT EVENT
Rail Road from the Atlantic to the Pacific
GRAND OPENING
of the
Union Pacific Rail Road
Platte Valley Route
Passenger trains leave
OMAHA
on the arrival of trains from the East
THROUGH TO SAN FRANCISCO
In Less than Four Days, avoiding the Dangers of the Sea!
Travelers for Pleasure, Health or Business
Life was hard in the Old West, especially when you're a couple hundred miles off the beaten path, at over 6,000 feet in elevation.  But this wasn't empty country. A long-standing population of Native Americans from the Bannock and Paiutes were not all that happy about Europeans coming in and ruining their livelihood and cultures.  The next photo is the gravestone of Oliver Hazard Purdy, born September 12, 1824, and killed during the Bannock Indian War in 1879.
Sometimes bad things happen but instead of dying, the perpetrators were put in jail.  It looks as if this jail wouldn't be too secure these days, but it was formidible in its time.
Idaho Hotel, in Silver City, Idaho
Much Ado About Marshals takes place in Oreana, Idaho Territory, but the pre-story takes place right here in Silver City.  Stay tuned because the second book in the Much Ado series, Much Ado About Madams,  will be set in Silver, and you can bet these buildings will have a strong say-so in how the story goes. 🙂  The third book (not sure of the title yet) is set in the surrounding area with only a few scenes in town.