Long and Short Reviews welcomes Kishan Paul. Leave a comment or ask the author a question for a chance to win a $5 Amazon gift card.
In February this year, Kishan released a novella, Taking the Plunge, as part of the Love Least Expected Anthology. She is currently working on making it into a full novel by this fall.
"Eve and Pete haven't shut up and have made it their goal to keep me up at night," she explained. "I've finally realized the only way I'll get any sleep is to finish their story."
It was after this publication she actually started considering herself a writer– until then, she just considered herself a wannabe.
One of the first stories Kishan ever wrote, as yet unpublished, popped into her head one night as she was leaving work. It was late, the lights in the parking lot weren't working, and the lot was pitch black and deserted. She kept thinking about what would happen if she got abducted.
Another story, "Blind Love," was inspired by a writing prompt for a social media group she was in. Writers had an hour to create a short story about a blind neighbor.
"Once that hour was done, Lauren was still speaking to me, actually she was screaming," Kishan said. "Telling her story was the only way I could get her to shut up."
She has always loved writing–all the way through school her writing teachers loved her and her creations– but she never considered writing professionally. It wasn't until about two years ago she actually, as she said, "put pen to paper…technically fingers to keyboard."
What finally started her writing was a very painful event– her cousin died from cancer and Kishan couldn't get the heavy fog to lift. One day, she just started typing and she couldn't stop.
"What comes first in your writing," I asked, "the plot or characters?"
"I want to say plot but I would be lying. Really it's the characters. No matter what story line I come up with, the characters take over and develop something entirely different than I ever planned. It's both the most frustrating and amazing thing all at the same time."
In fact, the hardest part about writing for her is actually writing the scenes where her characters are hurting.
"I get so emotionally connected to them that oftentimes I'm crying along with them," she explained. "The second hardest part is ending the story, saying goodbye to them."
"Are you a plotter or a pantser?"
"I'm a panster. I write by the seat of my pants. I kinda get obsessed with the story and the scenes. It's all I think about. I play and replay the scenes, feel and then refeel the incidents. Each chapter is like a week long process for me. The first day it's kind of the bones of the chapter, really rough but what's going to happen is written out. Every day after I go back and work on the layers: the dialogue, the way each person in the scene felt about the situation and how they showed that, the environment. Halfway through the week, I've scrapped most of what I first wrote and have something entirely different."
Finally, I asked, "What advice would you give a new writer just starting out?"
"The advice I would give to other authors is the same I've gotten: It's a hard and long process and most of the time you'll question yourself and your story. Thicken your skin, don't give up, and one day you can look back and say "Wow did I really do that?" Make friends with other writers, they understand where you are and how you feel. And don't forget to pay attention to your readers. They are so important in this journey."
She doesn't need a hero. But a sexy Marine…that'll work.

Though Lauren Baxter's world is a blurry mess of colors, she has no tolerance for pity. With the help of her guide dog, Jack Sparrow, she's built a good life for herself. She has everything she wants: her PhD, a thriving counseling practice and her independence.

When she meets her new neighbor, the man's warm Texas accent and clean male scent weaken her knees. Her attraction to the former Marine is mutual and, unfortunately, a complication she doesn't need.

Gabriel Briggs carries the weight of the world on his shoulders. He has his reasons for indulging only in short-term flings, but the feisty, green-eyed Lauren makes him want to forget every one.

In a rare moment of fragility, Lauren winds up in Gabe's arms. One night together can't break their self-imposed rules, right? But when a woman from Gabe's past is murdered, the reasons he should have stayed away become painfully clear, threatening innocent lives he may not be able to save—especially Lauren's.

Warning: Contains a blind therapist who doesn't consider herself impaired; a meddling, erotic-novel-writing best friend; a hot ex-Marine with a shady past; and a loyal guide dog that howls "I love you" and is probably the sanest one of the bunch.
About the Author: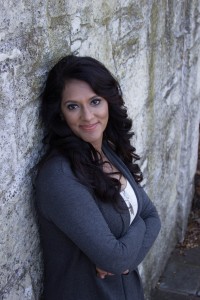 From daring escapes by tough women to chivalrous men swooping in to save the day, the creativity switch to Kishan Paul's brain is always in the 'on' position. If daydreaming stories were a college course, Kish would graduate with honors.
Mother of two beautiful children, she has been married to her best friend for over 16 years. With the help of supportive family and friends, she balances her family, a thriving counseling practice, and writing without sinking into insanity. Her novella, Taking the Plunge, can be found in the Love Least Expected and she is currently working on a romantic suspense.
Website | Facebook | Twitter | TSU | Pinterest | Coffee Talk Writers | Sign up for Kishan's newsletters