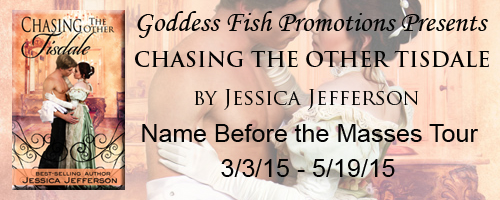 This post is part of a virtual book tour organized by
Goddess Fish Promotions
. Jessica will be awarding a $10 Amazon or B/N GC to a randomly drawn winner via rafflecopter during the tour. Click on the tour banner to see the other stops on the tour.
Five Reasons I Write Historical Romance
by Jessica Jefferson
I love reading. Westerns, contemporary, historical fiction, biographies – I'll read anything. But, historical romance is my favorite. Since the first time I stole a Kathleen Woodiwiss novel off my mother's bookshelf, I've been a fan of the genre. I can't get enough. From Medieval to Edwardian-era romance, I just love being whisked back in time to experience love.
In college, I originally majored in English, with hopes of one day becoming a writer. At the time, I always pictured myself writing serious commentary on the human condition…or becoming the next Erma Bombeck. But then, life got in the way and derailed my literary aspirations for a few years. When I picked up the proverbial pen again, my interests had changed dramatically. I wanted to write for entertainment, and I wanted to write what I loved to read—historical romance.
Historical romance provides me the opportunity to explore different historical periods. In contemporary romance, I'm locked into twenty-first century conventions. But with historical romance, I can explore love through the eyes of nineteenth century heroines. There is no Facebook and Twitter, no instant messaging of any sort. Instead there are real letters. It takes me back to a time when expressing one's love was a bit different than it is today.
Historical romance is an escape from reality. It allows me to live out my historical fantasies. My heroines can wear beautiful gowns and my heroes can ride up on horses. I can also take certain liberties that I may not be able to while writing contemporary romance. I do try and stick to the confines of the time period when possible, but the beauty of writing in a different era is that I get to use more of my imagination than I otherwise would.
I also love writing historical romance because of the heroes! There are still gentlemen out there today, but how many of them wear breeches? I'm in love with the idea of my Prince Charming riding up on a white horse, not in a white Porsche.
Love is love – no matter when it happens. At the bare minimum, it involves two people who feel a deep emotional connection. That's been the same since the dawn of time. That's what I love about historical romance. No matter what the time period, the basic fundamentals of love are still the same.
She's the other sister…

Overshadowed by the beauty of her older sister, Lillian is better known as the other Tisdale; unremarkable and unsure how she will ever deliver on the promise of her family's name.

He's a rake in need of reforming…

Will Colton leads a frivolous existence, embracing notoriety instead of managing his family's fortune. Determined to forget his financial burden and his father's growing resentment, he maintains a lifestyle dedicated to pleasure and self-indulgence. When Will is invited to the Tisdale estate for an extended holiday, he never expects to become friends with the forgettable Lillian. But when a family secret comes to light, he must choose between leaving London and protecting the honor of one woman or staying and risking the reputation of another.

Upon his return, Will finds the girl he left behind has come out of the shadows and into her own. Lillian's finally the center of attention, and not all of it good. With his own reputation in tatters, can a reformed rake lure her out of the hands of London's bachelors and back into his own arms? Can he escape his past and reclaim her heart, or has he lost her forever?
Enjoy an excerpt:
When Lillian Tisdale dreamt of that magical moment when she would fall in love, she never imagined that it would be so sudden, so complete, or so…
Literal.
Lilly, as she was more commonly known, sat cradled in between a large branch and the massive trunk of the hundred year old willow tree near the pond at Brightly, her family's ancestral estate. She set her sketch book and charcoal pencil down on the branch and took a moment to appreciate the scenery before her. Brightly was noted for its lush gardens and rolling green hills, and she found it impossible to imagine any other property in England being as lovely.
This was her favorite tree, had been for years, and one of the only places she could disappear to when she felt the need for a respite from her three sisters and older brother. She relished the quiet of her hiding place, the silence disturbed only by the soft wind skimming the pond, the rustling of the leaves in the oak groves, and the occasional coo of a nesting bird.
"You naughty minx!"
Lilly startled, the unexpected sound of a man's voice coming from out of nowhere. She steadied herself against the branch in front of her, knocking her sketchbook onto the ground in the process. She sighed, doubting the book would survive the fall intact. She'd spent the last of her pin money on that sketchbook and wouldn't be able to afford a new one for at least a month. Her parents, for all their wealth, were sticklers when it came to their children's allowances.
"You're a wicked, wicked man, Mr. Colton!"
This time, the voice was distinctly female and the name she mentioned sounded familiar…
About the Author: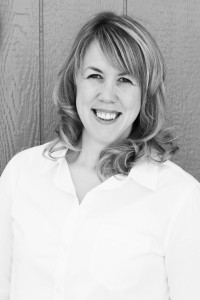 Jessica Jefferson makes her home in northern Indiana, or as she likes to think of it—almost Chicago. She is heavily inspired by classic sweeping, historical romance novels, but aims to take those key emotional elements and inject a fresh blend of quick dialogue and comedy. She invites you to visit her at jessicajefferson.com and read more of her random romance musings.
Website | Blog | Facebook | Twitter | Goodreads | Amazon Author Page
Chasing the Other Tisdale, Compromising Miss Tisdale and Taming Miss Tisdale from Soul Mate Publishing, available now on Amazon!