Long and Short Reviews welcomes Rachel Lacey, whose latest release, Ever After, the third book in her Love to the Rescue series, was recently released. Enter the Rafflecopter for a chance to win a $5 Amazon gift card.
Rachel is currently working on the first book in a brand new series set in the mountains of North Carolina. The series follows three semi-reformed bad boys who met as kids in the foster care system who've reunited as adults to open an extreme outdoor sporting facility together.
"It's been so much fun to write," Rachel said, "and I can't wait to share more details soon!"
I asked Rachel how long she'd been writing.
"Is it cheesy to say forever? I actually started writing my first book when I was thirteen. I've always written for fun, but I rarely finished what I started, and I never let anyone else read it. About five years ago, when my son was two and I was starting to think about what I would do when he started school, I decided to sign up for a romance writing class and see what happened. Four years later, my first book was published. Being an author has always been my dream job, and I feel so lucky that I'm getting the chance to live my dream!"
Rachel told me she wants to be her favorite author, Jill Shalvis, when she grows up.
"I love her writing. She makes me laugh, she makes me swoon over every hero she writes, and she makes me cry (and I love books that make me cry)," she explained. "Hers was the first book that I read and thought 'This is what I want to write!' I adore everything about her writing style."
Another author who has influenced Rachel's own writing is Lori Wilde. Lori was Rachel's writing teacher when she first decided to pursue a career as a romance writer.
"She taught me the ropes, and when I read her books, I could see all the things she'd taught me put into practice," she explained. "It doesn't hurt that she is also an amazing author! I have learned so much from her."
If Rachel finds herself stuck on a certain part of the book she's writing, she might give herself the night off.
"Sometimes I need to let things simmer for a bit to figure out where I'm going," she explained. "But then I just have to keep moving forward. Maybe what I'm writing is awful and will get thrown out during revisions, but in the words of the incomparable Nora Roberts, 'I can always fix a bad page. I can't fix a blank one.'"
"What is your most embarrassing moment?" I wondered.
"That would have to be the time I had a few too many mojitos and sang karaoke in front of Gloria Estefan! I was at a party at her hotel in Miami. She showed up, and everyone was mobbing her. My friends and I were trying to "stay cool," and somehow we decided it would be a good idea to take over the karaoke machine. No, I can't carry a tune, and yes, we were singing one of her songs! I did get to meet her that night too, and she is amazingly sweet and down-to-earth."
Finally, I asked. "What advice would you give a new writer just starting out?"
"Never give up, and never stop learning. When I decided to get serious about my writing, the first thing I did was sign up for a class, which led to more classes and a critique group. I learned so much from them! And really…keep writing."
CAUGHT IN THE ACT

Olivia Bennett is not having a happy birthday. Instead of blowing out her twenty-nine candles, she's stuck in jail, caught red-handed in a graffiti incident that (perhaps) involved one too many strawberry margaritas. Worst idea ever. The only bright side is that she ended up in the strong arms of the most gorgeous lawman she's ever seen.

Pete Sampson (aka Deputy Hot Stuff) faces intense pressure from the sheriff to find out who's behind a string of vandalisms. And after her spray-painting spree, Olivia is suspect number one. Still, Pete can't stop thinking about her. Wanting her. Now he's torn between his duty and his overpowering desire for the vivacious waitress. But he may have to bend the rules because true love is more important than the letter of the law . . .
About the Author: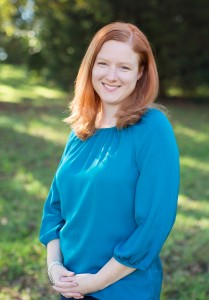 I write small town contemporary romance for Grand Central Publishing/Forever Romance, and it is a dream come true to be able to write books for a living. The first thirty years of my life led me around the globe on some amazing adventures. I've been climbed by a monkey on a mountain in Japan, gone scuba diving on the Great Barrier Reef, and camped out overnight in New York City for a chance to be an extra in a movie. These days, I'm a work-at-home mom with a seven-year-old son, and the majority of my adventures take place in the books I write. I currently live in warm and sunny North Carolina with my husband, our son, and a variety of rescue pets.
Website | Facebook | Twitter | Newsletter
a Rafflecopter giveaway