Long and Short Reviews welcomes back Joe Cosentino, whose upcoming book Cozzi Cove: Moving Forward is being released soon. Enjoy this character interview.
An Interview with Cal Cozzi, the leading character in
COZZI COVE: BOUNCING BACK, a novel by Joe Cosentino, published by NineStar Press
Hi, I'm Joe Cosentino, the author of Cozzi Cove: Bouncing Back and the upcoming (April 18) Cozzi Cove: Moving Forward both from NineStar Press. Today I am interviewing the lead character in those books. Hi, Cal Cozzi. Thanks for joining me.
I don't really have a choice, since I came from your head, kind of like Eve came from Adam's rib. I've always thought it was Steve though.
Good one, Cal. Since the readers can't see inside my head, tell them what you look like.
Like most of your characters, I'm really muscular, since I was a professional football player. I'm thirty years old, tall, and like you as a kid, I have auburn hair and a strong nose. That's me on the book cover looking over my cove.
What's a cove?
Don't you know? You wrote the book.
Very funny.
A cove is formed when softer rocks are worn away by the sun and salty water faster than the harder rocks surrounding them. This creates a bay of turquoise water shielded by large rocks in the distance and smaller rocks near the water's edge.
Tell the readers about the special place, Cozzi Cove.
Cozzi Cove, like the town of Cozzi, was built by my great-grandfather. It's a string of seven guest bungalows and my main bungalow on the New Jersey Shore open for the summer. Each bungalow is furnished with hand-carved nautical furnishings, and has an amazing view of the bay and lighthouse in the distance. Sensing my sexual orientation as a boy, my father turned Cozzi Cove into a gay resort. After my parents died in an automobile accident, I found my calling: managing Cozzi Cove. Just being in this place makes me feel like home. The main beach and boardwalk are only a mile away. The town has a park, Carla's Seafood Restaurant, Tommy Malone's bar, a miniature golf course, the trampoline emporium, a diner, and a salt water taffy shop.
Cozzi Cove is patterned after the New Jersey shore town I spent my summers as a kid. But Cozzi Cove is a fictitious place.
Not to me. I live there.
Yes, Cozzi Cove is a romantic and magical place. And I'll warn the readers, everything isn't always what it seems in Cozzi Cove.
Okay, let me ask you a question, Joe. Who is your favorite character at Cozzi Cove, besides me of course?
Yikes, that's like picking a favorite child, though my parents would have no problem picking my sister. Since I'm the interviewer, I'll ask you: Who's your favorite character in Cozzi Cove?
Lance, my spouse, of course. He's twenty-four, short, stocky, African American with dark hair and dark eyes and amazing dimples. He grew up poor, and worked hard getting scholarships and maintaining good grades throughout school. As a second grade teacher, Lance is off during the summers, his favorite time of year. This leaves him more time to do what he loves most: be with me. And that makes me happy.
Tell the readers about the other characters.
Assisting me in running Cozzi Cove is Connor, a college kid with ginger hair, freckles, big muscles, a roving sponge and a roving eye. It takes a lot of energy to keep Connor out of the pants of our guests. I admit I've caught him a few times having flings on the cove. My older sister Taylor pops in from time to time from Wall Street, Paris, Rome, or Palm Springs. As a tough as nails top one-percenter, the world revolves around Taylor, which makes her hysterically funny. For some reason she's really protective of me. Carla Mangione and Tommy Malone are my friends since high school. They run the seafood restaurant and bar respectively. Tommy's had a thing for me since high school, and Carla's been infatuated with my sister for many years.
And tell them about your guests this summer at Cozzi Cove?
I've got two brothers/college students who look alike, but couldn't be more different. Mario is searching for love, and Harold is searching for lust. A wealthy older couple, Josh and Greg, try to play matchmakers for their hunky son Christopher. Player Tim and shy Mark seem to be hitting it off. Oh, a famous porn star, Chuck Caliber, is staying with us, as is a famous romance novelist, Sean Guile, who happens to be a virgin. Computer game designer Arthur is in the end bungalow. He keeps saying he sees a merman in the cove. And we have an unexpected guest when a gay bashing turns into something quite unexpected. Like everybody else in Cozzi Cove, each guest has a secret.
Tell them about your guests in Cozzi Cove: Moving Forward.
They'll have to read my upcoming interviews for that book.
Who would you like to play you in the movie or TV version of Cozzi Cove?
Matt Bomer with his hair dyed red. And I know you want to play Sean Guile. Producers, can we make this happen? Actually, Joe, all of your books should be movies or TV series. Tell them about each one.
You twisted my arm. An Infatuation and A Shooting Star (In My Heart) published by Dreamspinner Press are loosely based on my high school and college years respectively. They were so popular as individual e-books, Dreamspinner Press published them together in one paperback. I still receive comments from readers that those stories made them laugh, cry, feel romantic, and changed their lives. (An Infatuation won Second Place in Divine Magazine's Readers' Choice Award for Best Romance Novel.
Kudos, Joe. Now back to Cozzi Cove.
I'm not finished yet. A Home for the Holidays is my popular holiday short novella from Dreamspinner Press about an American law student who, as I did, takes a trip to the romantic and gorgeous island of Capri, Italy, where he embarks on a relationship with his captivating third cousin.
The Naked Prince and Other Tales from Fairyland from Dreamspinner Press is my gay take on my favorite beloved fairytales like Cinderella, Goldie Locks and the Three Bears, Pinocchio, Jack and the Beanstalk, and The Snow Queen.
As for Cozzi Cove—
My Nicky and Noah mystery series from Lethe Press are farcical, gay, cozy, who-dun-its. In Drama Queen theatre college professors are dropping like stage curtains. With the inept local detective more interested in getting into Nicky's pants than solving the murders, it is up to well-endowed Directing professor, Nicky Abbondanza to use his theatre skills (including playing other people) to solve the case, while he directs a murder mystery onstage. Complicating matters is Nicky's intense crush on Assistant Professor of Acting, gorgeous Noah Oliver, the prime suspect in the murder. Drama Queen (Divine Magazine's Readers' Choice Award for Best Mystery, Best Crime, Best Humorous, Best Contemporary novel of 2015) is available as an ebook, paperback, and audiobook performed by Michael Gilboe. In Drama Muscle Nicky and Noah have to use their theatre skills to find out why musclemen are dropping like weights in the Physical Education department while Nicky directs the Student Bodybuilding Competition. In Drama Cruise (releasing in 2017), Nicky and Noah go on a cruise to Alaska, and discover why college theatre professors are going overboard like lifeboats while Nicky directs a murder mystery dinner theatre show onboard ship.
But I'm not in any of those!
In my Jana Lane mysteries, with straight leading characters and gay supporting characters, Jana Lane was the biggest child star ever until she was attacked on the studio lot at eighteen years old. In Paper Doll (Whiskey Creek Press), Jana at thirty-eight lives with her family in a mansion in picturesque Hudson Valley, New York. Her flashbacks from the past become murder attempts in her future. Jana ventures back to Hollywood, which helps her uncover a web of secrets about everyone she loves. She also embarks on a romance with the devilishly handsome son of her old producer, Rocco Cavoto. In Porcelain Doll (The Wild Rose Press), Jana makes a comeback film and uncovers who is being murdered on the set and why. Her heart is set aflutter by her incredibly gorgeous co-star, Jason Apollo. In Satin Doll (The Wild Rose Press), Jana and family head to Washington, DC, where Jana plays a US senator in a new film, and becomes embroiled in a murder and corruption at the senate chamber. She also embarks on a romance with Chris Bruno, the muscular detective. In China Doll (releasing from The Wild Rose Press), Jana heads to New York City to star in a Broadway play, enchanted by her gorgeous co-star Peter Stevens, and faced with murder on stage and off. Since the novels take place in the 1980's, Jana's best friends are gay, and Jana is somewhat of a gay activist, the AIDS epidemic is a large part of the novels.
Okay, they're all great books, but the COZZI COVE series has me in it! So everyone grab your Speedos, suntan lotion, and shades and head over to Cozzi Cove. I'll be waiting just for you. Oh, and Joe loves to hear from readers at: his website. It gives him a break from talking to me.
On Cozzi Cove at the New Jersey shore, handsome Cal Cozzi's seven bungalows are open for summer and love. Mario and Harold are brothers and college students who happen to look alike, but couldn't be more different: Mario is searching for love, and Harold is searching for lust. Josh and Greg, a wealthy older couple, are matchmakers for their son, Christopher. When it comes to Connor, the maid, packed with muscles and a roving sponge, anything can happen. Opposites attract as wild Tim with the secret past meets shy Mark, and porn star Chuck Caliber connects with Sean, a virgin romance novelist. And what will happen when computer-game designer Arthur has a midnight sea rendezvous with a merman? Even married Cal faces an emotional upheaval when a gay bashing turns into something quite unexpected. What secrets and passions lie in magical Cozzi Cove?
Enjoy an excerpt:
As Lance rested in bed and Cal was putting on jeans, sandals, and a canary polo shirt, they heard Connor enter the living room and call out to Cal. After giving Lance a kiss on the cheek, Cal begrudgingly left his lover, shut the front bedroom door after himself, and then met up with Connor, who was standing next to the living room sofa.
Connor said, "It's good to be back at work."
"How were your grades at college this year?"
Connor shrugged his muscular shoulders. "Pretty average."
Cal thought, If average is getting Cs and Ds. "I'm guessing you were quite involved with extracurricular activities."
"One or two." He giggled. "Maybe, three."
Cal had a soft spot for the kid. "You did a nice job preparing the bungalows yesterday."
"I aim to please."
Cal thought the nineteen-year-old looked like an American flag in cutoff blue jeans that matched his eyes, a T-shirt and sneakers that matched his red hair, and pale skin with freckles.
"How can I be of service to you today, boss?"
Cal ignored Connor's obvious double meaning.
"Just the usual routine." Cal wasn't immune to Connor's charm, but Connor was a kid, and Cal was a one-man man. "Carry their luggage into the bungalows when the guests arrive. Turn down beds at four p.m." He attempted to look sternly at the boy. "… Without you in them."
"Me come on to a guest?" Connor feigned surprise.
"Yes,you, Connor. This is a vacation resort, not the baths." Cal moved behind his desk. "After today, make up the rooms late mornings and early afternoons. Leave the sheets and towels in front of the garage for the laundry pickup. And don't forget to sweep out the parking area."
Connor saluted. "Aye, aye, Capitán ."
They heard a knock at the front door. Cal shouted, "It's open."
"Is this the office?"
"We're informal here," Cal explained. He typed into his computer, and then motioned for the young man to join him.
"I'm Mario Ginnetti." He placed a piece of luggage at his feet. "Is it okay to park in the lot?"
Connor seemed to nearly salivate at Mario's arms in his violet short-sleeved shirt. "You can park anywhere you like."
Ignoring Connor, Cal said, "Yes, that's the lot for the bungalows." Cal handed Mario a key. "You're in Bungalow One. I've got your credit card, so you're all set." He took a map from the topmost desk drawer. "The ocean beach is open to the public and is only minutes away. You can swim, surf, snorkel, or go on a glass-bottom boat there." He pointed to various black dots on the map. "You'll want to get some groceries here. Tommy Malone's is a good bar, and Carla's is my favorite seafood restaurant. This place has killer ice cream, which you can work off here at the gym."
Connor interjected with, "If you need help finding anything, just ask me. I'm a native."
"Or you can come into the office and ask me." Cal handed Mario the map and then pointed outside. "The cove is private property. You can sit out there all you like. The bay water is calm and warm. As you can see, the view is amazing."
Connor added with a grin, "Nude sunbathing is permitted."
Mario was visibly trying to take it all in.
"Any questions?" asked Cal.
Mario's dimples appeared. "Will the weather always be this nice?"
"From your lips to the sea gods' ears." Cal smiled. "The weather report calls for rain, so that means it's going to be sunny all week. Connor will take you to your bungalow."
Connor looked like the wolf meeting Little Red Riding Hood as he took Mario's luggage. "Follow me, Mario."
About the Author: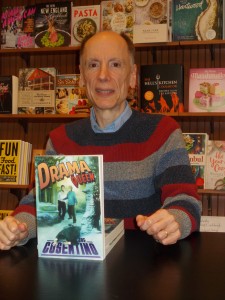 Amazon Bestselling author Joe Cosentino wrote Cozzi Cove: Bouncing Back (NineStar Press), Drama Queen and Drama Muscle Nicky and Noah mysteries (Lethe Press), An Infatuation, A Shooting Star, A Home for the Holidays, The Naked Prince and Other Tales from Fairyland (Dreamspinner Press), Paper Doll (Whiskey Creek Press) and Porcelain Doll (Wild Rose Press) Jana Lane mysteries, and The Nutcracker and the Mouse King (Eldridge Plays and Musicals). He has appeared in principal acting roles in film, television, and theatre, opposite stars such as Bruce Willis, Rosie O'Donnell, Nathan Lane, Holland Taylor, and Jason Robards. His one-act plays, Infatuation and Neighbor, were performed in New York City. He wrote The Perils of Pauline educational film (Prentice Hall Publishers). Joe is currently Head of the Department/Professor at a college in upstate New York, and is happily married. His upcoming novels are Cozzi Cove: Moving Forward (Nine Star Press), Drama Cruise Nicky and Noah mystery (Lethe Press), and Satin Doll and China Doll Jana Lane mysteries (Wild Rose Press). Joe was voted 2nd Place for Best MM Author of the Year in Divine Magazine's Readers' Choice Awards for 2015!
Website | Facebook | Twitter | Goodreads | Amazon Author Page
Buy the book at
Amazon
,
All Romance eBooks
, or
Barnes and Noble
.