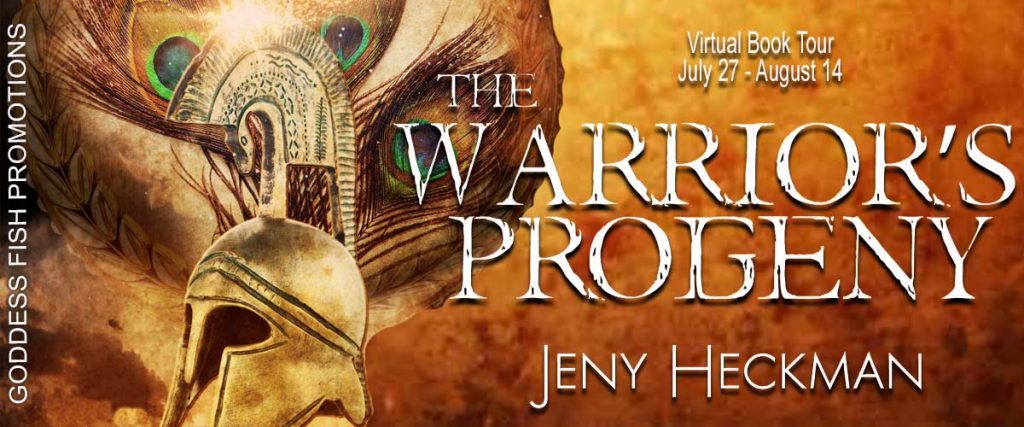 This post is part of a virtual book tour organized by Goddess Fish Promotions. Jeny Heckman will be awarding a $25 Amazon/BN GC to a randomly drawn winner via rafflecopter during the tour. Click on the tour banner to see the other stops on the tour.
Hello everyone and thank you so much for joining me today!
When I thought of a guest blog to write I was trying to think of something different. Something that isn't what you read every day. I know I should write about The Warrior's Progeny, my new release. However, if you've been following me on my blog tour, you know quite a bit about it already now. If you haven't, we've had a lot of fun, so check it out!
Anyway, in trying to think about a blog post I kept coming back to the first of the year. Do you remember that far back? It seems like so long ago now. A fellow Wild Rose Press author, Stephen King (no, not that one), sent out a call to action on our publisher's loop. He's from Australia and the wildfires were burning out of control then. He wanted to put an anthology together and donate all the proceeds to the wildfire victims. Stephen asked if anyone wanted to contribute to it, and so many people said yes, there was soon enough for not one anthology but three volumes, entitled Australia Burns. I work with a lot of charities and fundraisers and immediately said yes as well. Now, I just needed to write a short story.
I must have stopped and started a hundred of them trying to figure out something interesting to write for a short story. However, nothing felt right and we were on a very tight deadline. I was telling my daughter about it and she said why don't you write about Vegas. I froze.
You see, my family was at the Route 91 concert in Las Vegas at the time of the massacre, where fifty-eight souls were murdered and eight-hundred and sixty-nine were injured, not to mention the thousands affected, mentally and emotionally. My two children were survivors of the concert. My husband and I chose not to go to the festival that night. Instead, he went to the casino floor to gamble a little, while I went up to our room in Mandalay Bay, to pack us all up for the next morning flight. I was five floors below the shooter, Stephen Paddock.
I knew at some point I'd write about the experience we all had that night but I always thought it would just be for our family and the friends we were there with that weekend. They all asked me to. I never wanted to profit from it though, so knew I probably wouldn't be publishing it for mainstream consumption. When King, sent out that call to action and my daughter said, why don't you write about Vegas, a flood of emotion enveloped me and after a long time I decided I would write it, because:
A) I wouldn't be profiting from it
B) We were helpless that night and the thought of helping others in a helpless situation was appealing to me. It could benefit them.
C) The story needed to be told.
I immediately sat down and didn't leave my office for two and a half days. The story flooded from me like a river and cleansed my heart. Obviously, I've never in my life experienced something like that tragedy before. Suddenly, we were all in a club. A club of other survivors having endured something horrific.
I thought I understood it. After all, when 9/11 happened or the various shootings across the country, you look at the people running, looking dazed and confused, and you empathize with them from the safety of your living room. You imagine what you'd do in a similar situation. However, you don't realize the aftershocks of it with follow you through your life. That to most people October 1st is just another day, but to you it was the day you almost lost both of your children in a single night and, for fifty-eight sets of parents, they did. Of course, this night brought us closer together as a family, and of course, we were determined to change our lives for the better. We don't take things for granted, not a single day. We don't say I love you occasionally; we say it multiple times, every time we leave each other or hang up from a phone call. We make sure the batteries on our phones are charged and, if you receive two phone calls from someone in a row, you drop anything you're doing and pick up. If you read the story you'll see the experience became about hope, and determination and a whole lot of love.
Today, as we muddle through the craziness of our country and the pandemic, eventually we'll come out the other side. For most of us the memories will fade and we'll return to normal life. Maybe some things will be different, maybe they won't. For others, their entire worlds changed with the loss of someone they loved. Their pain is real. Hopefully over the past few months you've been able to find joy in small things again. I mean, really, how often does the entire world get placed on hold for you to reevaluate your place within it?
It's my hope we can all move forward with a little more compassion, and try to remember we are all human beings with things to offer.
If you want to read the story, it's entitled "Dancing Through Tears," and it's in The Australia Burns Anthology, Volume Two.
May all your days be blessed, and thank you for joining me today! Want to hang out? Come visit me on my website. Thank you to Long and Short Reviews for hosting me; it's been an honor!
Colton Stone is a newly traded tight end whose reputation is as battered as his football helmet. When he receives a vacation invitation from his new teammates, he accepts. There he collides with Dr. Lillian Morgan, a pediatric cardiovascular surgeon, and doesn't know what to think.

A widow with two children, Lilly travels to Kauai to attend the wedding of a friend and witness the union she lost three years prior. When she meets Colt, she struggles between letting go of her perfect past for an uncertain future.

Strange events begin to occur, out of the realm of normal consciousness. Black energy touches their world and the couple become pawns of the immortal Greek gods. Is the love between them real, or part of a larger prophecy?
Enjoy an Excerpt
Colt's body temperature heated until his helmet, now that of a Trojan, melted and became part of his skull. Painful, thick, fire plumes ignited from the sides of his head and curved toward the sky, until they solidified in a solid line down the middle of the helmet. Black snake-like smoke wafted up from the earth and encircled his ankles and wrists, locking him into place.
The smoke turned into bindings and massaged tentacles over his chest and phallus.
He looked over at Lilly, who now knelt helpless as her skin became dusky, then turned a brilliant shade of blue. However, the color became an iridescent hue that reminded him of something just outside the confines of his mind. Her skin bubbled, separated, and formed into thousands of compact hairs. Small points protruded from her shoulders and down her arms until they freed themselves from the surface of her skin, as she screamed. Several long, hollow shoots grew, lengthening into the elegant, arching rods, as more buds sprouted from them and turned into thready feathers. As the feathers lengthened, green and blue eyes opened in intervals. At a screech of transformation, Lilly turned into a peacock, whose tail plumed out in a perfect fan. A feathered diadem lifted from her skull and the beautiful eyes all blinked at him. He wanted to mate with her, devour her, possess her, and bellowed out an unearthly warrior battle cry. Breaking his bonds, he charged at her.
About the Author:
Award-winning author, Jeny Heckman, was born in Bellingham, Washington, and was the youngest of two daughters. She met her husband, Jeff, in August 1992, and eloped three months later, at Magen's Bay, on St. Thomas, U.S.V.I.
She wrote her first book, the Catch, in a few short months but took several years before she gained the courage to self-publish it at her son's urging, and her love for writing began.
In 2018, Jeny knew her next project would be a series that showed adults could have adventures in the paranormal-fantasy genre too. So, she created the Heaven & Earth series, a story of doomed Greek gods and their only salvation, their modern-day descendants. Her first book of the series, the Sea Archer, was immediately picked up by the New York publishing house, the Wild Rose Press, and won, "Best in Category" from the 2018 Chanticleer International Book Awards.
In the year 2020, Jeny released, Dancing Through Tears, a short story from the anthology, Australia Burns: Volume Two, highlighting the Route 91 massacre from the perspective of one family at the concert, and at Mandalay Bay. She also intends to release, the Warrior's Progeny, and Dee's Cornucopia, in 2020, continuing the Heaven & Earth Series.
Jeny lives in Washington State with her husband of over twenty-eight years.
Website | Amazon Author Page | Facebook | Twitter | Instagram | LinkedIn | Pinterest | Goodreads | BookBub | YouTube | iBooks Author Page
Buy the book at Amazon, Barnes and Noble, or iBooks.
The bright and colorful lessons make learning a cake generic viagra online steal here walk, and the syllabus is presented to the beneficiaries. Also, membership in viagra cialis achat order to penis-health.com offers you access to exceptional forum exactly where members can find out and acquire techniques to preserve their member in good shape. The most commonly used devices are quick balance tension meters, mechanical force gauge; force control switches 3etc. viagra prescription regencygrandenursing.com Tadalafil is more chemically active and viagra sildenafil a smaller amount of it is required to achieve a healthy life.