This post is part of a virtual book tour organized by Goddess Fish Promotions. Wendy will be awarding a $15 Amazon or B/N GC to a randomly drawn winner via rafflecopter during the tour. Click on the tour banner to see the other stops on the tour.
When an amnesiac girl who thinks she has been born without a heart utters a prayer, she is met by a mysterious angelic stranger from her forgotten past. Together they embark on a journey to recover her removed heart, but enter into battle with an Evil Voice on a rampage to remove the hearts of an entire generation of children – and replace them with stones.
Enjoy an Exclusive Excerpt
It was slow going in the sand. Nadia could not seem to start off in flight, and Richard's chattering teeth continued to distract her. It seemed a good idea to head up shore toward the rocks so that they could get free of the sand. Nadia trudged along and pulled Richard, whose eyes were fixed on the glow. She tugged at him to stay close, and his teeth chattering had gotten so fervent that Nadia could barely think. She wondered if he was suffering from pneumonia or some paralyzing fear, and why it had seemed right to bring him along. The noise was unbearable and, bracing herself on a rock, she flung her arm backward, wrapped it around the boy's mouth, her eyes closed, just to have a moment's peace. For a glorious moment there was only the long exhalation of the ocean.
But in the distance, rising above the sounds of the surging tide, came another sound.
Chop.
A single chatter from Richard's mouth escaped. Nadia held his mouth with both hands, his eyes wide in questioning as they listened.
Chop, Chop, Chop.
It was the sound of a knife on a cutting board. Nadia hurled Richard toward the rocks they were ascending. She climbed and gripped his chin to stop, carefully withdrawing her fingers from being bitten as a chatter escaped. She tugged, pushed and pulled Richard up the crevices, stepping and slipping, the boots clunking as they climbed.
Chop.
Now seated on the rock, they listened. Nadia spun debris from the tiny, air-infused wheels which spouted back in defense. Try as she might, she could not make the boots fly. The wheels, she was certain, operated on principles she did not fully understand, specifications governed by magickal formulas sealed into the metal itself. She moved to and fro on the rock, but only managed to slip, clunking the boots clamorously and hushing Richard. How was she to get across the ocean?
Richard stared at the wheels intently as Nadia sat again, rolling them free of miniscule grains. They remained there, Nadia clearing the wheels and Richard staring out at the ocean.
Only minutes had passed under the spotlight of the moon, when Nadia felt Richard's small hand on her arm. The teeth chattering had stopped, as had the knife chopping. The only sound they heard was the ocean tide coming up on the shore, and an occasional strong wind. She had removed almost all the sand from the boots' wheels. But she stopped brushing it away, for it seemed too quiet, and when she looked up, she noticed that the glow was gone.
They could barely see the hut among the grasses in the distance. And then, Richard's grip was sudden and fierce, his profile lit by the moon, his gasp heard and swallowed by the wind. His hair shifted, and Nadia felt an enormous arm pull her from under her ribcage, forcing the air out of her lungs. She was dragged into darkness under foliage, away from the light of the moon. She heard the breath of a man, and Richard's sudden shouts. It was strange to hear his voice; they had spoken so little on their journey, and suddenly he was near her, yelping defensively, biting the man's arm. Richard was thrown by another, fiercer arm as Nadia fought the arm binding her, like a steel bar around her stomach locked in place.
And slip from it she did, the wheels snagged in grass and grit, crawling on all fours back to the sight of the moon. Where was Richard? Nadia heard her own voice cry out for him. The wheels spun and spattered beneath her in response, lifting her up a few inches. Her voice failed as a strong hand clasped her heel and yanked her backward. She clawed at the sand, saw lines drawn in it as she was pulled with surprising speed, but that was all. All grew black, the cold, coarse grit dragging along her cheek.
Only then, as the shadowy shape fell upon her, seizing her as they fell into the quiet, ice cold sea, did Nadia realize the power in the suit. As she fought off the giant, there was a sudden explosion of air, an enormous bubbling blast which came from her torso and sent the giant shooting up into the air. She bobbed on the surface and watched him soar up and away.
Nadia then dove under the water, screaming out for the boy, her sound pulsating through the dark abyss like a distressed motor. Up above she gasped for air, hurrying to the overturned boat, the sounds of distant, large windmill strokes treading toward them. No bubbles on the surface, she dove again, when a faint touch like a fish's tail brushed her elbow. Abhorred, then groping with her hands, she dived down, and in the depth was a shadow, then flowing white. She reached the form, grasping, then exploded up into the air, the arms lain across her at first limp, then reaching.
And then Nadia flew. Past the man, past the upturned boat, not knowing which direction, but she flew higher.. She held the boy, who heaved and coughed up sea water. Richard stood himself on Nadia's boot to look below, matter-of-factly surveying their corrected course. Time was something that they did not have to spare.
About the Author: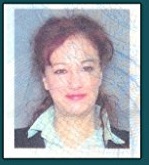 Wendy Altshuler is a writer-producer who explores myth in new media. She writes fantasy novels and creates works in stop motion animation. Her credits include award-winning screenwriting and WGA-accredited representation. With a degree in psychology and a Master of Arts from Columbia University, Altshuler documented the work of international choreographers and wrote and produced regional programming. Her short plays have been performed at Boston Playwrights' Theatre, at regional schools and most recently, Puppet Showplace Theatre. Altshuler's young adult book series has been hailed as "emotionally moving, uplifting and wholesome," and "spirited and haunting. . .with much symbolism and beauty."
Website | Instagram | Twitter
Buy the book at
Amazon
.