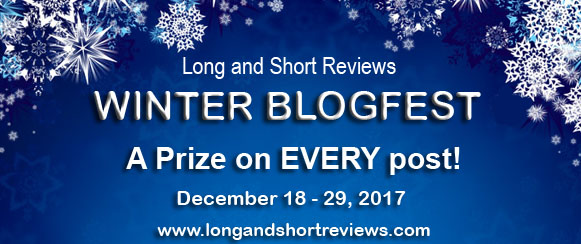 This post is part of Long and Short Reviews Winter Blogfest. Leave a comment for a chance to win a back list e-book.
It's the Most Romantic Time of the Year…Eventually
When I was newly married, I couldn't wait for my first Christmas together with my hubby. Although we'd dated a few years, I thought this holiday season would be wildly romantic. You know, chocolate, champagne during a candlelit dinner, lingerie from Vicky's Secret, maybe a bauble or two.
Wow, was I wrong.
On the day in question, he gave me a top-of-the-line vacuum cleaner. His eyes lit up at all the gadgets on it and the accompanying manual (he loves manuals). My eyes glazed over. I didn't want to hurt his feelings, but a vacuum cleaner? Talk about feeling like a drudge.
He finally caught on and asked what he'd done wrong. Gently, I told him I wanted romance, passion, maybe a box of chocolates from the supermarket. You know, girly stuff. BTW: I won't apologize for that. I want my romance!
As the following Christmas rolled around, I expected to get cooking utensils with manuals that would teach me how to do more than open up a can and heat up the contents. Braced for the worst, I got to work early on Christmas Eve at the small-town newspaper we owned together. We had a very small staff that hadn't arrived yet. Taped to the receptionist's desk was a bright purple envelope that said 'OPEN ME'. I figured it wasn't for her, so I opened it. The card was decorated with glitter and ribbons and wished me Happy Holidays. I teared up. It was so pretty and romantic. On the inside, he'd drawn an arrow pointing to the back offices.
Long story short – with beautiful cards directing me, he led me on a scavenger hunt through the office. There were chocolates, sexy lingerie, and even a new thesaurus. This was before the internet. He hit all the right buttons. Teary, I blubbered my thanks and kissed him for trying so hard to make the season special for me since it had always been just another day to him. He gave me an odd look and was kind of subdued in his response. I asked what was wrong. He said "nothing" and to ditch my bounty in my desk. He'd take me to breakfast.
In my office, I stopped dead. A new leather briefcase that I'd coveted lay on the desk with a big red bow on it. I squealed.
He shouted from his office, "Open it!"
Who was I to argue? Inside the briefcase was a sapphire and diamond ring I'd admired for what seemed forever.
It's a Christmas I'll never forget. Granted the gifts were great, but it was the time and thought he put into the 'event' that moved me the most. And that my wanting romance mattered to him.
Although my latest release The Craving, erotic paranormal, isn't a holiday tale, it is romantic. My hero Lucian is to-die-for. He and Erica (my heroine) find romance, danger, and suspense in book two of The Wanderers series.

She's everything he's desired… He's the one man she shouldn't crave.

Knowing the danger the Wanderers pose, Erica Vega intends to hunt down the mysterious group steeped in dark magic, curses and mind control. As a Deputy U.S. Marshal she has the law behind her, along with her telekinetic powers. Let the chase and battle begin.

Not so fast. Her superior forbids her to go after any Wanderer, instead ordering her to work cold cases with her new partner Lucian Navari.

Tall, dark and hotter than sin, Lucian doesn't play by the book. He has his own agenda and agrees to help Erica hunt Wanderers on the sly where he and she can be up close and personal.

Erica's not one to mix duty with pleasure, but he's impossible to resist in too damn many ways.

As they investigate an elusive Wanderer, nothing is as it appears – she can't trust what she sees or believes. Lies masquerade as truth, deception rules while she and Lucian grow closer in a carnal dance that will change their lives.
About the Author: Tina Donahue is an Amazon and international bestselling novelist who writes passionate romance for every taste – 'heat with heart' – for traditional publishers and indie. Booklist, Publisher's Weekly, Romantic Times and numerous online sites have praised her work. She's won Readers' Choice Awards, was named a finalist in the EPIC competition, received a Book of the Year award, The Golden Nib Award, awards of merit in the RWA Holt Medallion competitions, and second place in the NEC RWA contests. She's featured in the Novel & Short Story Writer's Market. Before penning romances, she worked at a major Hollywood production company in Story Direction.
On a less serious note: She's an admitted and unrepentant chocoholic, brakes for Mexican restaurants, and has been known to moan like Meg Ryan in When Harry Met Sally while wolfing down tostadas. She's flown a single-engine airplane (freaking scary), rewired an old house using an 'electricity for dummies' book, and is horribly shy despite the hot romances she writes.
Website | Blog | Facebook | Twitter
Buy the book at Loose Id.