Military Heroes…
The Top Five Reasons They Are Holy-Moley-Hot
 Leave a comment to win a print copy of Rev It Up (Book 3 in the Black Knights Inc. Series, and where readers first meet Rock and Vanessa, hero and heroine of Thrill Ride). US and Canada only please.
Hey, all you romantic suspense fans out there!  Julie Ann Walker here, author of the bestselling Black Knights Inc. series.  And I'm super psyched to be on Long and Short Reviews, talking about those military heroes we just can't seem to get enough of.  I mean, they're hot, right?  Like two syllable hot.  As in, haw-aht!
But what makes them so lip-smacking delicious?  What is it about the military hero that automatically makes us drool like we've just come back from a root canal?  Well, I don't know about you guys, but for me there are five things.  Five very specific things that… uh… shall we say, ring my bell?
So, without further ado, I give you the top five reasons why I think military heroes are holey-moley-hot…
 5.)  They use really cool lingo.
"Roger that!"  "Charlie foxtrot!"   "Watch your six!"  "Fubar!"  "On the double!"  I mean seriously?  I read that kind of dialogue and instantly my temperature jumps ten degrees.
4.)  They know how to handle their… erm… guns.
No, not those guns, you gutter-minded readers.  🙂  I'm talking about real guns.  The ones with triggers and clips and bullets.  And, perhaps it's a throwback to earlier times when in order to survive we women needed our men to know which end of the spear was up, but for me, there's just something fundamentally sexy about a man who has the skill and the confidence to operate a weapon.
3.)  They're loyal, patriotic, dependable, and courageous.  Basically, they embody all things that are good and admirable in a hero.  Enough said.  😉
2.)  They're very fit… and usually tattooed.
Now this may just be me, but one sure way to make me go weak in the knees is to show me a nice tattoo inked atop a big, bulging muscle.  Can you say, "mama likey," boys and girls?
And last, but not least…
1.)  They look damn good in their uniforms.
But don't take my word for it.  Just check out these photos of some of our favorite actors.  And, granted, they're sexy without the uniforms.  But with the uniforms?  MEOW!
Thanks Long and Short Reviews for having me on today!  It's been a blast!
THRILL RIDE BY JULIE ANN WALKER – IN STORES APRIL 2013
Ex-navy SEAL Rock Babineaux is as Cajun as they come—spicy, sexy, and more than a bit wicked. But would he actually betray his country? Even his best friends on the special-ops Black Knights team aren't sure they can trust him. Now the target of a massive manhunt, Rock knows the only way to protect the team—especially his partner, Vanessa—is to run…

 She Won't Back Down…

Rock might think he can outmaneuver them all, but he hasn't counted on how stubborn Vanessa Cordero can be. And she refuses to cut him loose. Sure, her partner has his secrets, but there's no one in the world she'd rather have by her side in a tight spot. Which is good because she and Rock are about to get very tight…
ABOUT THE AUTHOR: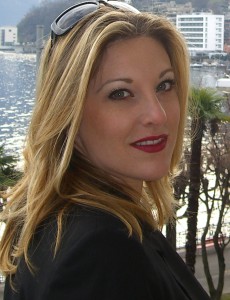 Julie Ann Walker is the New York Times and USA Today Bestselling Author of the Black Knights Inc. romantic suspense series. She is prone to spouting movie quotes and song lyrics. She'll never say no to sharing a glass of wine or going for a long walk. She prefers impromptu travel over the scheduled kind, and she takes her coffee with milk. You can find her on her bicycle along the lake shore in Chicago or blasting away at her keyboard, trying to wrangle her capricious imagination into submission. Look for the first four books in her fast-paced series: Hell On Wheels (August 2012) In Rides Trouble (September 2012) Rev It Up (October 2012) and Thrill Ride (April 2013). For more information, please visit www.julieannwalker.com or follow her on Facebook www.facebook.com/jawalkerauthor and/or Twitter @JAWalkerAuthor.
To Purchase Thrill Ride