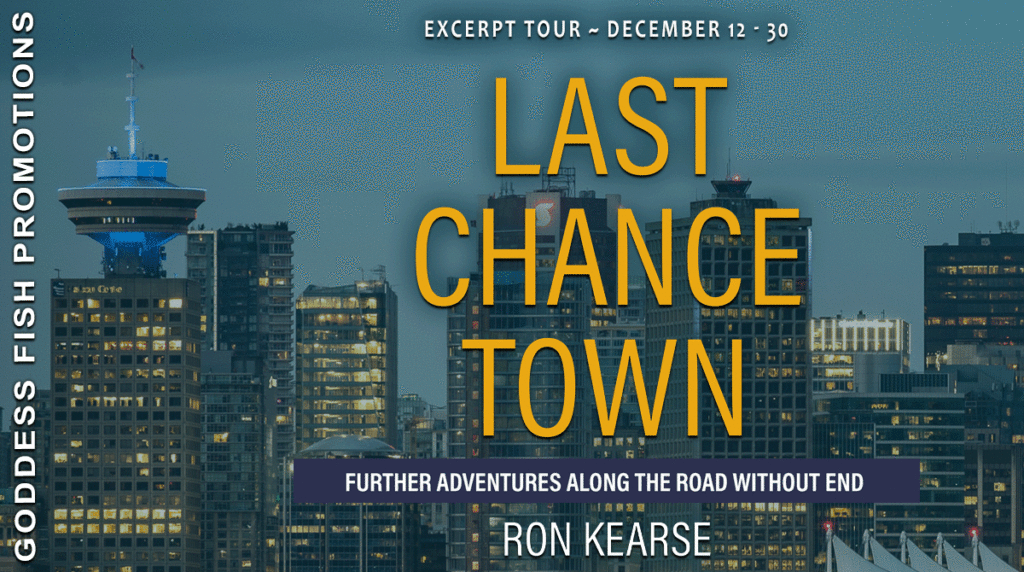 This post is part of a virtual book tour organized by Goddess Fish Promotions. Ron Kearse will be awarding a $15 Amazon or B/N GC to a randomly drawn winner via rafflecopter during the tour. Click on the tour banner to see the other stops on the tour.
In this, the Further Adventures Along the Road Without End, we fast forward from where the story left off in 1983, to Vancouver, BC, in 1988. Warren Givens has completed his second jail sentence four years previous, after which he's vowed to lay low and stay clean so there's no return to "Clown-College," as he calls it.

A chance meeting at a pub one night introduces us to Daryl Kellerman, at first as Givens' one night stand, which quickly develops into a love and live-in relationship between them.

Warren's distant past comes front-and-centre in the form of his birth mother, who lost him to Social Services before he was ten years old, and has been looking for him ever since.

We get to know Warren's past and what's made him the way he is.

This, along with some other drastic life changing occurrences, propel Warren into a life he never thought he would live.

Later, we get to know what life was like living with Givens through Daryl's eyes as he reminisces over the years since their initial meeting.

Last Chance Town is the third book in the Road Without End Trilogy.
Enjoy an Exclusive Excerpt
We take a cab to where Hastings-Sunrise meets Grandview-Woodlands in East Vancouver. We get out of the cab and go up the front walk to his place. It's an older house, two storeys, blue and grey. Looks like it could use a little TLC as far as repair work goes. We enter the front hall. There's music coming from the kitchen.
"Ah, the roomie's home," he says pointing at the pair of runners in the front closet. "You want something to drink?"
"Sure."
We take off our shoes.
"This way," he says as he leads me into the kitchen. Somewhere Tom Jones is singing "Kiss" as part of the Art of Noise cover.
We pass a large, framed poster on the wall in the hallway. I stop to have look at it. It's square and features a red background with a black bull within a circle of words that read, Transcend the Bullshit. Makes me chuckle.
In the kitchen, we're greeted by a guy in his underwear doing what looks like ballet moves. Daryl glances at him. "You're drinking red wine again?"
"When have I stopped?" His roommate answers as he twirls across the kitchen floor.
"Givens, this is Hunter," Daryl says pointing at him.
"Good to meet you." I wave as he twirls out of the kitchen into the dining room, and that's when we hear ka-THUNK!
Daryl sprints into the dining room with me right behind him.
"You okay?" Daryl asks.
Hunter gets up from the floor, laughs then shakes my hand. "Good to meet you too." Then he twirls around and out of the room then bolts upstairs.
"Christ," I say, "I want some of whatever Hunter's been smokin'."
"Yeah," says Daryl with a wry smile, "you've entered another universe. But don't worry about it, you'll fit in just fine."
About the Author:
Ron Kearse had a nomadic upbringing and finds inspiration in traveling, art, friends, reading, and photography. He's written reviews and features for local periodicals, co-hosted radio programs, conducted interviews on-air and in print, and has a colourful and varied resumé. He's hosted art exhibitions of his works and has had his photographs displayed in public showings. He presently lives in Victoria, BC, with his partner, James.
Website | Goodreads
Buy the book at Amazon or Barnes and Noble.