Long and Short Reviews welcomes
Nic Starr
who is visiting with us today to celebrate the release of her newest book
Runaway
. Enter the Rafflecopter at the end of the post for a chance to win a $10 Amazon gift card.
********** 
A big thank you to Long & Short Reviews for hosting me today as I celebrate the release of Runaway.
Runaway is my latest release. It's part of the Dreamspinner Press World of Love collection. The World of Love stories are "contemporary romances spotlighting the unique features, qualities and attributes of a specific country as well as the universality of love wherever it's found."
The story of Nate and Damien takes place in the Australian state of New South Wales, starting in a small country town on the north coast, followed by time spent in Sydney. To celebrate the release of the book, I thought I'd share some of my beautiful city of Sydney with you all.
New Year's Eve
One of the things that Sydney is renowned for is the magnificent display of fireworks that happens over the harbour on New Year's Eve. The event is so spectacular that it is witnessed by hundreds and thousands of people on and around the harbour, and millions worldwide who watch the televised broadcast.
I think the reason the outside event is so large and popular is because it is NYE, it occurs in such a brilliant location and because it is our summer. The weather is usually glorious so celebrations start early in the day as people claim their vantage points and settle in for a party in the sun followed by sunset and then the show.
There are actually two fireworks displays. The first is at 9am to cater for the kids. The family display is over 8 minutes with fireworks being fired from 4 barges in the harbour. The main show is at midnight (obviously) and goes for 12 minutes. Fireworks are shot from 7 barges, as well as buildings in the city, the Sydney Opera House and the Sydney Harbour Bridge.
Here are a few facts from 2016. There were an estimated 1.5 million people watching from the foreshores. Here were over 100,000 individual pyrotechnic effects and it cost approximately AU$7million dollars for the combined 9am and midnight shows.
There are people who disapprove of the amount of money spent, plus the environmental impact of the fireworks but it's a huge tourist drawcard plus a highlight for Sydneysiders. The whole show is choreographed to music and simulcast on the radio. My favourite parts this year were tributes to Prince and David Bowie.
Click here to see video that shows some of the highlights of the 2016 fireworks – just outstanding!
And here's a photo taken from my vantage point at my Mum's place.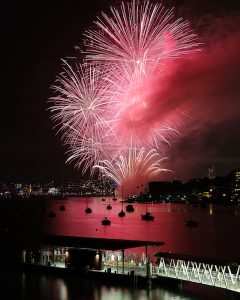 I hope you liked seeing a little piece of Sydney and enjoy experiencing a little more when reading Runaway.
If you'd like to see some more of my beautiful country, you can visit the following blogs who are hosting me during the Runaway release.
April 5 – MM Good Book Reviews
April 10 – Alpha Book Club
April 11 – Scattered Thoughts and Rogue Words
April 12 – The Novel Approach
April 13 – Open Skye Book Reviews
April 13 – Sinfully Gay Romance Book Reviews
April 14 – My Fiction Nook
April 17 – Love Bytes
April 18 – Divine Magazine
April 19 – Long and Short Reviews
Dr Nathan Powell is ready to settle down near his family, and hopefully find the man of his dreams. He returns to the small coastal town where he grew up, but while life is simpler than it was in the city, there are also complications—like patients' reactions to an openly gay doctor. And like running into Nate's first love, Damien, an out-and-proud local business owner who is unwilling to be any man's dirty secret. The reunion reignites old desire even while it stirs up Nate's guilt over the way things ended with Damien.

When Nate's nephew runs away, Damien accompanies Nate on his mission to find the young man. The drive to Sydney, and the search of the city, gives Nate time to reconnect with Damien—and to wonder if he made the right decision years ago—when he determined a future for them was impossible. Is a fresh start realistic for two men in their forties? But before he can ponder the second chance they've been given, Nate must locate his nephew.

World of Love: Stories of romance that span every corner of the globe.
About the Author: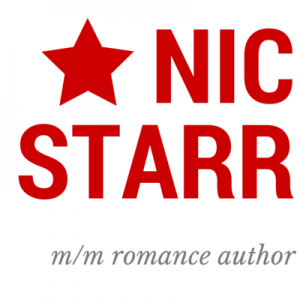 Nic Starr lives in Australia where she tries to squeeze as much into her busy life as possible. Balancing the demands of a corporate career with raising a family and writing can be challenging but she wouldn't give it up for the world.
Always a reader, the lure of m/m romance was strong and she devoured hundreds of wonderful m/m romance books before realising she had some stories of her own that needed to be told.
Nic loves to spend time with her family—an understanding husband, two beautiful daughters, and a cherished Cairn terrier. Nic is a foodie and wine lover who lives in the city but is a country girl at heart. When not writing or reading, she is often found indulging in her love of cooking and planning her dream home in the country.
You can find Nic on Facebook, Twitter and her blog. She'd love it if you stopped by to say hi.
Website | Amazon Author Page | Facebook Profile | Facebook Author Page | Twitter | Instagram | Pinterest | Goodreads
Buy the book at these digital stores.