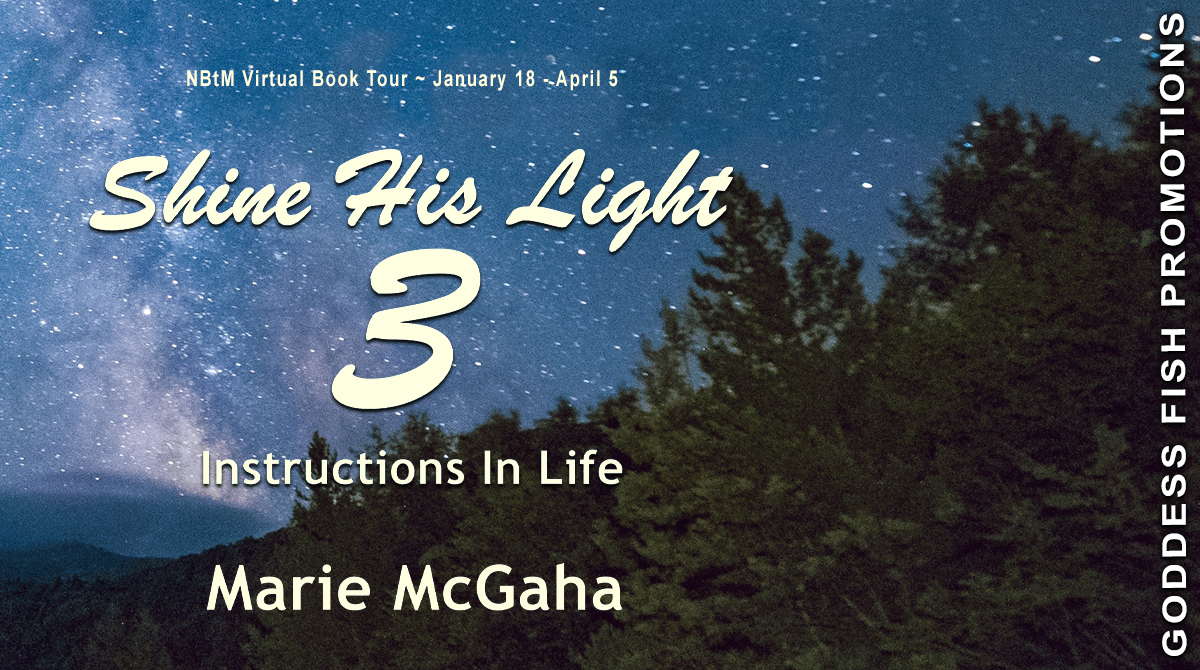 This post is part of a virtual book tour organized by Goddess Fish Promotions. Marie McGaha will be awarding a $10 Amazon/BN GC to a randomly drawn winner via rafflecopter during the tour. Click on the tour banner to see the other stops on the tour.
Ten Things People May Not Know About Me
I've been in this business for a long time, so I've done many interviews and my bio is all over the internet, so coming up with ten things people don't know about me might be a tough one!
1 – I just got married on February 4, 2023
I was twice widowed, and my second husband, Nathan, died from a stupid cancer that has a 5-7 year survival rate, but he died seven months after diagnosis. I was totally lost. After twenty-three years of marriage, I was unprepared for the loss. The paperwork alone was unbelievable, and I was almost convinced the heart-wrenching grief would kill me. But through a lot of screaming and crying, and constant prayer and bargaining with God, I was finally able to pull myself together. I visited my youngest son and his family in California and stayed several weeks with my oldest son in Utah, and then went back home to Idaho to get my house ready to sell. It all led me to buying a house back in Oklahoma where my late husband was born and raised, and I had lived there since 1989. And living here was the best thing that ever happened to me. I was able to buy a house outright, found a nice church, and because of that church going to a church in nearby Arkansas, I met the man I would marry, Pastor Dan. For me, it was love at first sight, but it was several months before we actually got together due to his position as pastor. I never thought I'd find love again, but I am head over heels with Dan!
2- I'm a farmer
Yep, I live in a rural area with a 12-acre farm that includes my kids, Charlie, a fila Brasiliero mastiff; Artie, a Schnauweeniehuahua; Lucy Liu a double dapple dachshund; and Boo Boo Baby, a tiny Chihuahua. We also raise pigs, chickens, and I have a horse named Horse. We grow a garden for vegetables, and I cook everything from scratch.
3-I'm a baker
Baking is my hobby. I bake everything from bread to cinnamon rolls, cakes, cupcakes, cheesecakes, and I bake specialty birthday cakes and wedding cakes.
4- I love romance
I love writing romance, but I also love watching romance, especially Christmas romances!
5- I went to 25 schools
My father was part gypsy, or at least that's my conclusion. He moved us all over the country and in the sixth grade alone I went to 3 different schools! I hated it, but it did prepare me, in a weird way, for being a writer and for trying new things and not being afraid to do anything life presented to me.
6- I gave birth to 7 kids
Yep, I had seven kids naturally, and all the labor added together took only six hours! I am one of those women who didn't experience labor pains and the longest birth was 45 minutes. That was the first one, so it took a little longer!
7- I know American Sign Language
My father was best friends with a man named Albert who was a deaf/mute. He used to sit around the table with my dad and they signed. I was about 4 years old, and I picked up some of the signs quite easily. In college, I took two semesters of ASL, and now, I use it in church during praise and worship. I use interpretive dance and sign language along with flags to express my love and devotion to the Lord.
8- I was ordained in 1996
I was ordained through the Full Gospel Pentecostal Churches International after diligently studying through the Baptist Bible School, and Derek Prince Ministries. I've continued my studies over the years, and I'm also a licensed Chaplain and have worked in hospice.
9- I developed a drug and alcohol program
I've worked as a drug and alcohol counselor in many settings, including drug court, probation and parole, and in an all-male prison on a unit with 164 men and me. I often get asked if I was ever afraid, and the answer is no. I treated them with respect, and they treated me the same way. Through this experience with inmates, addicts, and alcoholics, I developed the Free to Live Free of Drugs and Alcohol program that will be released soon as a self-help book.
10- My favorite book I wrote is Cross The Line
This historical romance is set shortly after the American Civil War during the period of time of known as the Indian Wars. It is an interracial romance between a former slave and the daughter of a former slave owner. It's historically correct and I had so much fun researching this book, that I forgot it wasn't real!
Life is the journey we take on our way to Heaven. It's not easy, it's not pretty, and sometimes, it's downright difficult. However, we have an Advocate unlike any other, Jesus Christ. In Shine His Light, the author uses scriptures and her own life lessons to help others get through the bumpy spots.
Enjoy an Excerpt
When I was a kid, the series "Star Trek" was the greatest sci-fi show on TV, with the most up-to-date special effects. People disappeared in the transporter, we saw the Enterprise fly through the stars at warp speed, and of course, we saw really strange people and creatures from other planets. Sometimes, the planets were inhospitable and wouldn't support life as we know it, so the crew moved on.
Of course, it didn't take long for technology to leap forward and when I watch the old "Star Trek" episodes now, the special effects seem so antiquated, they're something we laugh about. We can take what is already there and turn it into something better, something brand new and more efficient but we can't take nothing and turn it into something. Only God can do that.
When God's Spirit hovered over the face of the waters, He did not think it was inhospitable or that nothing could ever come from it. God looked at the waters and thought, I can make dry land. I can make light. I can take some of that dirt and form a human being. And that is exactly what He did. But He did not stop there, He formed a human being from a pile of dirt and then, He did something remarkable, He breathed His own Spirit into that pile of dirt and gave it life. That pile of dirt became the first man—a living, breathing, moving, thinking person. And God said it was "very good." Up until then, everything created was called "good," but man and woman were "very good."
About the Author
Chaplain, author, editor and inspirational speaker, Marie McGaha lives in the beautiful Ozarks of southeast Oklahoma. After losing the love of her life, Nathan, Marie returned from the mountains of Idaho to their native home where she lives with a houseful of yapping furbies, pigs, chickens, and a horse named Horse! She attends Family Praise & Worship and is very grateful for her church family and their support. Shine His Light 4, the final book of the series, is due out next spring.
Facebook | Twitter | LinkedIn
Buy the book at
Amazon
.