This post is part of a virtual book tour organized by
Goddess Fish Promotions
. Kate Brandes will be awarding a $25 Amazon/BN GC to a randomly drawn winner via rafflecopter during the tour. Click on the tour banner to see the other stops on the tour.
Why I Value Negative Criticism as a Writer
I've spent most of my career, not as a writer, but as an environmental scientist. I didn't start writing creatively until I was in my mid-thirties. I've always loved stories about complicated families and relationships. When I learned about fracking through my environmental science career, one of my first thoughts was that it would make a great metaphor in a novel about a fractured family. So that's how I began writing my first novel, The Promise of Pierson Orchard. It took me seven years from the time I started writing to get a publisher and I couldn't have done it without a lot of negative criticism between then and now.
When I started writing, I had to learn to tell a story in the novel form. In order to do that, I asked for and received a lot of feedback from acquaintances, friends, other writers, and professional editors.
For me, especially in the beginning, the worst kind of feedback was, "Yes, this looks good. I just found a few typos and corrected those for you…"
When I was starting the novel, I was completely new to creative writing. I knew my writing needed more than just typo help. I truly wanted to get better and what I was really looking for was complete honesty, even if that was something like, "I understood nothing after page one and I don't really know why." That's not great feedback because it's not very useful in terms of where to go with it, but it was always better than a patronizing pat on the back or someone who didn't want to hurt my feelings.
What I've learned over the years is that the quality of the feedback is often dependent on how much experience the reader has with writing. I've also learned over time to trust my gut. Often for me, I have to give critical feedback a week or more to stew before I know which advice to take and which to discard.
Giving honest critical feedback takes time and deep consideration from a good reviewer. I've never seen it as a personal attack, but instead a well-intentioned hand extended trying to show me the way.
In the novel, Green Energy arrives, offering the impoverished rural community of Minden, Pennsylvania, the dream of making more money from their land by leasing natural gas rights for drilling. But orchardist, Jack Pierson, fears his brother, Wade, who now works for Green Energy, has returned to town after a shame-filled twenty-year absence so desperate to be the hero that he'll blind their hometown to the potential dangers. Jack also worries his brother will try to rekindle his relationship with LeeAnn, Jack's wife, who's recently left him. To protect his hometown and to fulfill a promise to himself, Jack seeks out his mother and environmental lawyer Stella Brantley, who abandoned Minden—and Jack and Wade–years ago.

When LeeAnn's parents have good reason to lease their land, but their decision leads to tragedy, Jack must fight to find a common ground that will save his fractured family, their land, and the way of life they love.
Enjoy an Excerpt
A brand new black pickup was parked between LeeAnn's red Chevy and Jack's old beater. A man stood beside it, with his hand raised in greeting, but he said nothing more. Coming from the bright light of the barn into the dusk prevented Jack from making out the man's face. Jack stared in his direction. Some tug of memory caused him to hesitate. There was something familiar about the slight curl in his shoulders.
LeeAnn emerged from the edge of the orchard and the man turned at the sound of her boots on the gravel drive. "LeeAnn?" the man said.
She stopped. "Wade Pierson?" She hesitated a moment more and then walked slowly toward him. "Is it really you?"
There, right in front of him, was his brother. Wade. Back after twenty years. He was still alive, at least. Wade's arms encircled LeeAnn.
Jack clenched his fists and went back into the barn. He offloaded the fruit from the wagon, bruising most of it. He washed apples with shaky hands and then crushed them for the cider press. LeeAnn and Wade came through the doorway.
"Jack, look who's here." Jack glanced up and then couldn't take his eyes from his brother's face for a long moment. He wasn't a sixteen year-old kid anymore. He'd grown taller than Jack and filled out. Damn if he didn't look even more like their dad now, with that same dark red hair and fair skin. That curl of the shoulder used to give Wade the look of someone unsure of whether he belonged. But now Wade stood there smiling, like he would be welcome. Like he could just show up after all this time with as much warning as he gave on the night he left.
About the Author: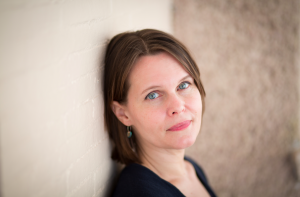 An environmental scientist with over 20 years of experience, Kate Brandes is also a watercolor painter and a writer of women's fiction with an environmental bent. Her short stories have been published in The Binnacle, Wilderness House Literary Review, and Grey Sparrow Journal. Kate is a member of the Arts Community of Easton (ACE), the Lehigh Art Alliance, Artsbridge, the Pennwriters, and the Women's Fiction Writers Association. Kate lives in a small town along the Delaware River with her husband, David, and their two sons. When she's not working, she's outside on the river or chasing wildflowers.
Website | Facebook | Twitter
Buy the book at Amazon or Barnes and Noble.