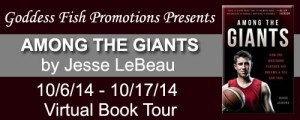 This post is part of a virtual book tour organized by
Goddess Fish Promotions
. One randomly drawn commenter will received a signed Deuce Brand watch. Click on the tour banner to see the other stops on the tour.
Lessons I learned from Allen Iverson
They were about to call my name. I was backstage, about to be introduced to thousands of fired-up streetball fans in Indonesia. The music was blaring, the MC was yelling into the mic, and everything was pitch black except for the spiraling spot light that was about to shine down on me. You could feel the pulse in the crowd growing with each word the announcer said, and I took one last deep breath to gather myself. That's when it hit me: I was about to take the court with one of the greatest basketball players of all time – Allen Iverson. I couldn't believe I was living this moment. Before I could really take that thought in, the speakers rumbled: "Jesse…Spin Cycle….LeBeau!" It was my time to take the court.
On reflecting on this experience, here are a few of the lessons I took away from Allen Iverson (AI).
BE FEARLESS! BELIEVE IN YOURSELF!
One story that AI shared with me was his first time playing against Michael Jordan. He himself admits that he is a big Jordan fan, and he said that during warm-ups he kept looking down to the other end of the court because he'd never seen him in person before. But he told us that once the tip-off was thrown up, all his nerves went away, and it was just time to play basketball. I will never forget what he said next: "At the start of the game, everyone know who Michael Jordan was. I was going to make sure they by the end of the game, they never forgot who #3 was."
I about lost my mind when he said that! I love that mindset. Here he was, going up against the greatest player to ever play the game, and he had the attitude "I respect you, but today is my day to be the greatest." That is the winner's approach that is key to success in anything in life. You can't just hope for it' you have to claim it as fact. I've experienced radical changes in my performance on the court by merely adjusting my confidence level. I can dominate a game one day when I'm thinking that I am the best player on the court and no one can touch me. Then, the next game, I second-guess myself and play hesitantly, even timidly, and suck! I have the exact same amount of talent as I did in the previous game, but my mentality is weaker, and that changed the outcome of my performance. Take on the Michael Jordans in your life fearlessly, and I promise you will see results.
YOUR ATTITUDE AND MENTALITY ARE EVERYTHING!
Going along with the last point is knowing how to control your mentality and attitude. One thing that separates a lot of streetball players and NBA players is not their talent level, rather what is going on in their heads! There is a good number of streetball players who are much more talented than NBA players, but because they have quick tempers, refuse to buy into a system, and make bad decisions in their personal lives, they will never play in the NBA.
You're going to be ups and downs in your career and life, no matter what you choose to do. AI battled all kinds of adversity, from chronic injuries to jealous teammates to disloyal friends, but he chose to persevere through it all. He possesses a true winner's attitude, and although he is amazingly talented physically, it is his tenacity a competitive fire that separates him as one of the greatest. There are many other players that can dribble just as well as he does, run as fast, and jump as high and even higher. But nobody wanted it more. No one was going to exhaust every ounce of energy in their body and put it on the line like AI. His attitude and mentality made all the difference. The great part about that is we get to choose what our attitude / mentality will be every day. We can't control what happens to us, but we can control our response. Choose to be great, and choose to have a winner's attitude like AI!
The sound of the basketball slapping the floor echoed hollowly in the gym, as I began working it playfully with my hands. Planning my next move, I locked eyes with my opponent. I noticed small beads of sweat beginning to form in the furrow between his eyebrows. My heart was pounding, and my nerves tightened in response . . . but slowly a smile formed on my lips. Here I was, 5'8" Jesse LeBeau, going one on one with basketball superstar Kevin Durant . . . and I was making him sweat! As I started to make my move on him, I briefly wondered, "How did a skinny kid from a small town in Alaska ever get the chance to do this?" Here I was, involved in the filming of the 2012 Warner Brother's basketball movie Thunderstruck, playing against the NBA scoring champion! It shouldn't have happened. I didn't fit the profile and anyone would have told you that. But I did make it, despite the odds. And here is my story . . .

Growing up as an undersized white basketball player on a remote island in Alaska, Jesse had nearly every chip stacked against him. Yet despite his size and circumstances, he managed to rise above it all and make it to the big screen in Hollywood. With only the love of the game of basketball and the tenacity to follow a dream driving him, Jesse's persistence has led him to star in national commercials and movies with some of the most recognizable celebrities and professional athletes in the world. More importantly, he found a way to tweak the system and alter his dream and get paid to do what he loves to . . . every day! Be inspired by his story and learn the keys to successfully creating a life that is uniquely yours.
Enjoy an excerpt:
The majority of you don't know my name, although you've probably seen my face on television. at the age of twenty-four, i began starring in national commercials for Kobe Bryant and other nBa players. i've been featured by sports magazines and played in basketball games that were televised to a global audience. i've done interviews for radio, television, and websites. i've met and spent time with famous, wealthy, and influential people from all over the world, and i have relationships some of the most re- spected and intelligent business men and women in the country.
do i think i'm special because of this? no. i know my efforts have been blessed. i also know that if there is anything special about me, it isn't necessarily my talent. it would more likely be my dogged tenacity to pursue a dream and my drive to put every ounce of my energy into making that dream happen. i was an underdog my whole life, but i refused to become a victim or a "less- than" in any endeavor i attempted. i always believed in myself, even when the odds were stacked against me. and they usually were.
even with the success i've had so far, i still feel like i have room to grow before reaching my fullest potential. But i believe i am on the right track. The fact that all of this happened for me in such a short time is a true testament to the principles i have learned and applied to my life. i want to share my story and these "life lessons" with you . . . and i want this book to inspire you to find your passion and chase your dreams, so you can wake up every day and do whatever it is you love.
About the Author: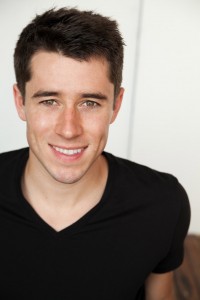 Over the course of the last couple years, Jesse has propelled himself from a small, Alaskan fishing town to the Hollywood big screen, being seen by millions all over the world. By leveraging his love of the game of basketball and making the most of every opportunity, he has successful created a life all his own. At 5'8", he may not be an NBA player, but by tweaking his dream, he has been able to use his passion (basketball) to star in national commercials and movies, work with pro athletes and celebrities, and even give back on a regular basis as a motivational speaker for youth. His underdog story, outlined in his book, Among the Giants, serves as an inspiration to anyone who has ever been told they can't make their dream a reality.
Jesse was born and raised on Pennock island, Alaska, where his mother worked as a school teacher and his father was involved in the logging industry. Jesse played basketball growing up, but no one wanted to take him seriously, and coaches told him he was too small and would never make it. Despite his critics, he believed not only in himself but also in the plan God had for him. Jesse has experienced big wins and frustrating losses, but both triumph and defeat helped him grow as a leader and a person, and helped deepen his faith.
Today, he uses his message to motivate and inspire young people around the world as a speaker and author. Combining his love of basketball, speaking, and entertaining, Jesse founded the Fab4 Takeover, which brings celebrities into schools to teach and impact students. He also released an instructional dribbling DVD titled Dribble Like a Star. For a free download from the DVD visit www.JesseleBeau.com or text the word "DVD" to the number 58885. You can find more information, read news in the press, watch highlight video footage, and follow Jesse on a more personal level at the following websites:
Purchase Among The Giants on Amazon, get a free download from his DVD, or get a free download from his eBook "What Allen Iverson Taught Me About Life".