Long and Short Reviews welcomes Jeanbill, whose debut novel, Almost a Millennium debuted early this year. Leave a comment for a chance to win a copy of the book.
One third of Almost a Millennium is devoted to medieval history, mostly within England, an episode in Arab country, one in Germany, and one in Italy. Obtaining the facts that happened during those times were available and accomplished by means of good, old research. However, the task became difficult when there were contradictions of facts or no facts available, especially when the Normans destroyed many of the Anglo-Saxon documents after their invasion and conquering of England. In some cases, finding older books and documents, made it possible to use that information to find the facts of the discrepancies. And for the unobtainable information, I had to use my common sense and judgment to good use to fill in the missing information.
Seeking several sources about certain incidents, I found some historians tainting the stories with their own biases and agendas, such as condemning and discoloring the feudal system of the time. There were multiple sections within England that had forms of feudalism, but there were several kinds, without having a standard to follow, the thegns and earls enforced their own standards. We, today, must remember the people of the land had to have some type of protection from criminal-acting insiders and the Viking outsiders. They would surrender to feudalism so they had some protection from those threats: to continue to live, marry, have children, and to lessen their fears that were predominate in those times. And they needed further protection from God via the Roman Catholic Church.
The chapter regarding cryptography took some time for I had only a small amount of knowledge. I not only had to read about it but also had to peruse that information in order to understand it. In my learning, I realized that there was a war extending over many years between the cryptographers and the cryptanalysts. In the periods from before Christ until today, one or the other was the winner for that period. And today, when we punch a 12-digit passcode with capital and small letters, numbers, and characters we are in the era of cryptography prevailing, but for how long will that be the case?
I demanded of myself to write the facts of the past without any bias or hidden agenda that I might have. I placed myself into the two main leaders of that time—William I and Pope Urban II. I needed their thoughts to be placed within written history to help readers to understand what they had to do as leaders of their era. Many historians write discouraging remarks about William I. Those remarks, colored with adjectives and verbs about the incidents, still may reflect the facts. But when one is a leader, he reacts to the period and circumstances of the time and reacts accordingly. Some will hate leaders for their actions and some will love their actions. True leaders will always be criticized for their decisions, but they must be made, hoping that they will be the right ones. Harry S. Truman, a president, leader of the United States had to make a decision to, hopefully, end a war in the 1940s. The war did end, but over 200,000 civilians were killed because of his decision.
Almost a Millennium, by Jeanbill, was published in January 2015 and is available for sale on Amazon.

Almost a Millennium is an eclectic novel about the unlikely connection between an English monk and an American physician that lived nearly 1,000 years apart, one of today and one in the medieval period. It begins at their birth, traveling through time to their adulthood.

Using cryptography, Paul, a monk at Llanthony Abbey in Wales, writes a four-page document about his life and a harsh critique of the crusades. He places his writings in safekeeping in the hope that it will survive the crusades and eventually land in the hands of someone who can decipher his secrets. When Fred unexpectedly comes across Paul's book and ciphers Paul's cryptic message, he has no idea that four pages of millennial history will challenge him to rethink Christianity.

"Almost a Millennium by Jeanbill is a deeply compelling historical fiction novel. Although a work of fiction, the story is a depiction of England's history and the power dynamics at the time. It is a richly detailed story and many times I found myself forgetting that I was reading a work of fiction as the historical events described felt very authentic. The setting of the story and the character development were simply amazing as we dived into Paul and Fred's compelling background stories. Paul and Fred were two people so different and yet so alike. The pace of the story was set from the beginning and this held true to the very last page. Jeanbill used a unique and very captivating style in developing this story." – Reviewed by Faridah Nassozi for Readers' Favorite
About the Author: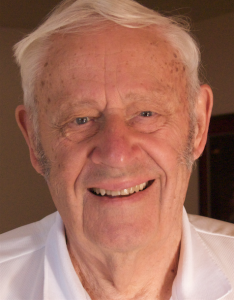 Jeanbill has been associated with medicine for more than 50 years, practicing as a general practitioner. He studied many hours in the medieval library of University of Notre Dame, researched and wrote over a period of 20 years in his spare time.
Jeanbill resides in Lynden, WA. Married to his other half for 57 years until cancer separated them, he has four children and 14 grandchildren.