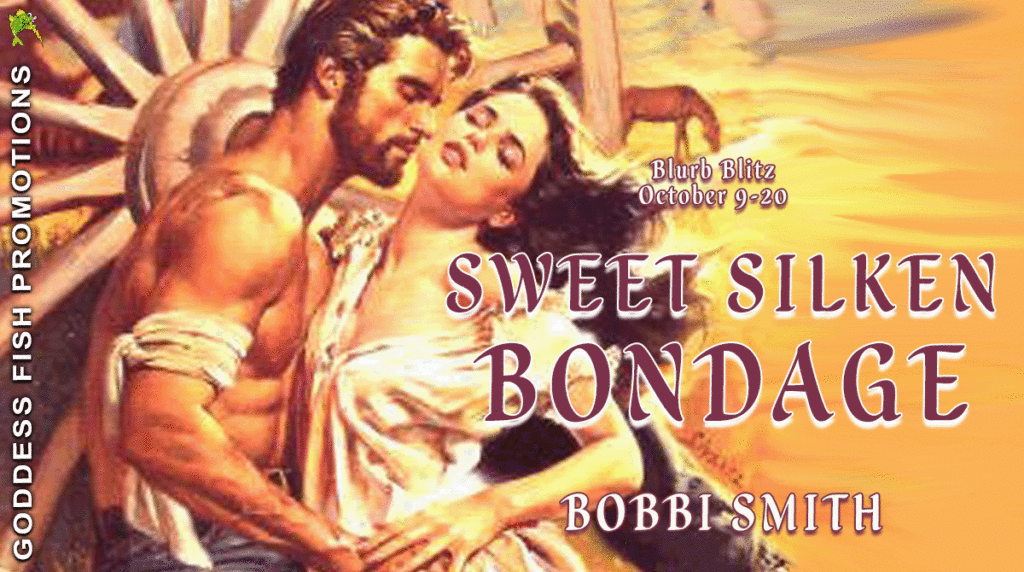 This post is part of a virtual book tour organized by Goddess Fish Promotions. Bobbi Smith will be awarding a $10 Amazon or B/N GC to a randomly drawn winner via rafflecopter during the tour. Click on the tour banner to see the other stops on the tour.
NUN ON THE RUN

Desperate to escape an arranged marriage, Reina Alvarez needed a way out of California fast, a way that would elude the ruggedly handsome and very determined bounty hunter her father had sent after her. What better way to hide her voluptuous curves than with a chaste nun's habit? But as the ties of love pulled her and Clay Cordell closer together, chastity became the furthest thing from Reina's mind and she wanted only to be bound to the sexy bounty hunter forever.

When Clay got to New Orleans, he was almost fooled by Reina's virtuous act. However, it was soon evident that the vixen who disguised herself as a nun, was no nun. No nun could ever kiss so sweetly. The last thing Clay wanted to do was bring Reina home to another man. Her raven tresses and fiery manner made him only want to surrender himself to her…SWEET SILKEN BONDAGE.
Enjoy an Excerpt
Bounty-hunter Clay Cordell was worried as he returned to his hotel room. Dev, his partner, had been arrested for a murder he hadn't committed, and he had to find a way to free him. Clay did not expect to find anyone in his room, and he stopped just inside the doorway at the sight of Luis Alvarez, standing so casually across the room from him.
"Alvarez… What the hell are you doing here?"
"Mr. Cordell," Luis responded with a cool smile. "I've been waiting to speak with you, and I was beginning to wonder if you were going to return."
"Really?" Clay couldn't believe the gall of the man.
"I understand you and your partner ran into trouble with the law last night."
"What do you know about it?"
"Nothing, nothing at all," he lied.
"Why are you here? What do you want?" Clay demanded, resenting his intrusion and wanting to get rid of him.
"I'm here because I want to repeat my offer to you. I want to hire you to find my daughter."
"I told you before, I'm not interested." Clay's only concern was saving Dev.
Luis smiled even wider. "But Mr. Cordell, I've raised my offer again."
"I'm not interested-not at any price."
"Not even to save the life of your friend?"
Clay went completely still at the question. "What are you talking about?"
"I'm talking about O'Keefe. I understand he's been arrested for murder. So, perhaps there's something I can do to help you. I'm not without influence here, you know."
"Sorry, Alvarez, I'm not interested in bribing anyone. Dev's innocent, and all I have to do it prove it."
"Who knows if your friend will stay alive long enough for you to prove his innocence? I think it's a fair exchange, don't you? My daughter returned for the life of your friend?"
Clay was trapped and he knew it. "What do you want me to do?"
Luis smiled triumphantly. "I have a small portrait of my Reina…."
About the Author:After working as a department manager for Famous-Barr, and briefly as a clerk at a bookstore, Bobbi Smith gave up on career security and began writing. She sold her first book to Zebra in 1982.
Since then, Bobbi has written over 40 books and 6 novellas. To date, there are more than five million of her novels in print. She has been awarded the prestigious Romantic Times Storyteller of the Year Award and two Career Achievement Awards. Her books have appeared on numerous bestseller lists.
When she's not working on her novels, she is frequently a guest speaker for writer's groups. Bobbi is mother of two sons and resides in St. Charles, Missouri with her husband and three dogs.
Romantic Times Storyteller of the Year
NY Times Bestseller
USA Today Bestseller
Inducted into the Sigma Tau Delta Literary Fraternity
Buy the book at Amazon.