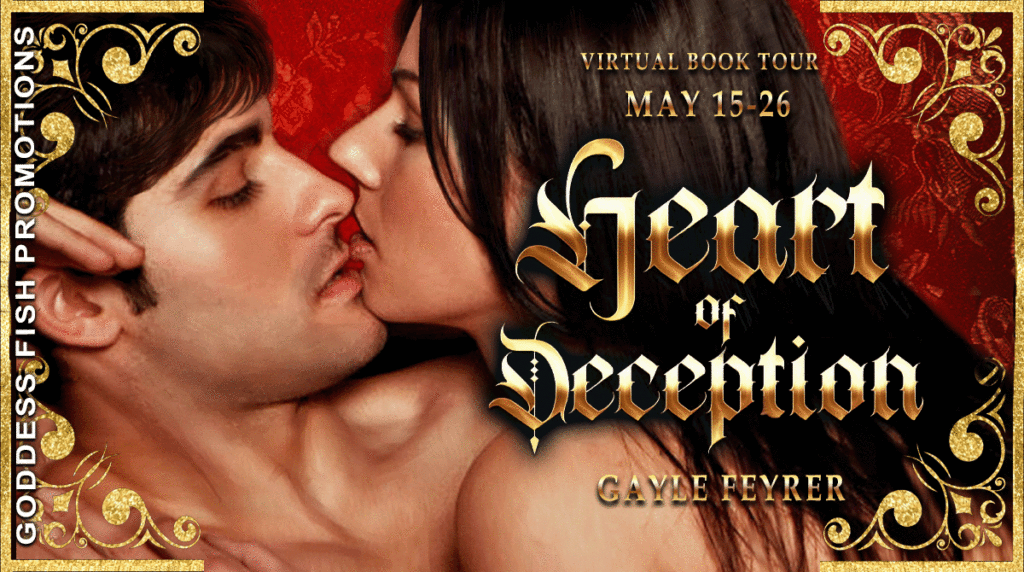 This post is part of a virtual book tour organized by Goddess Fish Promotions. Gayle Feyrer will be awarding a $25 Amazon or B/N GC to a randomly drawn winner via rafflecopter during the tour. Click on the tour banner to see the other stops on the tour.
What's Next?
I plan to re-release my historical romances over the next year. I have my retelling of the Robin and Marian legend, MARIAN, ready to go in September. I've got a snazzy book trailer ready and a poem video made from one of Alan a Dale's troubadour songs, and I'd like to have at least one page on my website with some history of Eleanor of Aquitaine and Lionheart or background on the Robin Hood legend. But I'm not sure what will follow it. My first romance, The Prince of Cups, set in Italy when the Borgias were in power in Rome, is polished and ready—except it has no cover. The cover I envision I think I'll have to paint myself and it will take a long time. The cover for the second Elizabethan would be easier to construct. I've found a photo of a couple I like reasonably well, and some nice romantic cliffs. But the text needs more work. I was told to make it longer, then told to make it shorter, and it was all more rushed than I liked, so I want to do more editing to make it better—if I can find the time.
Heart of Night isn't as steamy as others, but I think it's the most romantic. It has a fated lovers feel (though most good romances evoke that). Claire doesn't start out as fierce as my other heroines, she's a lady doing her duty, much as it appalls her, but a river accident wipes away her despicable fiancé and all that's expected of her. That same day she met my hero, Adrian, in Bedlam. He has psychometry, the ability to read objects through touch, but it's out of control and excruciating for him. Claire's been told he's dead—but of course that's a sinister plot involving some very wicked villains. They meet again and set out on the road together.
Did I mention I love the paranormal? There are Tarot readings in many of the other books and, not to be thwarted, Sherwood Forest has some magical places my lovers find.
And I have the third book of the Heart series, barely started, which again goes back to the Elizabethan court, immersing my sparring couple in intrigue and political machinations. He's a spy for Walsingham (a career spy, not a raw recruit like Rafe) and the young woman he blackmails to work for the crown. She's a dressage expert, sent to perform before the Queen and stop another assassination attempt. Doing some fine pruning of the text of Heart of Deception and designing the cover have rekindled my interest in the Elizabethan era.
I'm also working on finishing the last novel of my Paris Trilogy. The first, Floats the Dark Shadow, is subtitled a mystery of Paris. Bitter Draughts is a novel of Paris with murders… It's a thriller (a thriller of Paris just sounded weird) set during the scandal of the Dreyfus Affair, not a who done it, but a why done it and will they do it again. The third book is suspense, a love story of Paris with murders… It's not really a romance, but it is very much a love story—with quite a bit of kinky gay sex. It also leaves Paris to go to the Venice Carnival for the grand finale. It's a trilogy because the last book ties up the last of the unfinished plot lines for the first book, but I have ideas for a couple of others with the characters from that Belle Époque world.
Many possibilities and I'll have to wait and see which one is speaking the loudest when it's time to begin a new book.
Intrigue and treachery stalk the grimy streets and the royal courts of Elizabethan England. Returning from war, Rafe Fletcher finds his family accused of conspiring to murder Elizabeth and place Mary, Queen of Scots, on her throne. His only hope to save them lies in infiltrating the criminal underworld of nefarious siblings Nick and Vivian Swift.

Rafe discovers it's Viv who is the mastermind of the duo. Bold, clever and ruthless, Viv is also loyal and fiercely passionate. Rafe fights the intense magnetism that pulls him ever closer to destruction. But desire defies every warning he gives himself and they begin a blazing affair–until murder and betrayal severs their newly formed trust. Restoring that trust may be the only way Rafe can save the Queen, his own family, and the woman he's come to love.

Their adventure takes them from the fledgling theatres of Shakespeare's London to the desperate corridors of Bedlam, from the deadly backstreets of the Clink to the glittering court of Queen Elizabeth. It is a world of dark secrets and darker intrigues. Will the fire of their passion burn bright enough to incinerate the lies, and illuminate the truth?
Enjoy an Excerpt
Prickling with the awareness of being watched, Rafe looked up to the house, his search stopping at a shadowy form behind the great bow window. He stared up at the window until the shadow moved forward. Circular panes sparkled in the sun as the central casements opened to reveal a woman watching. Dark and slender, she looked clothed in flame, her velvet gown a blaze of scarlet slashed with black. A shock went through Rafe as her glittering gaze met his own, then slowly browsed him from head to toe.
Used to seductive appraisal, flirtatious or serious, still he flushed at the flagrant assessment, and the heat that flashed through him seemed to ignite in her eyes, bright within their dark. Rafe had never seen a lady with so bold a glance, which mocked as it weighed, invited as it challenged. But no lady would be here among these criminals, though the woman gazing down at him knew how to dress the part. Rubies burned at her throat, and ropes of sparkling jet draped her vivid scarlet bodice. The distinctive garb, the total presumptuousness of the woman, made him tense with suspicion. Slowly, her gaze swept his body, scanning the breadth of his shoulders and assessing the strong muscles of his thighs. … The black eyes sought his again, and he stared back defiantly, icy anger running in cold currents against his hot arousal. Rafe felt more than provoked—he felt deliberately tested to see how long he could stand in the fire.
About the Author: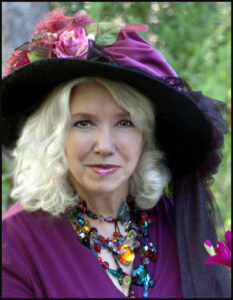 Gayle Feyrer began drawing as soon as she could hold a crayon and writing when she was twelve. She holds a Bachelor's in Pictorial Arts from UCLA, and a MFA from the University of Oregon in Creative Writing. In her varied career, she has been a tie dye artist, go-go dancer, baker, creator of ceramic beasties, illustrator, fiction teacher, and finally, novelist. A Libra with Scorpio Rising, Gayle's romantic nature takes on a darker edge. She hopes these shadows bring depth to her romances.
A world traveler, Gayle has visited Paris, England and Italy numerous times. She lived for two years in Jakarta, Indonesia, with many trips around Asia. She currently resides across the bridge from San Francisco, with her husband and their two rescue cats, Charlotte and Emily, the Flying Bronte sisters, half Siamese and half tabby.
Tygerbright Press | Facebook | Instagram | Pinterest
Buy the book at
Amazon
or
Barnes and Noble
.