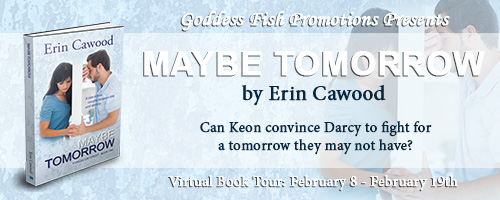 This post is part of a virtual book tour organized by
Goddess Fish Promotions
. Erin Cawood will be awarding a $10 Amazon/BN GC to a randomly drawn winner via rafflecopter during the tour. Click on the tour banner to see the other stops on the tour.
Balancing life and writing
Although, I stopped defining them as separate entities a long time ago, I monumentally fail at balancing the real world with fiction world. Right now, it's the day before the start of my book tour with GoddessFish Promotions and I'm still reviewing and writing guest posts and interviews for the tour hosts. This should have been completed a week ago. But last weekend I was updating my website, which turned into a fail of epic proportions and I lost 90% of the content on my website, and it blew my schedule to pieces. I've been trying to catch up ever since. But this past week has also been crazy because the real world has demanded so much more of my time, beyond the everyday activities that we all have to deal with. I've had interviews which have required a lot of prep time which would have normally been my writing time… and a migraine!
As a writer, the longer I go between writing fiction, the grumpier I get. But since the beginning of 2016, my fictionworld time has been sucked into the non-writing necessities of being an author. It's all been about promoting Maybe Tomorrow, planning the upcoming release of Crossing Lines, and editing Cupid Moments: Life's A Ball, but at least my creative cravings have been satisfied by the designing of social media graphics and production of book trailers.
There are some tips and tricks, I can share with you about how I utilize my time and multi-task, in order to keep ahead of the ever-growing to-do list.
1) Write everything down! Yes I'm a list maker. I suffer from Chronic Migraine and my short term memory is shot. The chances are if something doesn't go on my to-do list, it doesn't get done.
2) Utilize your smartphone to its fullest potential! I've had the Samsung S6 for around a year now, before that I had the Note II, and before that I had Blackberry devices for four years. Why?
a. You can get a basic version of Word (Or Google docs), both use cloud technology which means you can write on the go and pick up where you left off when you get back to your desk.
b. Not only that, but I have access to my emails; despite having word on my phone, I've long since been in the habit of emailing any ideas I have to myself and collecting them in a folder in my inbox.
c. No matter where I am, I can put in my earphones and submerge myself in the latest story I'm working on. I have an hour long commute to and from work, so this trip on the bus takes me to a whole new world, while I'm heading to work and back. The only issue is the blasted auto correct!
d. You have a camera. Capturing those physical triggers for inspiration to call upon them later is invaluable. But we're also living in the Selfie age and being able to capture your day to day life and then share with your friends, family and fans, allows us writers to connect with our friends, and followers, in a way we've never been able to before.
e. The above point only emphasizes why you need to have your social media at your fingertips at all times!
3) Outsourcing: There are only so many hours in the day, and you have to prioritise what's important, and decide what things on your to-do list you can outsource. If you've got the money to hire a virtual assistant or a publicist then go for it! If not, then fiverr is an invaluable source of low cost services. You can find anything and everything, from graphic design to promotional services. I recently paid $5 to have someone else post my book to the different Facebook groups. I gained 30 extra downloads of my free book that day. Money well spent! As with any new service provider, remember to check out the customer reviews and their average rating.
4) Scheduling: There are a number of online applications that will enable you to schedule social media posts, such as Hootsuite, and Buffer. Even Facebook has implemented a scheduler for pages. The beauty of these facilities this that you can do all of your social media posts in one go and spread them out over the day/week. I use this facility mostly when I have a promotion going on. Unfortunately, it's not a post and go. You still have to monitor, react and response to what's going on. Social media is all about engagement, so you have to be present to be involved in the conversation. But it does make your life a little easier.
5) The last tip I'd like to share, is switching off. This is probably the hardest this of all. I'm so much more productive without the distraction of the television, or the internet, or the mobile phone. There are times when you have to go dark and switch off all of the distractions. I usually leave my phone on silent and in another room. I share an office with my partner and will generally take myself away from there and work in the living room, or the bedroom, to avoid the temptation to chat, I also disconnect the internet and tick off each job on my to-do list as it's completed.
My life is crazy hectic all the time, so if you've got anything to add to this list, I'd love to hear from you!
Does a heart ever really heal from its first break?

On an unseasonably hot night in late September, Dr. Keon McGowan is called away from a family gathering to a hospital emergency. Amongst his patients that night is a blast from his past he'd rather forget. He'll certainly never forgive butterfly hunter Darcia Davenport for leaving him alone as a single father while she chased butterflies through the Amazon rainforest.

Coming face to face with the woman who broke his heart after all this time, Keon realises that he has never fully healed from it. But any chance of finding closure is ripped away when Darcy chooses to end treatment and live her final weeks without regret. Can Keon let her go? Or will he fight for the tomorrow they might never have? Maybe Tomorrow is an emotional journey of love caught between fate and destiny.
Enjoy an excerpt:
Vibrations shot Dr. Keon McGowan's hip as he placed a sterile gauze pad against the head of the frightened teenager sitting in cubicle nine. "I think there's more blood than damage," he reassured the youngster with a warm smile. Although the fifteen-year-old would need stitches, he'd been lucky on all accounts. Keon looked up at the boy's parents and continued. "I'd still like a couple of scans. It's routine with head injuries, and it's likely the on-call neurologist will want to keep him overnight for observation just to be on the safe side."
Keon gave them a nod as he removed his latex gloves, tossed them in the medical waste bin, and washed his hands. He didn't want to cut their time short, but as the head of London's largest trauma centre, Keon was acutely aware there were too many patients still awaiting first assessments, and there wasn't a single cubicle free in the accident and emergency treatment area. He fielded calls between treating patients, unable to move more than ten feet without someone calling his name. It was all in a day's work, except today, things were more hectic than usual, due to a massive traffic accident involving almost 200 people less than three hours ago.
"I'll arrange for a porter to come as soon as possible," Keon promised the parents of the fifteen-year-old at the end of the consultation. "But I'm sure you can appreciate they're stacked out at the moment, as is the imaging department. I'm sorry it's going to be a bit of a wait."
They nodded, and Keon swiftly left the cubicle as his mobile vibrated against his hip again. Quickly, he glanced at the name on the screen. He wouldn't normally take a personal call in the middle of a crisis like this, but this caller resided on the other side of the world. "I'm sorry, Sarah, but I can't talk now."
"Oh, hello, Sarah. How are you? I'm fine, Keon, thank you for asking." Her sarcasm was not missed, but he was just too busy to acknowledge it. "But I thought I'd make this really important phone call to remind you the doctors at Mount Cook are still waiting for your call."
"I'm sorry, but I've got seventy-three people who were in an RTA three hours ago. I can't talk about this now." He didn't mean to be short, but the board had too many patients for his liking, and his staff grew weary. He didn't need Sarah on his back right now. He returned to the nurses' station. "Heather? Can you arrange for the patient in cubicle nine to have a CT scan and page neurology, please?"
About the Author:
Erin Cawood is a commercial women's fiction author, with a taste for dramatic storylines and a passion for strong lead characters she really gets behind, cheering on right to the very end of their story. Her focus? Taking romance into the darker, edgier side of contemporary fiction.
Facebook | Twitter | Goodreads
Buy the book at Amazon or Barnes and Noble.