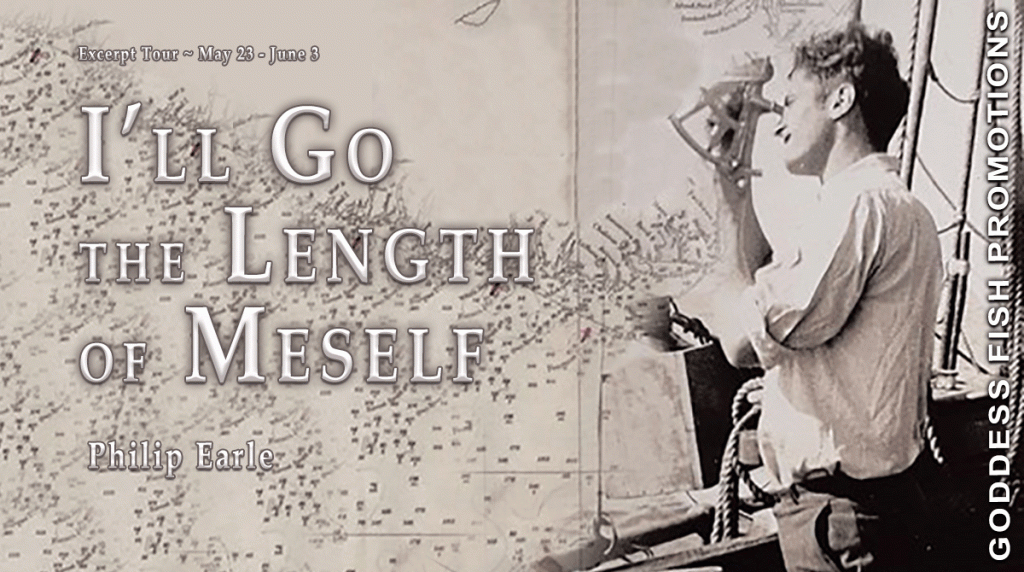 This post is part of a virtual book tour organized by Goddess Fish Promotions. Dr. Philip Earle will be awarding a $15 Amazon or B/N GC to a randomly drawn winner via rafflecopter during the tour.
"Guy's life was a living adventure: he was a mariner and navigator of the first order, a character with the bravery of a Viking and the kindness of Robin Hood. Generous to a fault, he could never turn his back on someone in need, and would risk his life in a flash to save the life of another. He was like a godfather to the coastal people.
– Philip Earle

"Guy Earle commanded ships when he was a boy. He had the qualities admired by Newfoundlanders, and created maximum employment in the family business wherever he could. He was truly a Newfoundland hero."
– Geoff Stirling, (1921–2013), founder, CJON-TV (NTV)

"Guy had a mind of his own. He was a terrific leader and he played hard to win at anything he did. He was quick to size up a situation and quick to take action. He never, ever accepted the word 'can't'; if it was possible, it had to be done."
– Fred Earle (1924–1999), Guy's brother and partner in business

"Skipper Guy could take charge on anything. He had no fear and believed in himself. He could make friends with the Queen, as they say, if he wanted, and get anything he wanted."
– Fred Rossiter, (1905–1985), shipmate and friend of Guy.

"It must be a beautiful thing to know you saved someone's life. Guy Earle saved me. I've had a long life, a successful business, and raised a family because of him. He was a great man."
– Ed Wahlen, businessman and friend of Guy

"Guy Earle was the exemplification of courage in everything he did. His trade was with people and his warmth spread as widely as his countless business negotiations. He gave his life to his vision of the fishery; it was his gift to his homeland, a gift few men can claim to better."
– Maurice Quinlan (1910–1983), co-founder, Quinlan Brothers Ltd

"Guy Earle was sent here by God to give to people."
– Pasteur Harold Slade

"Captain Guy was a daring seafarer whose legendary adventures rivalled those of the heroes in such Hollywood films as Captain Blood, Down to The Sea in Ships, and Captains Courageous."
– Gordon Lore, author

"There will never be another Guy Earle; there couldn't be."
Enjoy an Exclusive Exceprt
A little while later, I was alone in the pilot house, which was at the front of the deckhouse. Besides the compass, the wheel, and lots of steam heat, there was a talking brass pipe connected to the chart room, bridge, engine room and the skipper's quarters. When you blew into the end of the open pipe, whistle plugs at the end of the other pipes sounded, letting others know that a message was being sent. This ensured communication between the skipper, the bridge and the wheelsman.
For the rest of the trip, I was alone on watch steering the Kyle. Alone at night with only the glow of the compass light on my face, I was in charge at the helm in a storm—it was incredible. She let me lead her and control her in the seas while all hands aboard, except for one man on the bridge, slept soundly in my care. Do you know what it's like to be empowered over something so immense and to control it fully? It is a beautiful thing to experience! The thousand-ton Kyle responded to my every touch on the wheel during the storm and gave me a wonderful feeling of importance. That's when I started singing to her …
I see her face in every place
Her lips kiss every breeze
Her loving arms reach out to me
to calm the stormy seas.
I didn't know that someone had taken the plug out of the wheelhouse voice pipe, and the chief in the engine room, the mate in the chart room, and the Skipper in his bunk could hear me all night singing over the pipes. Imagine the Kyle on this one night long ago, crossing the gulf in a storm with a boy at the wheel, singing songs out of his heart to the sea and the ship he loved. All the while, the crew were laying in their bunks listening with a smile! A timeless moment.
About the Author: My father lived an exhilarating life. With I'll Go the Length of Meself, my hope is to showcase his legacy as a great mariner, businessman, humanitarian, and exhibitionist, along with many other attributes. There will never be another Guy Earle, there couldn't be. This is his story, and I'm proud to share it.
Website
Buy the book at Amazon, Amazon CA, Indigo Chapters, Barnes and Noble, or iBooks.