Long and Short Reviews welcomes Charles Prandy, whose newest book in the Jacob Hayden series, The Game of Life and Death, is being released next month.
The main character in his series, Jacob Hayden, is a Washington, D.C. homocide detective and, in the third book of the series, Jacob's challenge is to find out who killed a family that he's known since childhood, and also he'll finally come face to face with the person who's been sending him threatening letters.
I asked Charles if he's ever written a book with anyone and, if not, who he would like as a co-author.
"I never have, but I believe I could. There's a lot of writers I'd like to write with, but I'd choose James Patterson. My detective series is similar to the Alex Cross series in that Jacob Hayden is a Washington, D.C. homicide detective. I think it'd be cool if Jacob and Alex could partner up and solve a case together."
Charles has been writing most of his life, but the first time he actually sat down and wrote a full length novel was in 2002.
"I wrote a fantasy novel that will probably never see the light of day," he told me. "It really isn't that good."
"Do you ever suffer from writer's block?" I asked.
"All of the time. It's one of the worst things that can happen to a writer."
"What do you think is the best way to handle it?"
"Just write whatever comes to mind no matter if it makes sense or not. This really does work. The first few paragraphs will look like gibberish, but eventually your brain will start turning and before you know it your writing will start making sense to whatever it was that you were stuck on."
When Charles thinks of good writing, he thinks of clarity, sentence structure, proper grammar, etc. However, when he thinks of good storytelling, he thinks of how the writer needs to grab the reader's attention and brings them into a world that is foreign to them.
"I think good storytellers are the types of writers that cause people to forget that it's way past their bedtime because they're too caught up in the fantasy world that they're reading, if that makes sense," he said.
The hardest part of writing from Charles is creating good suspense and drama that flows throughout the entire story.
"I often think that anyone can be a writer, but not everyone can be a storyteller," he explained. "To me there's a distinct difference. I'm still learning the craft, but it's extremely difficult writing a three hundred page novel with the intention of keeping the reader on wits end up until the last page."
Charles doesn't write full time as yet, so when he writes it's usually late at night after everyone has gone to sleep and the house is quiet. It works for him, because he's somewhat of a night owl. When he's not writing or spending time with his family, he's big into physical fitness and mountain bike riding.
"I always tell people that mountain biking is one of the most fun things to do when you're in shape," he said. "If you're not in shape, it's miserable. Trust me, I know."
"What was the scariest moment of your life?" I wondered.
"About four years ago my oldest daughter was diagnosed with cancer. As a parent that's probably the scariest news to hear. She was only three at the time. Luckily she had the type of cancer that could be treated and taken out of her body. She had to endure chemotherapy, surgery and radiation, but the tumour was successfully removed and she's been cancer free for the past four years."
About the Author: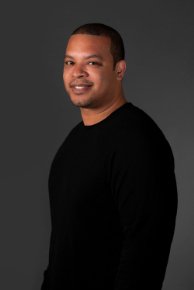 Charles graduated from the University of Maryland University College with a degree in Legal Studies. He attended Wesley Theological Seminary for two years, and it was there that he got the idea to write his first novel, The Last of the Descendants, which was published in May of 2008. Charles enjoys writing crime thrillers and does extensive research on his topics.
Website ~ Twitter ~ Facebook ~ Goodreads