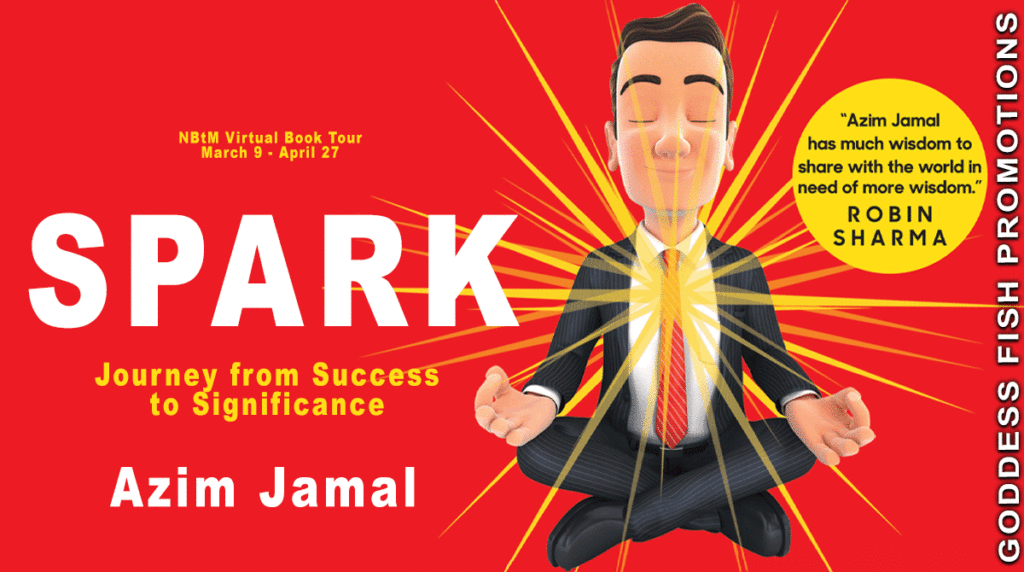 This post is part of a virtual book tour organized by Goddess Fish Promotions. Azim Jamal will be awarding a $10 Amazon or Barnes and Noble GC to a randomly drawn winner via rafflecopter during the tour. Click on the tour banner to see the other stops on the tour.
SPARK Your Goals!
In Part 3 of my new book, SPARK: Journey from Success to Significance, I cover the "A" in SPARK, or the concept of Attraction and the important part it plays in our quest to fully ignite our inner SPARK.
In short, the foundation of Attraction is Attention to goals.
It is said Success and Significance are the only goals one needs, and everything else is but a wish list. A person with average ability but crystal-clear goals will do better than a highly intelligent individual with no clarity around his or her ambitions.
It is important to not only have clarity in your goals, but to also know what the purpose is behind each goal. In Part 2 of the book, I cover how Purpose is a valuable ingredient in defining one's path to Significance.
Purpose brings clarity and focus, and answers the question: Why do you want what you want? Purpose is an anchor. It helps with alignment and is an energy driver. If the 'Why' is not strong, the 'How' becomes difficult.
And once your efforts are aligned with a higher purpose, your work becomes a way of connecting to your spirit. You are able to remain effective, work with integrity and focus, and be a source of inspiration to those around you.
Purpose and Attraction are key connectors in our pursuit for Significance!
Along the way, you are bound to face some obstacles and hurdles. These obstacles can be internal or external. Encountering difficult people; facing economic downturns, and inhospitable work environments are just a few examples that constitute external obstacles. While the internal obstacles are your own prejudices, fears, lack of self-discipline or focus.
However, obstacles have the power to affect you only when you take your eye off your key goals. In fact, obstacles should act as mediums for opportunities that create breakthroughs. This aspect of Resilience is the "R" in SPARK and covered in Part 4 of the book.
As a simple example, in professional sports, scoring more than the opponent and winning the game is the key goal – the main objective. This usually requires getting past an opponent or defenders (the obstacles). If we have clear focus on the goal, we will find a way to get past the defenders. Such is the case in our professional life. When we find that things are getting unmanageable (the obstacles), we can break our tasks into smaller pieces (clear focus). Our goals can be semi-annual, quarterly, monthly, or weekly. We can even further break down our weekly goals into daily achievements, albeit small ones. In the end, the alignment of our daily actions with our goals is the secret sauce to moving past obstacles and achieving our objectives.
So, where to begin? First, it is important to ask yourself, are you serious about your business, work, clients, finance, professional growth, personal brand or any ambition you wish to achieve?
Then, look at your actions and you will know whether you have really been serious about your goals. If there is any slack whatsoever, begin today to align your daily actions with these goals!
Here are some steps to empower and bring your goals to fruition:
● Develop a Personal Mission Statement – If you were to pick one thing you must do in your life, what would you choose? Turn that into your personal mission statement.
● Align your corporate or professional mission with your personal mission.
● Create excitement and meaning in your current work.
● Discuss with your employer, team or board how to create a mutually beneficial scenario. If and when necessary, do not hesitate to make a change that connects your work back to your purpose.
● Keep stretching your goals. This will keep you energized and expand your potential. If you are working as part of a team or group, involve as many people as possible in goal-setting exercises. This is a sure-fire way to stimulate an understanding and respect for personal, as well as collective goals. This is ultimately what creates ownership.
● At any and all points where you experience great moments of happiness, STOP and allow yourself to completely and fully experience that moment. Feel the moment, stay with the moment, and ask yourself, "What has made me this happy?". Maybe, just maybe, you have potentially stumbled into something that connects you with your calling!
Goal setting is powerful, especially if the purpose is strong and there is alignment between your personal and professional goals, as well as between your goals and your actions.
I humbly, but with confidence, share that these simple principles and steps will be the SPARK you need, and will lead you to your life of Significance!
In a world vigorously chasing classic ideals of success, find your spark and become significant.

Your journey starts here.

Meet Steve, a hotshot lawyer fighting to climb the corporate ladder in this inspiring fable. His life transforms seemingly overnight as he is sent to India for a task he considers pointless. But things quickly fall apart. Steve, forced to reconsider his path, realizes that the curveball life has thrown at him is an opportunity to find his true purpose. This spiritual odyssey is about to transform him beyond his wildest dreams.

A powerful lesson follows each chapter, making up the SPARK that transforms Steve's life: Selflessness, Purpose, Attraction, Resilience and Knowing.

This SPARK is hidden within you too. It may be dormant now, but awakening to it will catapult you from the "Present You" to the "Best You." It's time to light up your SPARK today.
Enjoy an Excerpt
"What are you missing in your life?" I've put that question to successful leaders all over the world. Not surprisingly, I often hear similar answers: purpose, fulfillment, happiness, balance and the like. What I've found is that many of us resign ourselves to vigorously chasing classic ideals of success without realizing that it is, in fact, "significance" that we seek. The truth is, no matter your age, position or status, connecting your daily functions with authentic intentions and values is imperative. Otherwise, we are simply hamsters on a wheel—covering miles and miles in distance, yet never truly moving forward towards our desired destinations. Sure, there is some physical benefit from such rooted motion. But over time, it has a negative effect on matters of the heart and mind, creating a domino effect that has ongoing ramifications for our own lives and society at large. The subtitle of this book, "Journey from Success to Significance," was borne from my own expeditions and explorations, all of which helped me form a steadfast belief: that we are all destined, by our very nature, to be explorers— pioneers who intrinsically understand that it is the journey, and not the destination, that matters. It is the twists and turns of life that guide our principles. What I wish for you to discover is that a life of significance is not some unattainable, pie-in-the-sky dream. Rather, it is a genuine pursuit that begins with a simple acknowledgment and appreciation of what already lies within you: Natural traits fuelled by a SPARK!
About the Author:Azim Jamal is one of the finest inspirational life-altering personalities with a global following. He is the CEO and founder of Corporate Sufi Worldwide, whose mission is to inspire individuals and corporations to unleash the power within and find harmony between Business, Balance and Beyond.
Instagram | Amazon Author Page | Goodreads
Buy the book at Amazon.