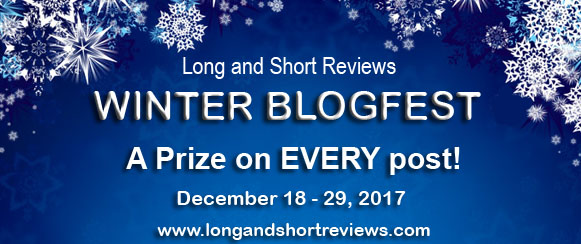 This post is part of Long and Short Reviews' Winter Blogfest. Leave a comment for a chance to win an autographed copy of book (shipping US only) and $10.00 Amazon gift card .
Fa-la-la-La-la! It's early December as I write this and the day I set aside to decorate for Christmas. Last year, since I wasn't expecting any company, I made do with a couple of wreaths and called it a day. I realized too late that I would miss the smell of pine, the festive lights, the old manger set, and the all-around good cheer that accompanies a home decorated for the holidays. So, this year I turn on Christmas music and pull out the multitude of boxes from the basement to the tune of Bing Crosby's, "It's Beginning to Look a Lot Like Christmas."
I start with the all-white lights for the tree in my bedroom. Soon, I realize I'm unpacking memories along with ornaments wrapped lovingly in thin, raggedy tissue paper. The box is a mini time capsule: a fragile glass ornament announces Buon Natali, bought for our first tree together in 1966; counted cross-stitched ornaments made and exchanged with friends, some forty years old now; teacher ornaments from former students; ornaments purchased on vacation to remember the occasion. I place them just so—in my favorite spots around the tree.
I think about how children's memories last longer than most of their presents and of the memories I made with my own children. I wonder if I succeeded in sharing what was in my heart. Some Christmas rituals remain, some just fade away, and some new ones are introduced over the years—the past blended with the present—traditions passed down to sons and daughters, nieces and nephews. And so, hosting the celebration evolves.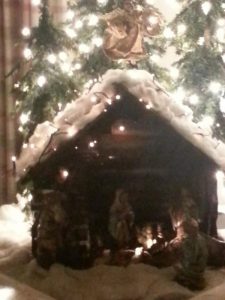 Then I turn to my favorite task: setting up the manger—the reason for the season. I nestle the wooden manger among three small lit trees, unwrap the paper mâché figures, and carefully place them, one by one, in the setting, always placing the Babe in last. I hang the golden angel from one of the branches, high above, and all is right with the world.
Holidays don't always go as planned, but it's not about being perfect. They may not end as expected or desired, but if they end with shared stories of time spent together and the Child, you have the heart of it.
So, I finish my tasks, make a cup of hot chocolate, and sit in front of the fire to read the mail. I see an old friend's name on a Christmas card. What a nice end to a lovely day!
Wishing you a stress-free Christmas full of joyful new memories!
Merry Christmas!! Annalisa
Fifth grade math teacher Jillian Magee loves Christmas and all the folderol that goes with it. Unfortunately, the universe seems bent on depriving her of joy in the season. All her well-thought-out plans have gone awry, including her family members, who are all MIA this year. She's stuck with her awful cat, Buster, and a deep longing for the good old days when her best friend, and first love, lived across the street. Then, a well-intentioned celestial do-gooder shows up in the form of a quirky Jacob Marley—of the female variety. So as Christmas Day draws near, Jillian finds herself careening toward a Yuletide disaster.

Tristán Solano aka Trystan Sol, mega heartthrob and lead keyboardist for a popular rock band heads home, where he finds himself up to his elbows in tinsel and small-town holiday traditions—and everything else he left behind to follow his dreams, including the only girl he ever loved. With more money than he could ever spend in one lifetime, he longs for his old, uncomplicated life back…and for his first friend, Jillie Magee.

Is Jillian destined to have her heart broken again, or can she and Tristan overcome the past and keep each other warm this Christmas?
About the Author: Annalisa Russo is a Midwest girl who grew up in an overpopulated, first-generation Italian family in the burbs of Chicago, the setting for her historical romance novels based in the 20th century. Rags to Rubies, her first stand-alone book, was published in 2012. Annalisa's first series, The Cavelli Angel Saga, was recently completed with the release of Angel Boy, the fourth book of the series which chronicles the lives of Italian immigrants in the 1920's and 30's. Angel Lost, Angel Found, third in the series, was a finalist in the IDA-International Digital Award 2016 for historical romance. Her newest projects include a holiday book, All Hearts Come Home for Christmas, and a stand-alone book, A Girl's Best Friend due out by end of 2017. Along with a passion for reading and writing, Annalisa enjoys gardening, cooking for company, and frequently invents reasons for traveling. The mother of two grown children, she inherited a narcissistic tabby named Buster who really runs the show.
Website | Facebook | Twitter
Buy the book at Amazon, Barnes and Noble, or iBooks.