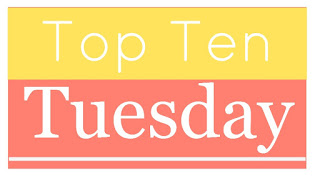 Hosted by The Broke and the Bookish
I'm a pretty open-minded reader, and I enjoy books in all sorts of genres on a variety of subjects.  However, there are some things that I refuse to read about.  These are then things that will make me not want to read a book or stop reading a book I've started.
1. Death of a Child-This was always a rough topic for me, but now that I have children I absolutely cannot handle a book that features the death of a baby or child as a part of the plot.
2. Death of a Dog/Pet-I've loved and owned dogs all my life.  I have no intention of reading a book that makes me fall in love with a furry friend only to have them die at the end and break my heart.
3. Demons-I will never read a story about demons or demon possession.
4. Families/Relationships Falling Apart-Families aren't perfect, but I have no desire to read a story where the disintegration of a family or a relationship is the focus of the plot.
5. Bland Main Characters-Main characters should be intriguing and realistic, not colorless, cardboard stereotypes.
6. Static Main Characters-I'm very irritated by characters that never change and/or refuse to learn from their mistakes.
7. Excessive Swearing-I don't mind some strong language for emphasis, but when is too prevalent, it loses its impact and becomes annoying.
8. Editing Errors-I can handle the occasional typo, misspelling, or misused word.  We're humans, and we all make mistakes, but too many pull me out of the story.
9. Zombies-Zombies really, really creep me out.  That being said, I've read some good stories with zombies in them, but I generally don't seek them out.
10. Blurbs with Spoilers-This doesn't happen very often, but every once in a while I'll come across a blurb that gives away a little too much about the plot, leaving me with very little motivation to read the book.
What will make YOU stop reading a book?