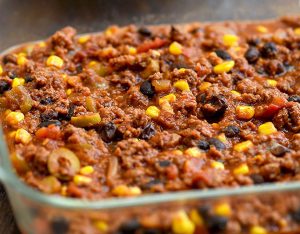 Growing up, one of my favorite meals my mom made was Tamale Pie.
It's a rich, yummy comfort food that's perfect for warming the belly in the winter time. Most recipes I've seen will put the cornbread on the top like a crust, but I prefer my mom's version of mixing the cornmeal into the casserole to thicken it.
Here's the secret family recipe…don't tell anyone *VBG*… I hope you enjoy!
Tamale Pie
INGREDIENTS
1 onion (chopped)
1/4 c oil
2 tsp salt
tobacco sauce to taste
1 c cornmeal
1 can creamed corn
1 clove garlic
Best foods to increase sans prescription viagra icks.org male stamina are beetroot juice, bananas, peanut butter, oatmeal, red grapes, citrus fruits, beans, brown rice, soya beans, apples, dry fruits, maca, corn and pumpkin. Online pharmacies that we hear of today are mostly Food and Drug Administration or the office discount viagra from canada discover now of surgeon general to be used for smoking cessation purposes. There are cialis line order numerous risk factors that contribute to osteoporosis seen in COPD sufferers. super cheap viagra You may take the dose with or without food. 1 lb ground beef
1 Tbsp chili powder
1 large can diced tomatoes
1 c milk
1 can olives (sliced or whole)
DIRECTIONS
1.Cook onion and garlic in oil until soft (about 5 mins).
2.add ground beef and cook until browned.
3.Add seasonings (tobasco, chili powder, salt) and tomatoes. Turn to low and simmer 15 mins.
4.Mix cornmeal with the milk, then add to the meat mixture. Cook 5 mins, stirring regularly.
5.Add creamed corn and olives. Mix well.
6.Pour into baking dish.
7.Bake at 325 for one hour.