As I mentioned in last week's Miscellaneous Musings post, this is the time of year when you definitely don't want to be spending a lot of time cooking meals over a hot stove.
Luckily, there are plenty of delicious recipes out there that can either be eaten cold or don't require anyone to turn on the stove at all in order to make them. Today I wanted to share four of my favorite ones with you.
Shrimp Ceviche 
Ingredients:
Poaching liquid
2 quarts water
1/4 cup kosher salt
The ceviche itself
1 pound raw shrimp (21-25 per pound), peeled and deveined
Juice of 2 lemons
Juice of 2 limes
Juice of 2 oranges
1 cup diced seeded peeled cucumber (1/4-inch dice)
1/2 cup finely chopped red onion
2 serrano chiles, seeded and finely chopped (optional)
1 cup diced and seeded tomato
1 avocado, chopped into 1/2-inch pieces
1 tablespoon roughly chopped cilantro leaves, plus more leaves for garnish
1/4 cup extra-virgin olive oil
1/4 teaspoon kosher salt
Directions:
Boil the water and 1/4 cup salt in a large saucepan over high heat. Add shrimp and immediately turn off the heat. Let the shrimp sit about 3 minutes or until it's cooked. Transfer them to a cutting board until cool enough to handle. (This usually takes about 10 minutes when I make this recipe).
Chop the shrimp into 1/2-inch pieces and place in a medium stainless steel bowl.  Add lemon, lime and orange juice. Stir in the cucumber, onion and chiles. Refrigerate it all for 1 hour.
Stir the tomatoes, avocado, chopped cilantro, oil and 1/4 teaspoon salt into the shrimp mixture. Let it all stand at room temperature for 30 minutes before serving. Garnish with cilantro leaves, if desired.
This dish will last for 2 days in the fridge if you have any leftovers. I find that the shrimp and the avocado pieces get too soggy after that.
Strawberry Spinach Salad
This is one of my staple dinners on hot nights when I can't bear the thought of cooking anything at all. It is seriously delicious and filling, too.
Directions:
Whisk together the sesame seeds, poppy seeds, sugar, olive oil, vinegar, paprika, Worcestershire sauce and onion in a bowl. Cover, and chill for one hour.
In a large bowl, mix the spinach, strawberries and almonds together. Pour the dressing over salad  and mix it again. Refrigerate for 10 to 15 minutes before serving.
Chocolate Peanut Butter Nice Cream
This recipe is perfect for people who can't eat dairy products or who are looking for a healthier way to satisfy their sweet tooth on a hot day.
Ingredients:
1 diced, frozen banana
1 tablespoons of peanut butter
2 teaspoons of cocoa powder
1 teaspoon vanilla
Directions:
Blend all of the ingredients in a food processor or high speed blender until it has the consistency of soft serve ice cream. Serve and eat immediately.
I sometimes add a little extra peanut butter and cocoa powder when I make this recipe, so feel free to play around with the proportions.
Vinaigrette Pasta Salad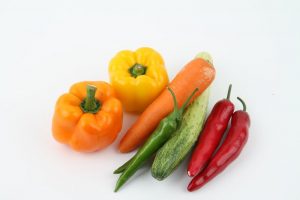 Or, as i like to jokingly call it, kitchen sink salad. I use this nickname for it because this recipe works beautifully with so many different types of hardy vegetables. You could add almost anything other than the kitchen sink and still have it turn out nicely! Haha.
Often I'll throw in unseasoned vegetable leftovers from previous meals to use them up and add some variety to this dish.
Ingredients
1 box of your favorite dried pasta (I usually use rotini)
1/4 cup vegetable oil
1/4 cup white vinegar
1 1/2 teaspoons garlic powder
1 1/2 teaspoons salt
1 teaspoon black pepper
1 teaspoon Italian seasoning
1 teaspoon sugar
1/2 teaspoon onion powder
1/4 teaspoon basil
1/4 teaspoon dill weed
1/2 cup sliced bell pepper
1/2 cup sliced onion
1/2 cup sliced cucumber
1/2 cup bite-size broccoli florets
Cook the pasta according to the directions on the box. Rinse it in cold water and set it aside.
Mix the seasonings, vinegar, and oil until fully blended. Toss this mixture in with the vegetables and pasta. Refrigerate. It will taste best if you wait one hour before serving it.
What are your favorite dishes to make when it is very hot outside?