Road trips come in two forms, the spontaneous and the planned.  The impulsive yen to travel can lead to exploration, pleasant surprises and new discoveries.  The planned trip offers the security of a reward once you reach your goal and arrive at your destination. Both offer the benefits of escaping the grind of a grueling and challenging work week and the surroundings that remind you of all your responsibilities and things you have yet to do.  I love that break, that change of scenery, and the scenic eye candy you get when treated to spectacular views through the window of your mode of transportation – in our case, the family van.
Last weekend, our quasi planned/impulsive road trip took us to Vermont.  I knew I wanted to find the place that created some of my favorite herb dip and cooking mixes.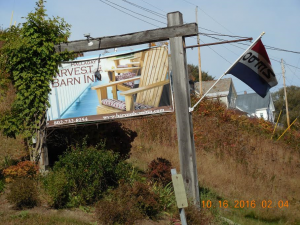 Turned out they make the herby goodness at the address on their packages, but sell it in a little town not far from there. But the view from the top? Spectacular!
Once on the road, the whim took us to explore every bakery we could find in out-of-the-way places.  Sure, by the time we visited some of them, they were picked over pretty well, but that wasn't the point.  It was stepping through the doorway to the smells and sights of yummy goodness and being surrounded by comfort desserts and breads. We bought chocolate chip cookies at every stop.  Some had nuts, some didn't. Some added sunflower seeds and pepitas as well as the yummy chocolate in various sizes (chunks to bits) to satisfy my chocolate cravings.  The cookies themselves came in various sizes and textures.  Every single one was a delight to try. No chocolate chip cookie tasted exactly the same yet all carry the same moniker. The experimentation and exploration was a delightful adventure. It was a great day.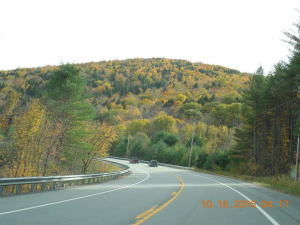 Road trips are always filled with promise.  What kinds of things make it fun for you?  Is it the surprise of seeing antique and/or shiny painted muscle cars on the road or parked on the side of a country store in a quaint hamlet in the mountains? (we saw that too!) Or is it the bucolic settings filled with grazing cows and romping horses? Do you prefer bustling cities where people watching is part of the entertainment?
Which do you prefer?  The spontaneous or the planned road trip?  And, with the introduction of GPS systems, do you find they enhance your enjoyment, or dilute the sense of adventure and the unknown? Me? Well, getting there unscripted is half the fun. But, I admit to adoring my GPS for getting me back home from wherever our wanderings have taken us. Unfortunately, the GPS couldn't insure that all the chocolate chip cookies we bought found their way home with us too.