Long and Short Reviews welcomes Steven P. Marini whose debut novel Connections was released last year by Gypsy Shadow Publishing Company.  His second book in the Jack Contino Crime Stories series, Aberration, will be released later this year. Steven is currently working on the third book in the series.
Steven has always enjoyed writing, but never really worked at it. However, just before he retired from Federal service, he got an idea after reading about Joe McCain, a Boston police officer, and went with it–not knowing where it would take him.  About a year ago, he saw a commercial on TV for Ancestry.com where people were saying they learned fascinating things about their ancestors.
"I have three little granddaughters and thought to myself, wouldn't it be cool if their grandchildren did some digging years from now and discovered that their great-great-grandfather became a published novelist in his sixties," he told me.  "That helps motivate me."
Steven is the youngest of four from a blue collar family.
"There were three boys and a girl, so I had all the sibling issues and rewards growing up," he said. "We were close and I knew I wanted to be a family man some day. I am happy to say that I succeeded in that effort. I have a great wife who is my partner in our journey. We have two daughters and a son, all grown and married. Our oldest, Lisa, has three girls of her own, so we're enjoying being grandparents now. They all live in Maryland and we visit them several times each year. Your kids become your best friends when they grow up and that's what we enjoy now. There's nothing that makes us happier than getting together."
No matter whether it's fiction or nonfiction, Steven tol dme he believes that people want to read about the human condition.
"Ultimately, readers can all relate to someone dealing with the challenges of life when you show that they are just people, subject to the same challenges as any of us can face," he explained.
"How do you come up with the titles to your books?" I wondered.
"I've learned that the title has to relate to the story. That may seem obvious, but it's true. In my first book, I developed a story with three main characters. I had to link them together and so, Connections became my name choice. My second is called Aberration. It involves what you might call socially deviant behavior to the extreme. I was going to call it 'Deception', but my editor didn't think it worked. I want to stick with one word titles, preferably ending in '-tion,' so that makes it challenging, sort of like playing Scrabble with myself."
When Steven's not writing, he enjoys playing in the Cape Cod Senior Softball league.
"I'm in a division with guys over sixty- four.  This is no church league," he assured me.  "It's slow pitch, but very competitive.  I was not much of a ballplayer as a kid and had been away from the game for over forty years, so I'm proud to be able to play with these guys, many of whom are better athletes than guys half their age (I'm not one of them)."
He also likes to host parties with old and new friends.
"It takes me back to my younger days, when going to the Cape to relax on the beach during the day and party at night was great fun.  I love the Cape, especially when our kids and their families come to visit."
Something else he's learned to do since he retired is cook–he had to in order to survive!  His wife worked for the National Security Agency and, after 9/11, she worked all kinds of hours. To his surprise, he loves cooking now.
"I hook up to my iPod, pour a beverage and cook up dinner," he said.  "It's my very own party time.  Cheers."
"What comes first, the plot or characters?" I asked.
"I've heard people argue that character drives plot. I'd say that characters influence plot. You have to come up with a story idea that intrigues you, then put your character in it. In a series, for example, you can develop a character who fits into the plot.  You don't think up a bunch of main and subordinate characters and then figure out how they'll all interact. I develop a story and the characters are born within it."
So far he hasn't had to do a lot of research for his books because he writes fiction and the settings are places he's familiar with.
"I thank the stars for the internet," he told me. "I can research as I go. When I need a little specific data on a subject, I can find it in minutes. I also have a few friends who were in law enforcement who critique my work for police procedure and they give me advice. For example, I learned that police cannot, despite what you see on TV, execute a search warrant by just going into a place and snooping around. They have to have a specific item or items that they are searching for and once they find it, they must stop searching."
"Ebook or print," I wondered, "and why?"
"Both and that's not a cop out. My publisher is a small, independent publisher that focuses on eBooks. That's fine with me. But I can have my books available as print on demand and I want that because I know there are many, many people who say they prefer to hold a book in their hands. They are mostly my age. But I prefer the eBook. I love being able to enlarge the font, carry a thousand books with me when traveling and buying a book where ever I am."
"Tell us about the absolute best fan letter you have received," I said.
"That's easy. It will be my first one. It hasn't come yet, but it will be terrific. I know you're out there, so hop to it, fan of mine."
About the Author: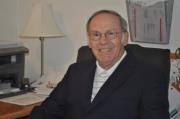 Steve Marini holds a Master's degree in Educational Technology from Boston University and a B.A. in Business Administration from New England College and has spent over thirty years in the Education/Training field, including posts in higher education and the federal government.
Although he describes himself as a "card carrying New Englander," he lived for twenty-six years in Maryland while pursuing a career spanning four federal agencies. His background has enabled him to serve as a project manager at the National Security Agency, the Environmental Protection Agency, the National Fire Academy and the Centers for Medicare and Medicaid Services, where he worked with teams of experts in various fields to develop state-of-the-art training for both classrooms and distance learning technologies.
A "Baby Boomer," Steve has taken up fiction writing as he moved into his career final frontier. Married for thirty-six years, a father of three and a grandfather, Steve and his wife Louise own a home on Cape Cod that will serve as his private writer's colony for the years ahead.
https://www.facebook.com/home.php#!/StevenPMarini
http://babyboomerspm.blogspot.com/
https://twitter.com/StevenPMarini
http://www.goodreads.com/review/list/11060603?shelf=read
http://www.amazon.com/Steven-P-Marini/e/B008VTXR20/ref=sr_ntt_srch_lnk_1?qid=1365958148&sr=1-1