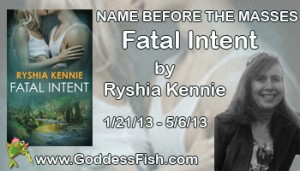 This post is part of a virtual book tour organized by Goddess Fish Promotions. At each stop, Ryshia will award one commenter an ebook copy of From the Dust, a historical romance set in Depression Era Saskatchewan. The grand prize for the tour will be an autographed copy of From the Dust, a book unique bookmark, and a Region 1 DVD of East of Borneo, a 1931 B&W movie.
~~~~~~~~~
Long and Short Reviews welcomes Ryshia Kennie, on her virtual book tour with Goddess Fish Promotions to promote the release of Fatal Intent.
Ryshia always loved books, paper and pens, and words, just like her father and grandfather before her. She thinks being drawn to write was probably more hereditary than inspiration—just a natural occurrence. From the time she first held the fat red pencil in the first grade, she's been writing.
"But the true beginning was in grade eight when I was inspired by my English teacher who loved my first line, a historic barber shop where the barber slits the man's throat – I believe that was the premise of that first line. After that I was hooked and wrote in the margins of my notebooks all the way through school," she said.
"What advice would you give a new writer just starting out?" I asked.
"Stop writing in the margins and make a writing schedule, one you follow every day. And keep learning, read books on writing or take classes. And then, just write."
At one time, Ryshia felt she had to be inspired to write. However, now when the inspiration isn't there, she knows it's time to get out the outline and start plotting. Other ties, she finds that just typing whatever comes into your head, sort of like throwing paint at a wall, will actually bring inspiration and, before she knows it, the inspiration is flowing again.
When Ryshia is working on a book, she writes every day—beginning early in the morning about six and writing through the morning (or as long as her dog lets her before he demands his walk). She also writes an hour or two in the afternoon or evening if she's pushing to get something done.
"If you had to do your journey to getting published all over again, what would you do differently?" I wondered.
"I would get serious sooner. I dabbled for a long time and didn't treat writing with the respect I should have. What I mean is I didn't dedicate a set amount of time to it every day and instead wrote as the muse hit me. Now I know you can't rely on the muse. She's finicky and has a tendency not to show up for weeks at a time but now I know that she can be enticed. Sometimes a few hours in the office has her showing up. By being more disciplined, I would have had a finished book sooner and would have had material available to approach publishers and had an earlier start on my career path."
Ryshia writes romantic suspense and women's fiction. In the beginning, however, when she was just feeling her way around she wrote different genres—her first published books are in different genres that she's writing now. One is a historic romance set in the depression and the other is a medieval paranormal set in a fantasy location in England. After she wrote those two, she found herself intrigued by romantic suspense and women's fiction.
"Whether I'll ever write another historic, I don't know but I don't see it happening in the near future," she said. "My second book was a paranormal and that was rather a fluke as the magic in the story was inspired by the culture of that era rather than a desire to write a paranormal."
I asked, "What is something you'd like to accomplish in your writing career next year?"
"Oh this question is rather scary. I mean once you say it, put it out there – the expectation is there. Okay, big swallow – next year I'd like to see another book published and have two more books completed. Now I may have just exposed my underwear to the world and be left flapping in the wind at the end of the year. But maybe I've given myself good karma too – I guess time will tell."
"Weather: Hot or cold?"
"Definitely hot," she replied. "I always say I was kidnapped as a child from some hot, tropical place and brought to Canada. Seriously, I always get cold quickly and while I love the beauty of snow and there's nothing better than a quiet, snow packed day when you're out walking and it's just you and the dog – I still love heat better. When we take a vacation in mid-winter, I'm the one who thinks the weather is perfect while everyone else is sweating and looking for the nearest watering hole."
"What is your strangest habit?"
"I take the garbage out in my bare or sock feet – summer or winter. So I've been known to walk outside in subzero temperatures in my bare feet. And yes, I know that contradicts my aversion to cold – I can't explain it. Maybe it was the barefoot through the snow races we'd have as children that has somehow reached into adulthood."
About the Author: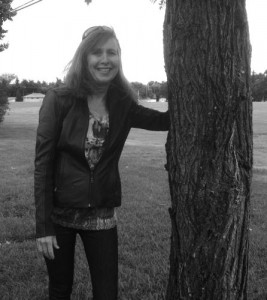 Ryshia Kennie is the author of two published romances. From the Dust is a romance set during the Great Depression. Her second book, Ring of Desire, was set against a backdrop of magic and mystery, in medieval England. An award winning author, her recent novels now focus on suspense and women's fiction – always with a hint or even a dollop, of romance. The Canadian prairies are home where she lives with her husband and one opinionated Irish Terrier.
Visit her website at http://www.ryshiakennie.com.
Author blog: ryshia.blogspot.com
Author on Facebook: www.facebook.com/ryshia.kennie
Author on Twitter: twitter.com/ryshia
Author at Goodreads: www.goodreads.com/author/show/1400598.Ryshia_Kennie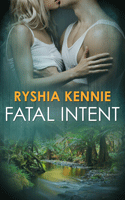 In the heart of the jungle lies more than just the hint of death.

Leading a scientific excursion into the Borneo rain forest is a life long dream for entomologist, Garrett Cole. But when her guide turns up dead and headless, her abilities are tested. As the dense foliage pushes her team further from the river, they are lost. Every shimmer of sound is a threat, and when a blonde haired, half-naked giant emerges from nowhere, she wants to run. But there are no options – she needs help.

Raised in the lush cradle of the Borneo jungle, Aidan is as unconventional as the fact that he has no last name. While the city is home, he returns to the jungle for peace and solitude. As a PI, how can he ignore the mystery this group and their dead guide poses? Leading them in a convoluted trek in a bid for answers he soon finds himself in a clash of wills with their alluring leader and answers that slide dangerously close to the tribe he loves.

In the jungle's torrid heat they find unexpected solace in each others arms. But faced with death and betrayal, in a battle of wits that puts lives on the edge, can anyone be trusted?