Long and Short Reviews welcomes Rachel Brimble, who has written ten novels and two novellas. Her latest release, Finding Justice, is her seventh book and the first book in her Templeton Cove series , and Rachel will send one random commenter an autographed paperback copy of the book (international shipping available). She also has a book due for release from Kensington in April, one from Omnific Publishing in June and and the second book in the Templeton Cover series from Harlequin Superromance in August.
"I have a VERY busy year ahead," she said with a laugh. "As for my favorite…it's truly impossible to choose! I have learnt something from each book and the characters have all stayed with me as the years have gone on. I think the Harlequin books are going to be very special to me because they are the first two books of what I hope to be an ongoing series. I would like to keep revisiting each couple from each book in the subsequent stories. They will all be set in the fictional UK seaside town of Templeton Cove. I'm writing number three now and hopefully will contract a fourth soon—it's will be a Christmas book, which is a first for me. I've never written a Christmas story before, so I'm very excited. I am very keen to write an historical series set in an upper class British home during the Edwardian period. This will be a new venture for me as I usually write Victorian. It's something I need to discuss with my Kensington editor in the not too distant future…"
Rachel had wanted to write since she was six or seven and devoured Enid Blyton's books, reading everything from The Faraway Tree to the Famous Five to Mallory Towers. She then progressed to the Sweet Dreams books and became inspired to write romance. She discovered Harlequin in her early teens and knew that's what she wanted to write.
"The need for instant money, marriage and kids came along and my desire to write faded – until my youngest started school full-time and then I had a 'now or never' moment," she told me. "Luckily, two years later The Wild Rose Press published my first novel and I haven't looked back. Long may it continue!"
Rachel is currently working on the second Victorian historical she's contracted with Kensington as part of a two-book deal. The two are linked through the heroine who appeared as a secondary character in the first book.
"As soon as she started talking and her character developed, I knew she deserved a story of her own," Rachel said. "I briefly discussed the idea with my editor and he was as excited about it as me, yay! It is almost finished and I hope to submit it very shortly – wish me luck!"
Rachel has a lovely log cabin in the garden which serves as her office.
"I am very guilty of sinking onto the sofa with my laptop and staying there," she confessed. "Blame the British weather! When it's cold, dank and gray, the cabin doesn't hold much appeal. I tend to only use the cabin in the middle of the summer…. Much to my husband's annoyance seeing as I begged for him to have one built for years!"
She laughed, then continued, "I am lucky enough to be able to stay at home as a full time mom, so during the week I work from 8.30 to 3.30 religiously. Then I grab snatches of time at the laptop in between sorting out fights, helping with homework and being a taxi service. The evenings and weekends are for family time… but if everyone else is distracted, I grab the laptop and disappear before they start hollering for me again."
"How do you keep your writing different from all the others that write in this particular genre?" I asked.
"I think my stories are different in that I create British characters in a British setting but write for a primarily for the US market. I think that makes my stories intriguing and interesting to my target audience. As far as know (and my editor can tell me), I am the first author to write British characters in a British setting for Harlequin Superromance. I am very proud of that and hope they continue to want more," she said with a smile. "I am praying my readers and the dreaded reviewers like Finding Justice and look forward to the following books in the series. I plan to write as many as I can along the lines of Robyn Carr's Virgin River series. I just love the idea of the same characters growing and developing along with me as a writer."
About the Author: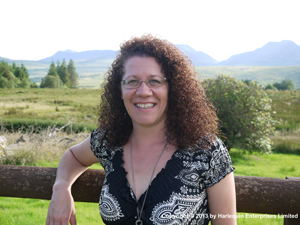 Rachel lives with her husband and two young daughters in a small town near Bath in the UK. She started writing short stories about eight years ago but once her children were at school, embarked on her first novel. It was published in 2007. Since then, she's had several books published with small presses as well as securing agent representation. Her first contract with signed with Harlequin Superromance in May 2012, with another following in September. She also writes Victorian romance for Kensington.
Rachel is a member of the Romantic Novelists Association and Romance Writers of America, When she isn't writing, you'll find Rachel with her head in a book or walking the beautiful English countryside with her family. Her dream place to live is Bourton-on-the-Water in South West England. And in the evening? Well, a well-deserved glass of wine is never, ever refused…
Find the author online at:
www.RachelBrimble.com
http://rachelbrimble.blogspot.co.uk/
http://www.facebook.com/pages/Rachel-Brimble/181873201887441?fref=ts
https://twitter.com/RachelBrimble
Old friends, new secrets

Sergeant Cat Forrester lives by her own set of rules. When her childhood friend is murdered, Cat's world is thrown into chaos. Especially because Jay Garrett-a man from her past-is a suspect, and he needs her help to prove he's innocent. After all they once shared, how can she say no?

The attraction flares between them, and getting involved with a suspect is a huge risk. But the more time Cat spends with Jay, the stronger the tug on her heart. He is the same caring, irresistible man she remembers. Yet she can't let her emotions interfere with the case-solving it is top priority. And as she digs deeper, she discovers Jay has secrets that may jeopardize any possible future together.