Long and Short Reviews welcomes Dr Marie Macpherson. Her historical novel, The First Blast of the Trumpet, Book One in The Knox Trilogy, about John Knox, releases today.
She's currently working on the second part of the trilogy with a working title of The Second Blast of the Trumpet, unless she can come up with a better one.
"What I've found surprising is that John Knox, the author of that notorious polemic The First Blast of the Trumpet against the Monstrous Regiment of Women was not a rampant misogynist," she told me. "In fact he loved women and perhaps, more surprisingly, women loved him. So, in the next part I want to continue exploring his relationship with the women in his life; two wives, an interfering mother-in-law, several female correspondents, including one who leaves her husband to join his ever-increasing household, his godmother and, of course, members of the monstrous regiment. Perhaps John Knox – Ladies' Man would be a more appropriate title?"
Since Dr. Macpherson writes historical novels, the plot has more or less already been written, leaving her free to focus on the main players.
"Historical accounts rarely give insights to what they were thinking, how they were feeling: exploring the personal relationships and often hidden motivations of historical figures drives my interest," she explained. "For example, while reams have been written about the Scottish Reformation surprisingly little is known about its founding father, John Knox. God's Trumpeter he may be to some people but in the popular imagination Knox has become a caricature of himself – a cartoon Calvinist who hated women, a pulpit thumping tyrant who banned Christmas and football on Sundays.
"Knox was notoriously tight-lipped about the first 30 years of his life and this fired my curiosity to find out more about the man behind the myth. But while doing so I came across a dark secret and a surprising love story."
She's had people stop her on the street to tell her how much they've enjoyed The First Blast–and especially because they can identify local historic locations mentioned in the novel. If you can't travel to Scotland, you can view the mini-documentary made to accompany the novel—Dr. Macpherson narrates it herself.
"One book group wrote to the local paper to suggest: 'We unanimously agreed (and the unanimity is unusual!) that Marie MacPherson's, The First Blast of the Trumpet, should be included in any book list (and not just in Scotland!),'" she shared with me.
Dr. Macpherson told me that as long as she can remember she would make up stories in her head—what her mother would call "falling into a dwam," or daydreaming. And then, when she learned to read and write it was magical for her.
"That marks on paper could form words that then conveyed a story hit me like a thunderbolt – that's what I wanted to do, and not only when I grew up," she said. "I was bitten by the writing bug when I won a prize at primary school (aged 10) for a story about my pet dog. Before at last turning to fiction, I relieved the itch with academic writing: the topic for my PhD thesis was the Russian writer Lermontov, said to be descended from the Scottish poet Thomas the Rhymer, another famous daydreamer."
"If you could have one paranormal ability," I wondered, "what would it be?"
"Apart from being able to 'see myself as others see me' -– time travel would be a fantastic paranormal ability. I'd love to be able to go back in time and see what life was like in the past, particularly the 16th century. It would be great to snoop on the characters in my novel to see how they actually lived in their castles and hovels, what they ate, wore, how they dealt with sanitation and disease … On second thoughts, perhaps not – it would be just my luck to catch the plague," she told me. "But, I'd like to spend the day with the daughter of debate, Mary Queen of Scots, but one day might not be enough for all the questions I'd want to ask her. Did she love him James Hepburn, Lord Bothwell? Was she forcibly abducted by? Was she already pregnant by him? Who strangled Darnley? Did she know of the plan to assassinate Elizabeth 1? What did she think of John Knox?"
When she's not writing, she spends a lot of time reading—not only for research, but also Scottish and Russian authors for enjoyment. A favorite historical fiction writer of hers is Dorothy Dunnett. Dr. Macpherson admires her clever wit and ability to spin a complicated web of deceit in a plot.
"I usually tell everyone that seeing the film Dr Zhivago inspired me to study the Russian classics in the original language – but I blame Omar Sharif. Still, it led me to Tolstoy and Dostoevsky arguably two of the greatest writers ever," she said.
Many people find it surprising that she doesn't have a television, but she feels it gives her more time to indulge in other activities. She had dreamed of becoming a tap dancer, but in school they only did Scottish Country Dancing. She's since taken tap dancing lessons but admits she'll never be able to match the skill of Ginger Rogers, who not only danced backwards but in high heels.
"Now I'm happy to rediscover the joys of jigging and reeling at Scottish Country dancing which is not only great exercise for the legs and feet but, with its complicated moves, keeps the old grey cells ticking over," she told me.
About the Author: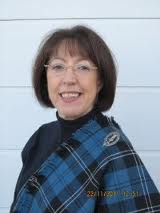 Hailing from the historic Honest Toun of Musselburgh, six miles from Edinburgh, the capital of Scotland, Marie Macpherson (née Gilroy) developed a love for literature and languages from an early age. Brought up on the site of the Battle of Pinkie and within sight of Fa'side Castle, she was haunted by tales and legends from the past. The Ballads of the Scottish Borders stirred the romantic in her soul and the works of Sir Walter Scott kept her enthralled during the long, dark winter evenings (and more often nights, reading with a torch beneath the bedclothes).
While she studied French and German at school, followed by Spanish and Italian at university, none of them enthused her so much as seeing the film, Dr. Zhivago, which sparked a desire to read the works of the Russian literary giants in the original. After gaining an Honours Degree in Russian and English, she spent a year in Moscow and Leningrad (St. Petersburg) researching her PhD on the work of the 19th century Russian writer, Mikhail Lermontov, said to be descended from Thomas the Rhymer of the ancient Scottish family of Learmont. Though she has travelled widely, teaching languages and literature across Europe from Madrid to Moscow, she has never lost her passion for the rich history and culture of her native Scotland.
Now retired from the hurly-burly of academia, her life in the foothills of the Lammermuirs is hardly quiet. With all the various activities organised in her village, from reeling at Scottish Country Dancing to hill-walking, from book clubs to film shows, she has to make time to research and write.
Having attempted various genres, she has found her niche in historical fiction which combines her academic's love of research with a passion for storytelling. Her inspiration not only comes from historical records and documents but from the landscape of the Scottish lowlands where she tries to conjure up what life was like for the inhabitants of those now ruined castles and deserted abbeys. Exploring the personal relationships and often hidden motivations of historical characters drive her interest.
Hailes Castle, 1511. Midnight on a doom-laden Hallowe'en and Elisabeth Hepburn, feisty daughter of the Earl of Bothwell, makes a wish – to wed her lover, the poet David Lindsay. But her uncle has other plans. To safeguard the interests of the Hepbum family she is to become a nun and succeed her aunt as Prioress of St. Mary's Abbey, Haddington.
However, plunged into the political maelstrom and religious turmoil of the early Scottish Reformation, her life there is hardly one of quiet contemplation. Strong-willed and independent, she clashes with those who question her unorthodox regime at St. Mary's, including Cardinal David Beaton and her rival, Sister Maryoth Hay.
But her greatest struggle is against her thrawn godson, John Knox. Witnessing his rejection of the Roman Catholic Church – aided by David Lindsay – she despairs that the sins of her past may have contributed to his present disenchantment.
As he purges himself from the puddle of papistry, Knox finds his voice, denouncing everything he once held dear, but will that include his godmother, Prioress Elisabeth? And by confessing her dark secrets, will Elisabeth steer Knox from the pernicious pull of Protestantism or drive him further down the fateful path he seems hell-bent on; a path that leads to burning at the stake?
In a daring attempt to shed light on a wheen of unanswered questions about John Knox's early, undocumented life, this novel throws up some startling claims and controversial conjectures.
Book one of The Knox Trilogy.